*This post may contain affiliate links, which means I may receive a small percentage from qualifying purchases if you make a purchase using the links, at no additional cost to you*
-------------------------------------
The living room in our 1852 house is "intimate". Let's be plain, it's small by today's standards. Despite it's cozy size, it was one of the rooms that sold me on the house. Back when the house was built, this was the room they would have done their entertaining in, the room all their guests would see. So they took the time to add thick, decorative trim in here & the dining room (click here to tour that room) that we don't have elsewhere in the house. At some point, I plan to duplicate this trim everywhere in the house.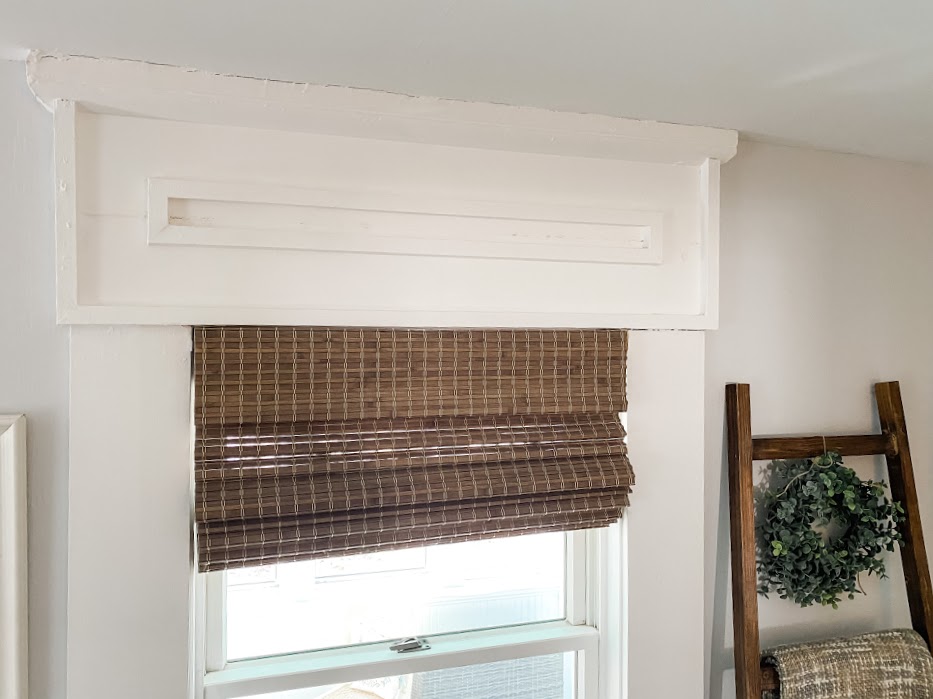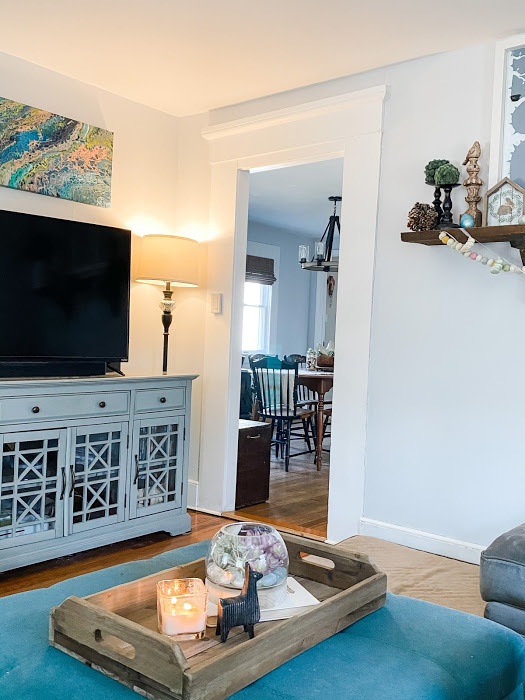 When we first moved in, I thought we should blow out the wall the TV is on to open this room up to the hallway & dining room. Now I want to leave it. I know everyone loves an open floor plan, but I have grown to love the coziness of this room! It sort of beacons you to relax and shut out the rest of the world, which is what I want in here. And aren't cozy rooms what vintage farmhouse style is about?
At our previous house, our living room was large and open to other areas. We also have a rather large family. So we had bought a huge sectional sofa and big comfy recliner. The sectional just squeezed into this room and we had to say goodbye to the recliner (which I was secretly happy about!). The downside is that the sectional blocks all the trim detail under the windows. It has an old wainscoting look to it, that I think would look nice to continue on all the walls down the road.
I didn't want to compete with the trim, so I left the windows curtain-less with just cordless shades in a natural color. I love the simple look (and not having to wash curtains). These two windows overlook the enclosed front porch (click here for that room tour). In the warmer months we keep these windows open, we get a nice breeze and the cats love crawling between them. It's also nice when entertaining, we have two separate gathering spaces, but with the windows open we can still all interact.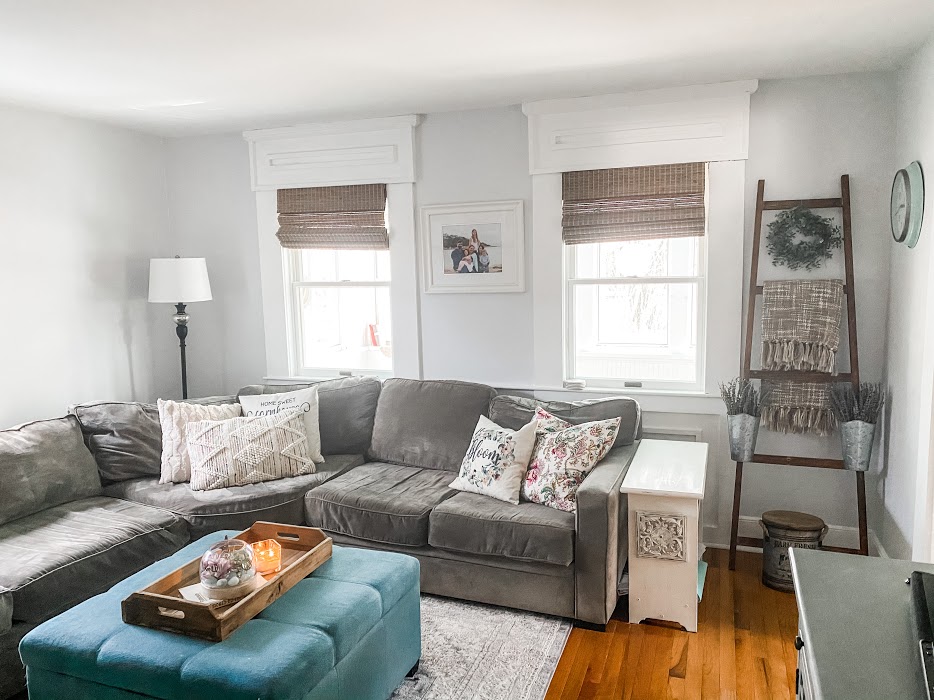 Let's talk pillows. I love pillows. Left to my devices I would likely fill the whole couch! But that isn't super practical and my husband already thinks we have too many. I found an easy way to fill my need for pillows while still allowing people to actual sit on the furniture – pillow covers.
I bought some nice quality down/fiber fill pillow inserts and then switch out the covers with the season (pictured here is a spring pillow assortment). Switching the covers in & out lets me enjoy "new" pillows without taking over the couch. Etsy has some adorable options, Amazon has some affordable options. Mix the two and my bank account stays happy. The other nice benefit of using pillow covers is they are easy to store. Rather than have huge storage bins of full pillows, I have a small zippered bin under my bed (plus they are easy to wash).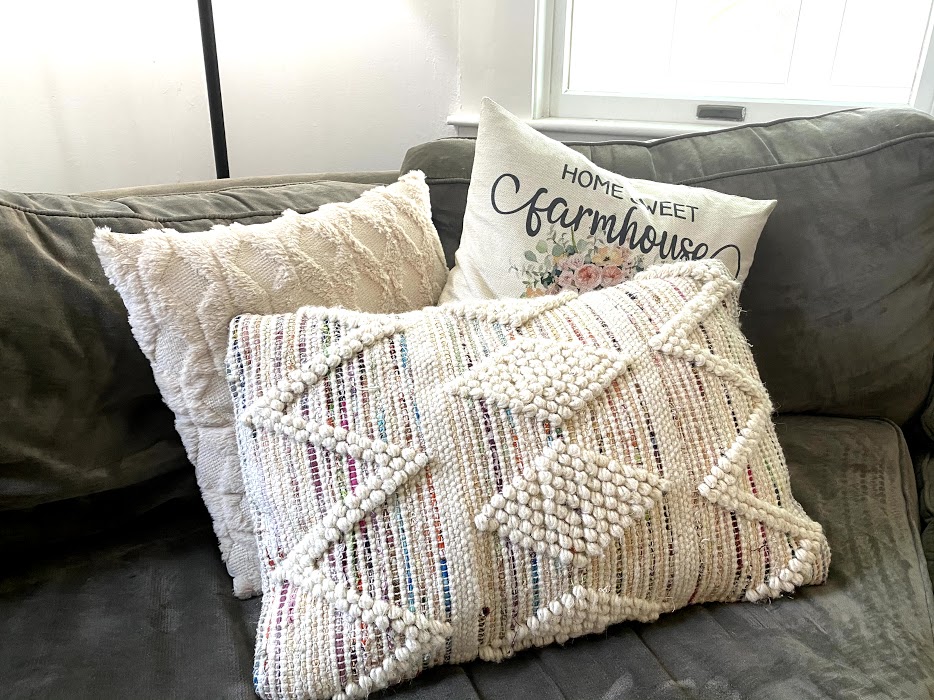 We are definitely a 'put your feet up' kind of family, so a soft padded ottoman was the obvious choice for us. I love that this one opens up to store throw blankets (my other obsession – there are soooo many blankets in that ottoman!). I like that this tray is big enough to let me have some pretty things but still has functional space for the family to put down drinks or remotes.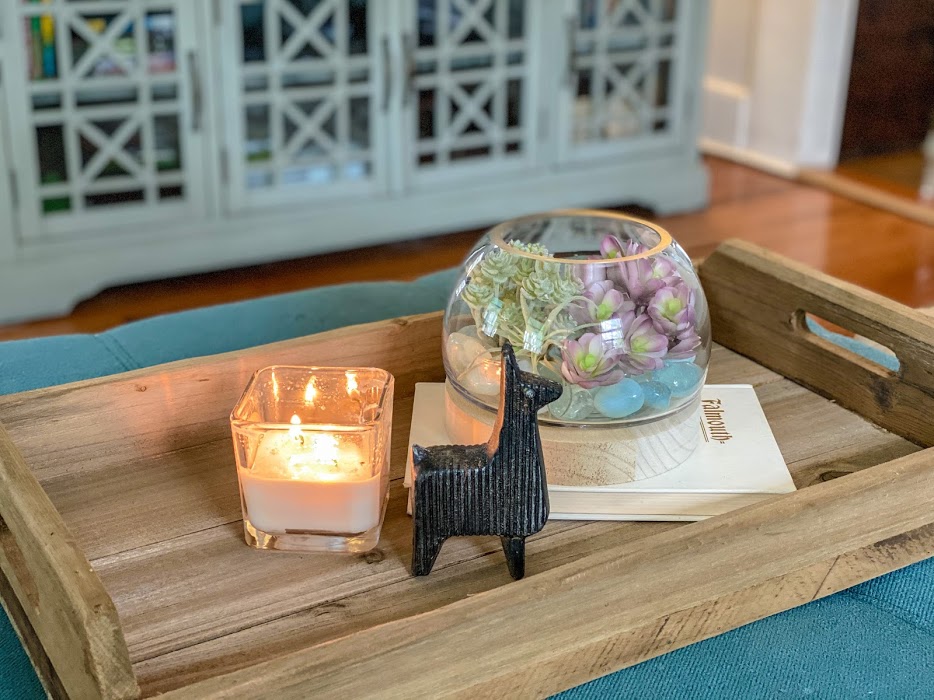 Speaking of blankets, we had this awkward empty corner at the end of our sofa. Not big enough for a chair, I settled on a blanket ladder. I love that the natural wood coordinates with the shades, the ottoman tray, and the large shelf on the opposite wall. But blanket ladders aren't just for displaying blankets! Right now we added a eucalyptus wreath and dried bunches of lavender in galvanized hangers.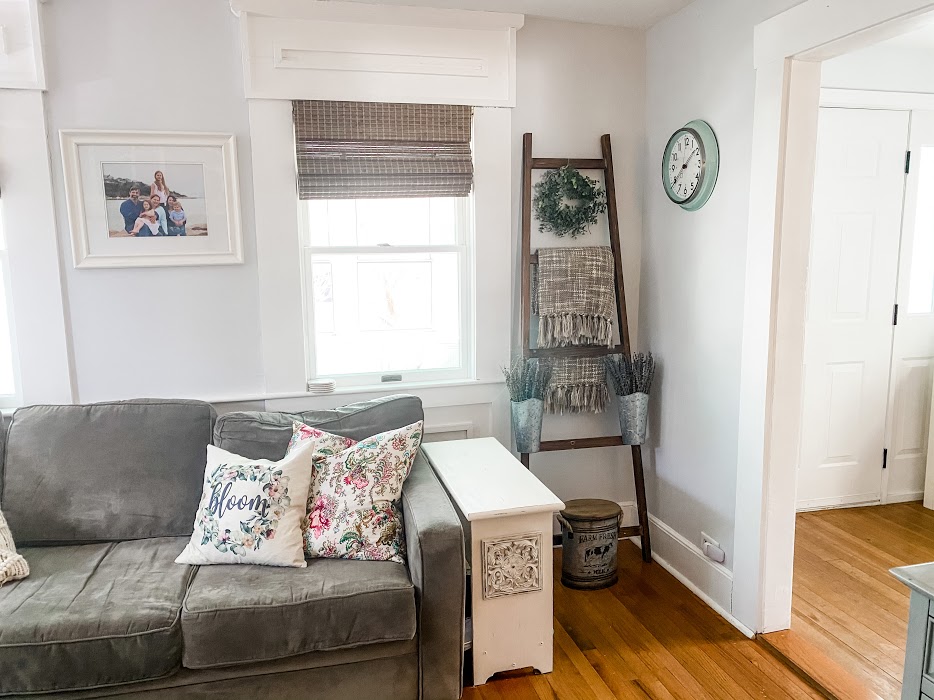 The narrow end table started life as a Leksvik side table from Ikea. I painted it with a creamy white chalk paint and added the wooden wall tile on the front and it's farmhouse ready!
My farmhouse has a ridiculous amount of ceiling lights. All of them mismatched, all of them ugly. I seriously had one room that had three different fixtures and they were all different. I have been slowly working my way room by room replacing them all. The living room is the one room in the house that doesn't have a ceiling fixture. I've had these two floor lamps for several years that fit in nicely. The only problem is that I have been switching all the light fixtures over to black and these lamps were brushed nickel. To help them coordinate with the other lights in the house, I taped off the glass bulb accent and sprayed the lamp with a matte black metal spray paint. Two totally new looking lamps for $5!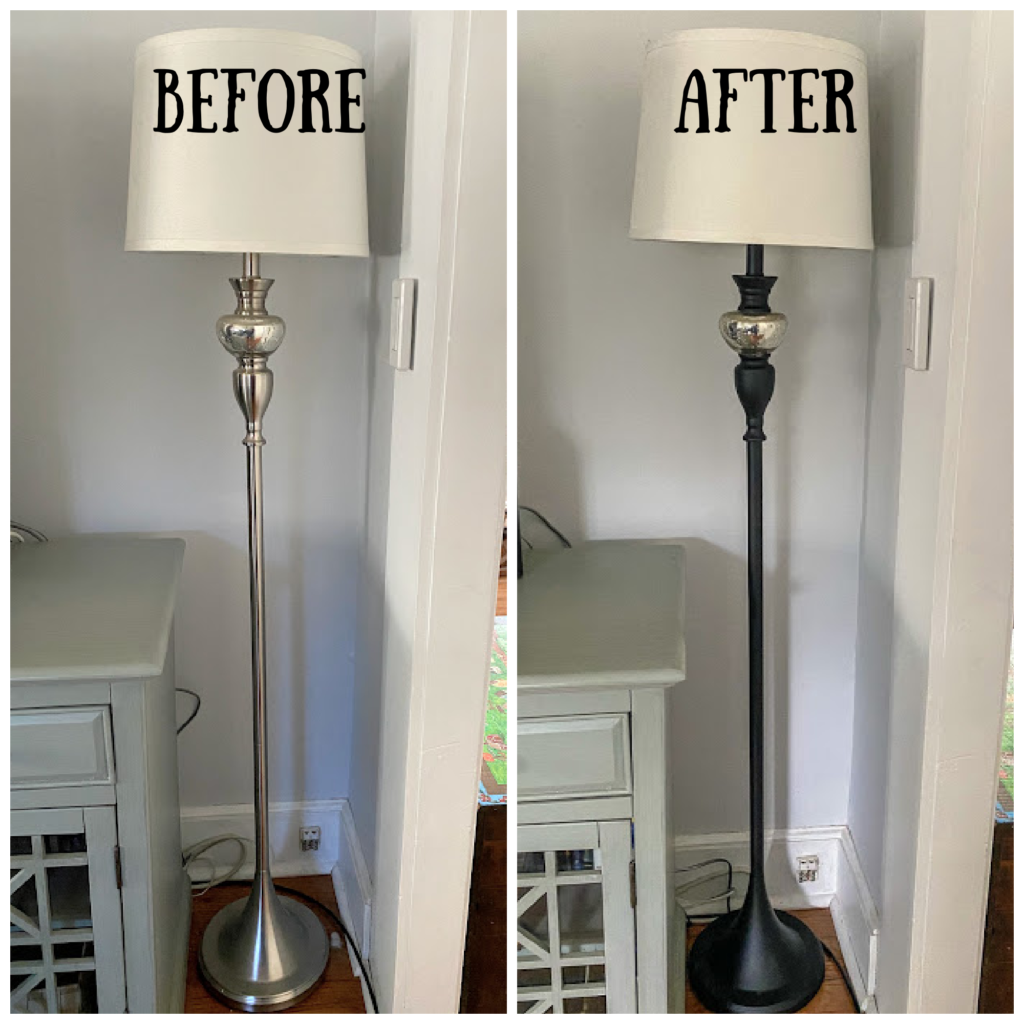 Not only does this room not have a ceiling light – it doesn't even have a lightswitch connected to an outlet. We were stuck manually turning the lamps on, which was fine for the one near the door, but the second light required us to climb over the couch to turn on. We found an easy solution that didn't even require an electrician. Remote control light sockets! We got one unit that has two base adaptors and one remote control. Each lamp got a base adaptor that you screw the lightbulb in to and we mounted the remote control to the wall. When you hit the toggle it turns both lamps on at the same time. Super easy and works great!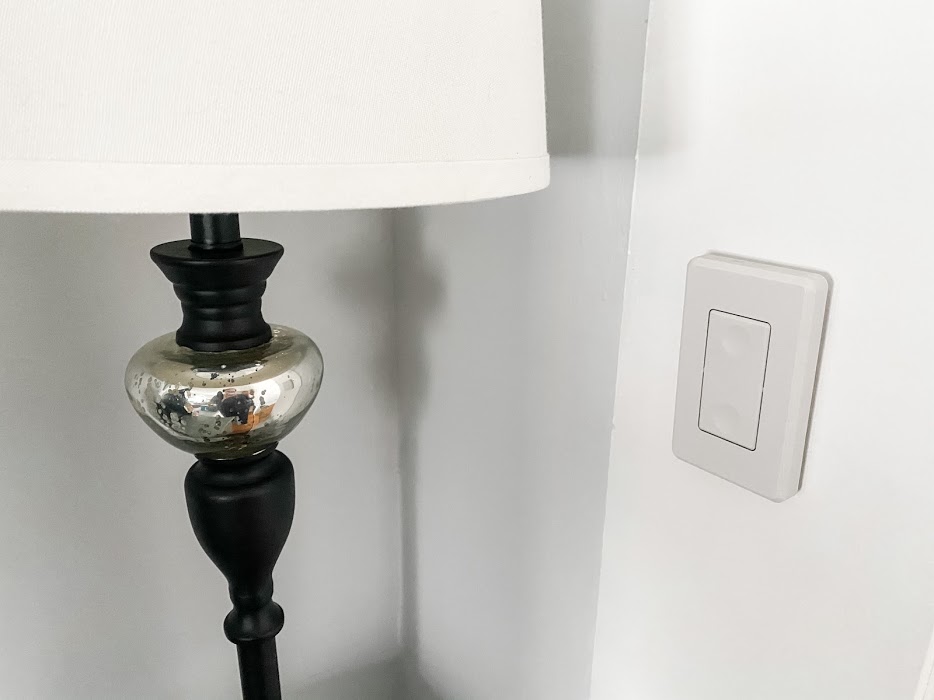 During Covid quarantine everyone was looking for new hobbies or projects to try out. The kids and I decided to try our hand at acrylic pour painting. If you haven't watched these videos on YouTube, you need to check them out. It's mesmerizing! We all got canvases and loaded up on acrylic paint and made a huge mess in the driveway. But we got some very interesting art out of it and it was a lot of fun! I mounted the one I made over the television.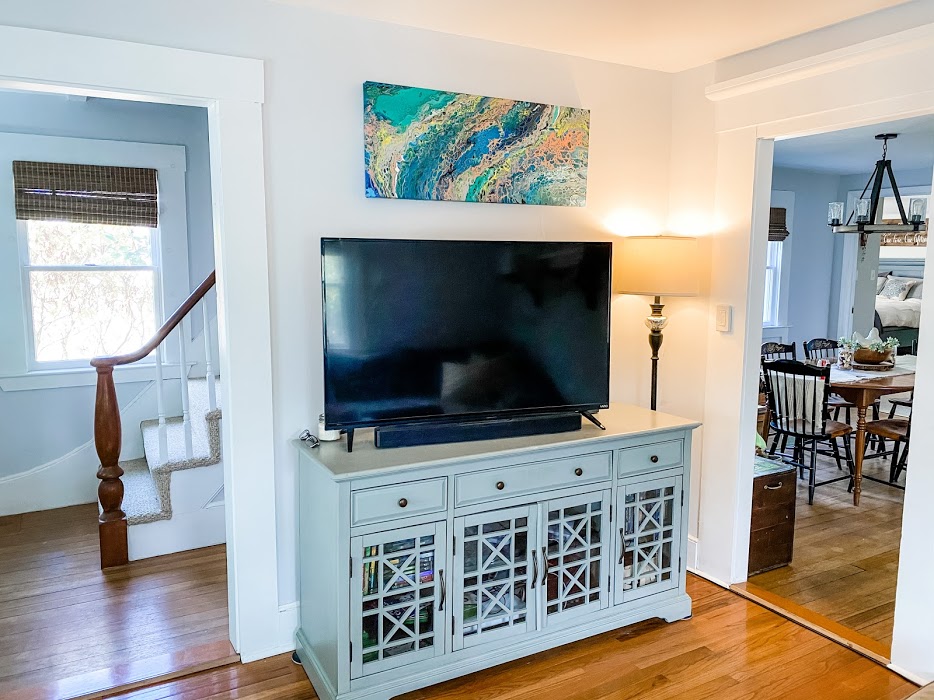 Over the chaise we had this huge empty wall that just really needed something amazing! Luckily our house came with an awesome old barn – and all old barns contain old barnwood. One big barnwood shelf coming up! This particular board came from a divider we took down to combine two stalls. It was already stained and had all kinds of character – it just needed a really good scrubbing. Once I got it cleaned up I could not believe how gorgeous it was!! Perfectly lovely worn stain with nicks and groves from animals and farm life. I couldn't be happier!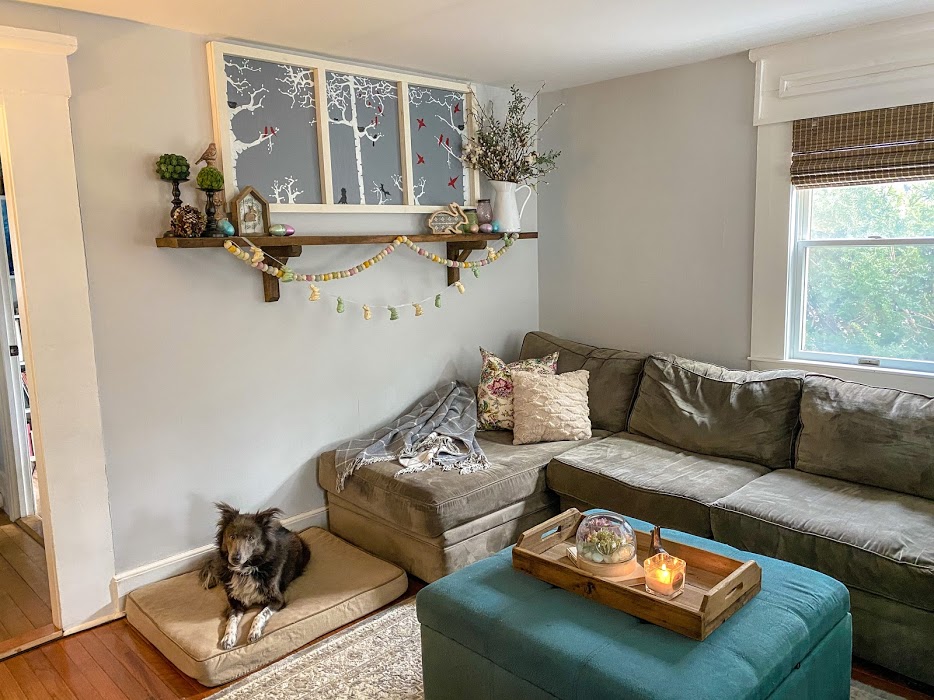 We don't have a fireplace here, only a woodstove. I like to decorate this generously sized shelf as if it were a mantel, and change it out with the seasons. Sometimes you have to make due with what you have!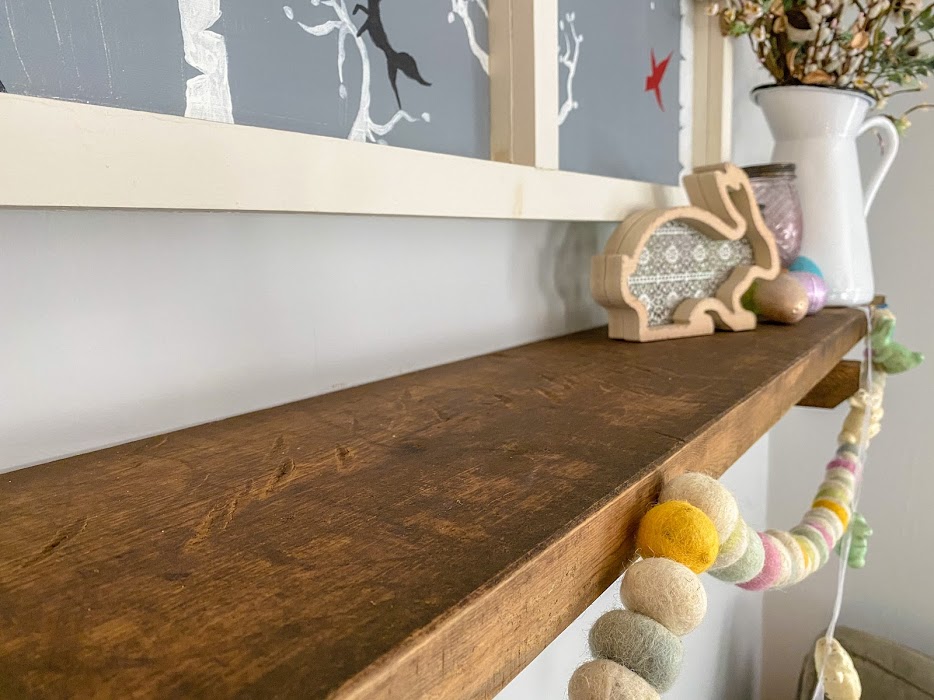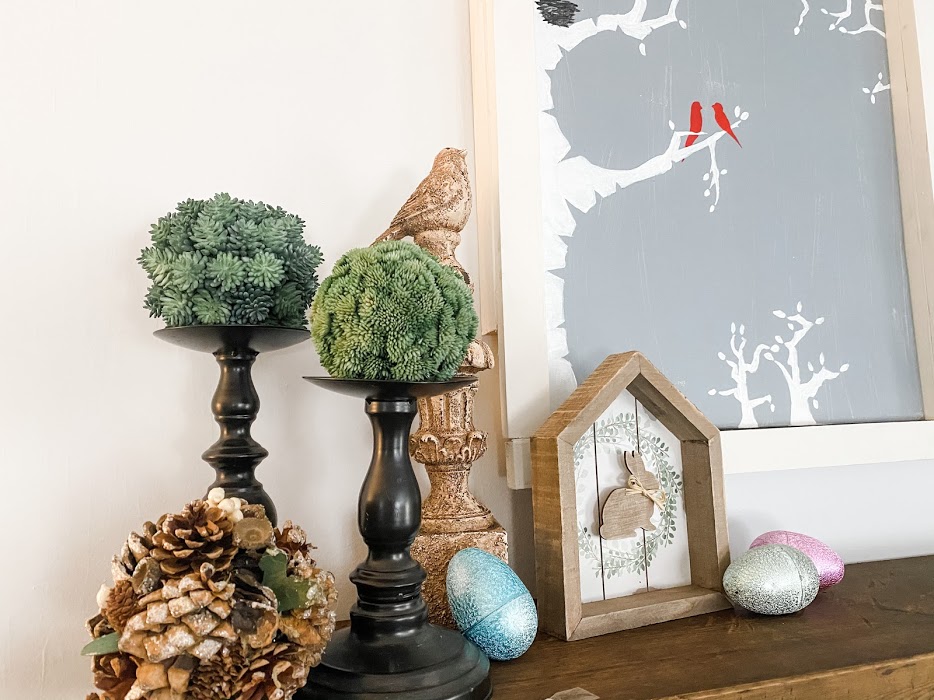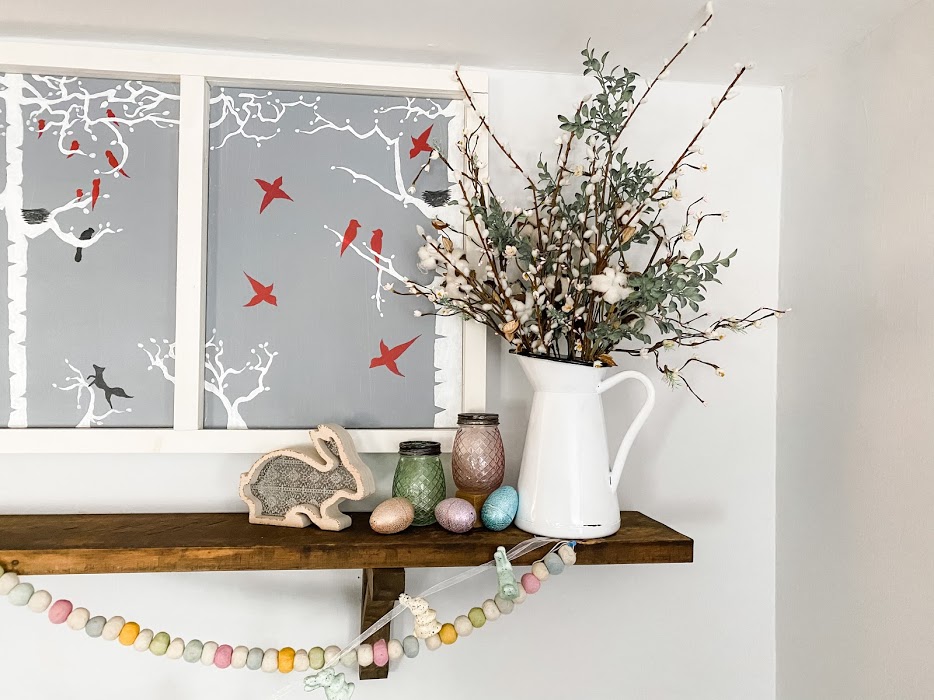 The painting hanging over the shelf is something my second oldest child did for me when she was 15. It's a cute painting, but what I really love is the story behind it. In the left painting you have a young bird couple just starting out. In the center panel the young couple are in the middle of raising their family. Their four baby birds represent our four kids and the forest critters in black represent our two dogs and two cats. Then in the right panel, the baby birds have flown the nest ready to soar on their own. How sweet right? My baby birds haven't all flown the nest but it won't be too far off now.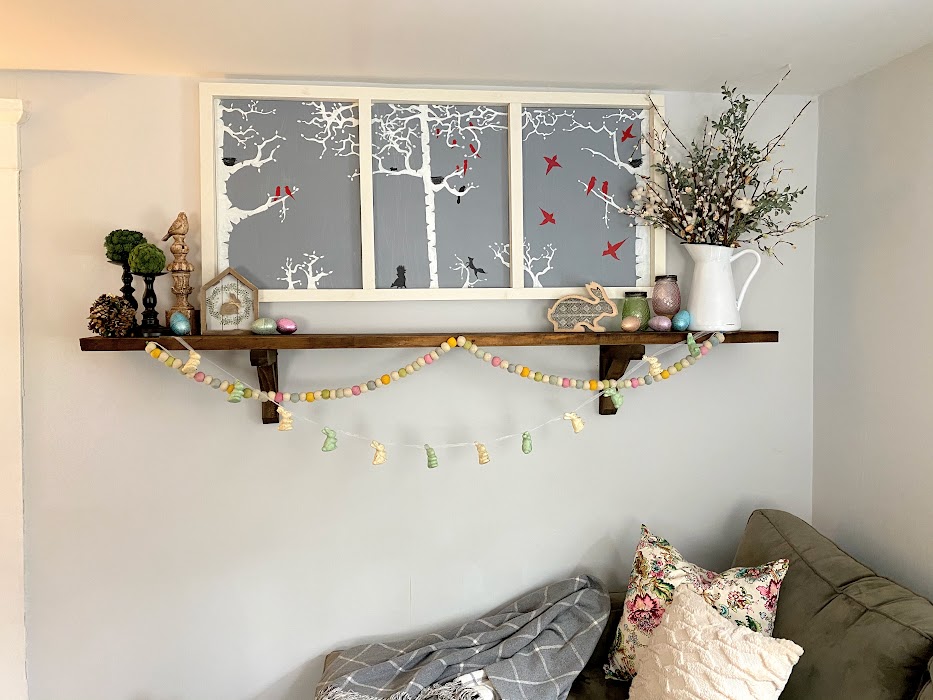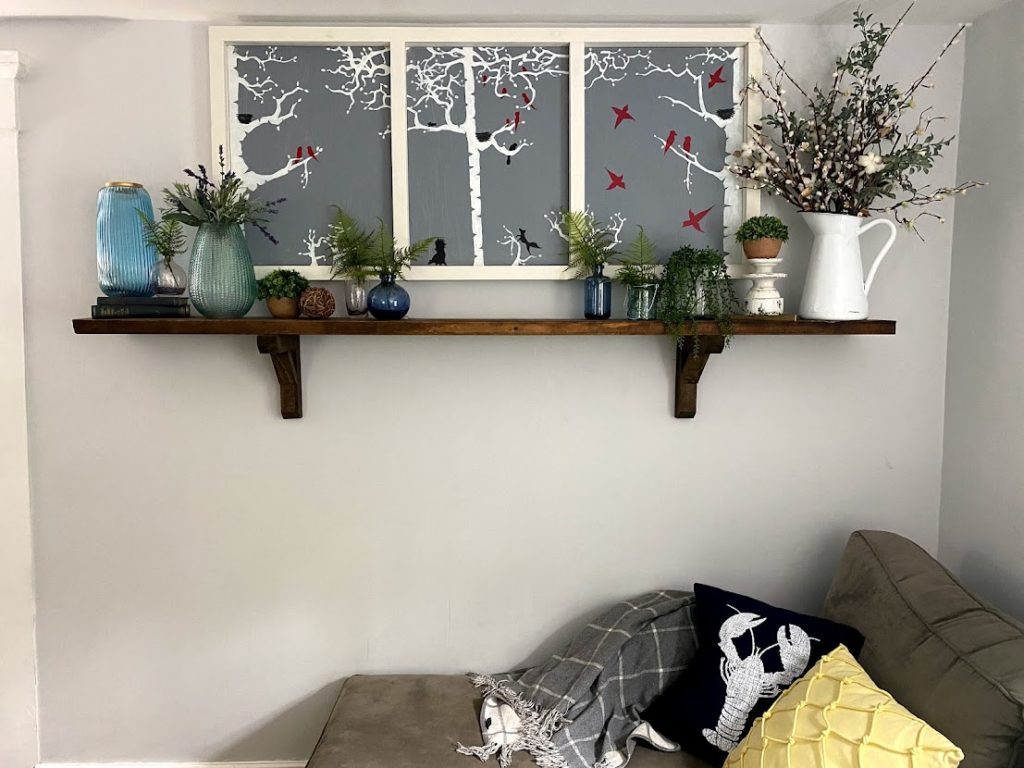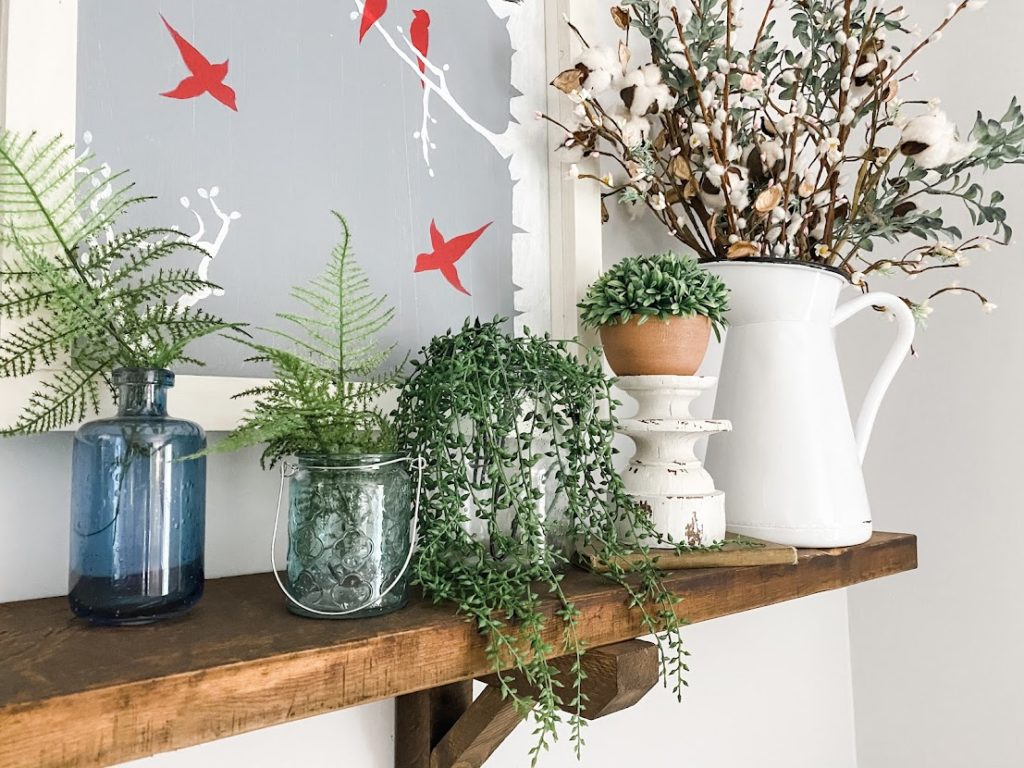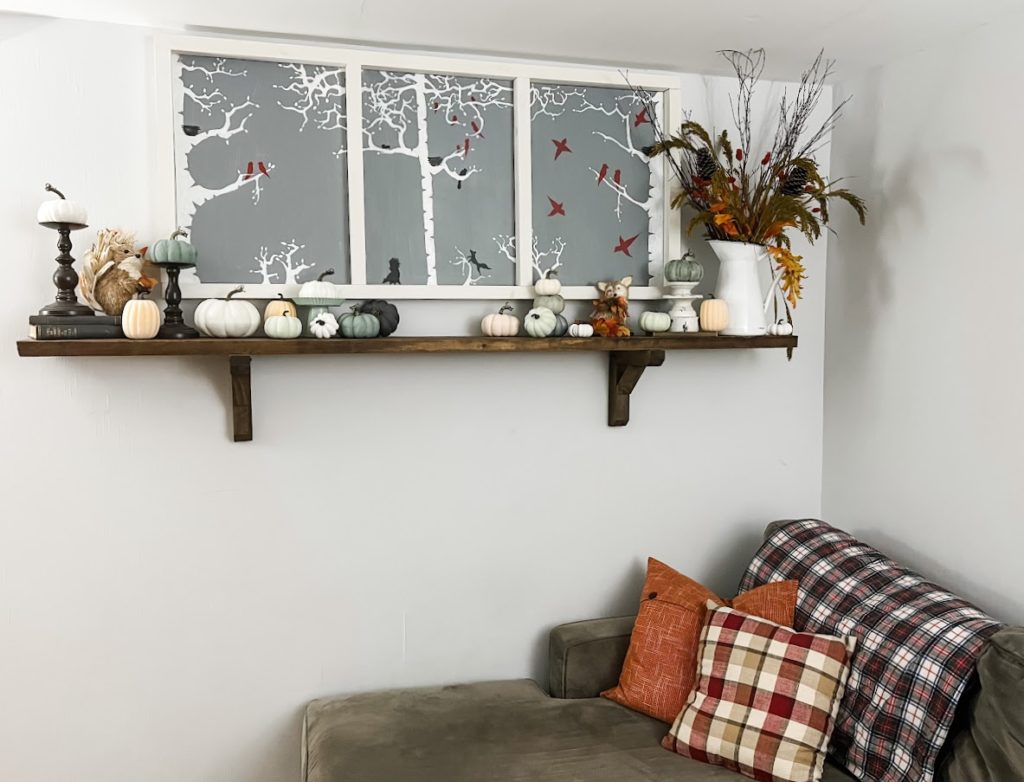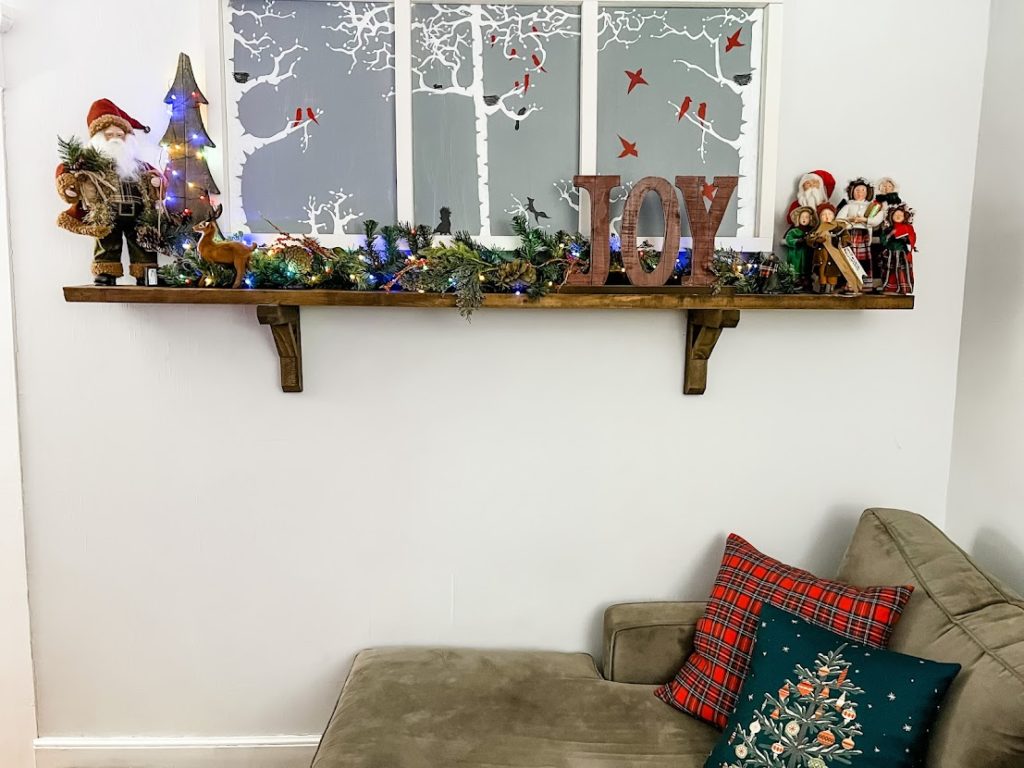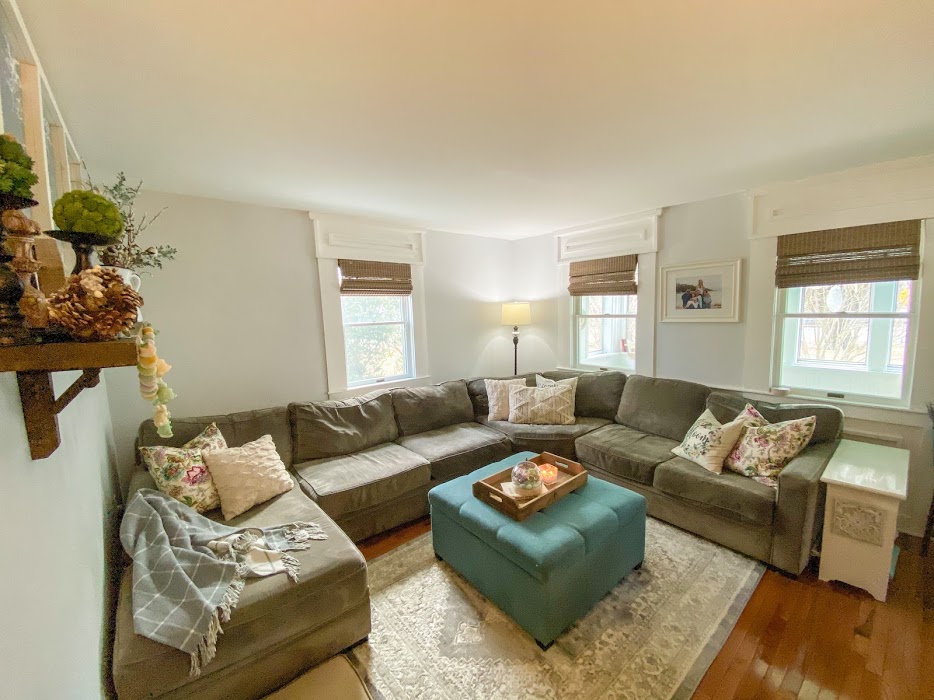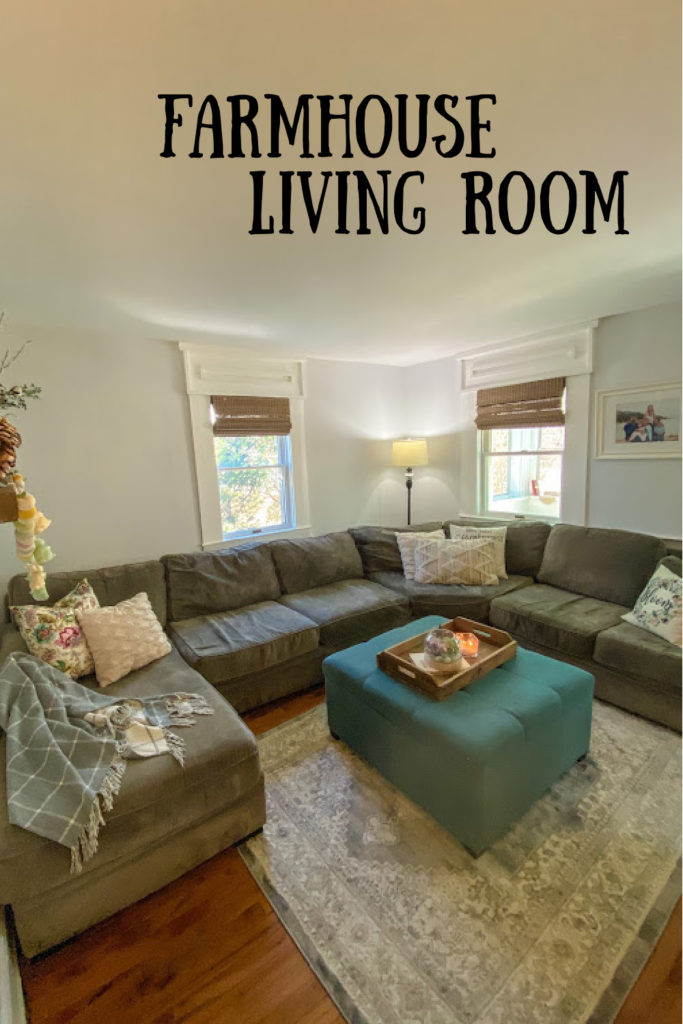 Shopping Guide
wall color- Marilyn's Dress by Benjamin Moore
Window Shades – Hyman Inc Radiance Cordless Roman Shade in Driftwood
Blanket Ladder – Weathered Decorative Ladder, Hobby Lobby
Floor Lamps – Deering 61.5 in Floor Lamp, Wayfair
Media Console – Jofran Craftsman 60″ Media Unit
Sectional – Jonathan Louis Choices 4 Piece Sectional
Ottoman – Ernestine Tufted Square Storage Ottoman in Dark Teal, Wayfair
Remote Control Light Switch – DEWENWILS Remote Control Light Socket, Amazon
Floral Pillow Cover – Tang Depot Cotton Floral Pillow Cover in Lush Floral, Ivory, Amazon
Textured Pillow Cover – Madizz Short Wool Velvet Pillow Cover, Cream Beige, Amazon
Farmhouse Pillow Cover Set – Crowned Beauty Spring Pillow Cover Set, Amazon