*This post may contain affiliate links, which means I may receive a small percentage from qualifying purchases if you make a purchase using the links, at no additional cost to you*
-------------------------------------
I loved the look of our upholstered kitchen stools when I bought them. For about 2 weeks. Then I remembered that I have kids and pets. I am really not sure what I was thinking buying a light colored linen upholstered seat! I guess I thought my kids are teenagers, maybe it will be safe. It didn't take long for the cat to throw up a hairball on them, kids to put dirty backpacks on, and for food & drinks to be spilled.
Fast forward a year and half and now the stools are looking downright sad. They are still sturdy and still comfortable, the cushion just looks really gross and stained. It seemed wasteful to get rid of them after only a year and half, but this is what I was dealing with: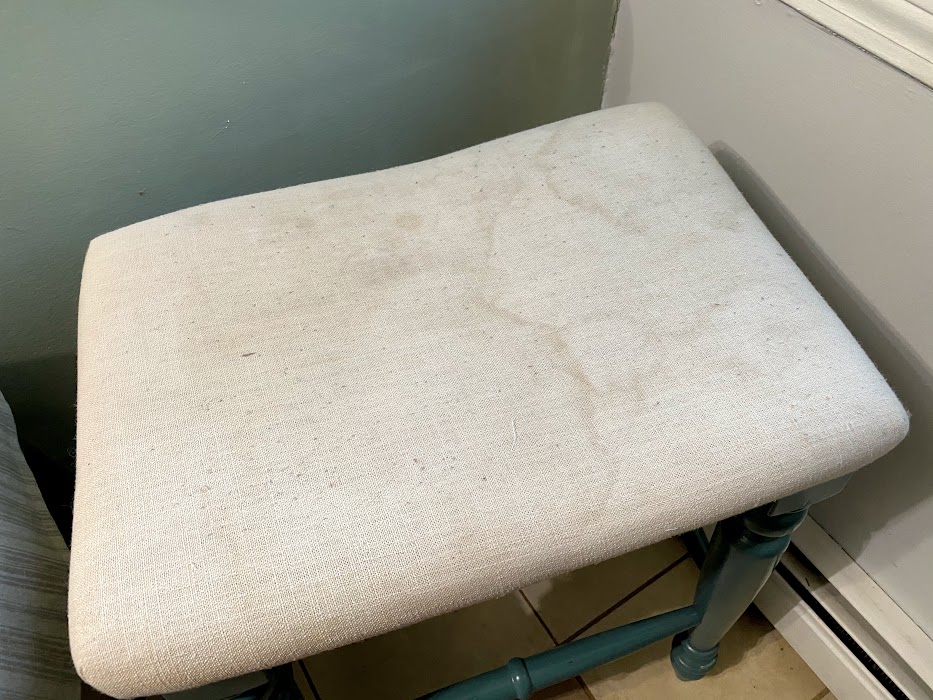 Gross right? Who wants to sit on that? Or offer it to a guest to sit on?
I thought about reupholstering them. But at some point I will be right back where I am now with stained seats. Slipcovers were the perfect solution. I can easily toss them in the wash, or even change them out with the season!
These slipcovers are super easy & quick to make with minimal sewing skills. Each slipcover only needs about 3/4 yard of fabric, so it's also an inexpensive project. I used scrap fabric that I had leftover from making curtains in my craft room – so for me it was free! The fabric I am using is Magnolia Home Fashion's "Brunswick Stone".
Place your fabric over the stool seat, right side facing out. If your fabric has a pattern, arrange the fabric until the seat pattern looks centered. On the long edge of the stool, pin up a hem along the edge. I just eyeballed it. Using striped fabric made that pretty easy! You can use a tape measure to help keep it even if needed.
Once you get to a corner, neatly fold the fabric around, like you are wrapping a present. Secure with pins.
Repeat for all the sides & corners. Don't forget to keep all the sides even with each other.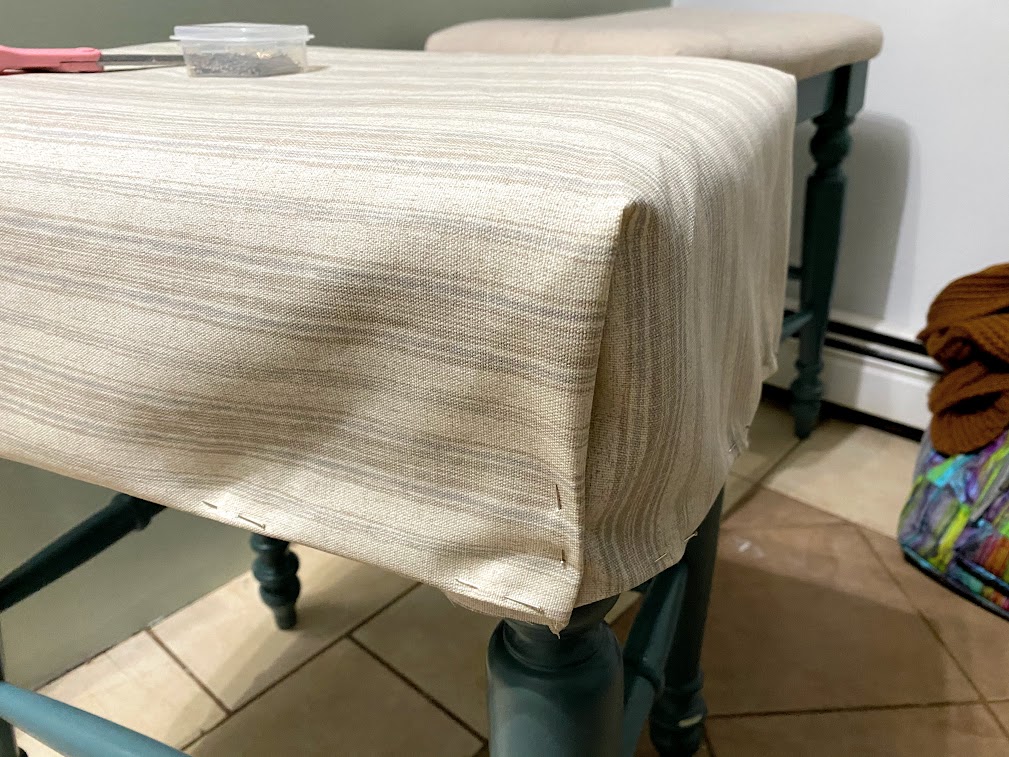 Carefully remove your pinned slipcover and sew all the edge hems. At the corners, sew a straight line from bottom edge to seat edge. When you are sewing the corner, it will be easier if you cut away some of the excess fabric. This will also help the cover sit better without extra bulk.
That's it! I think it was under 15 minutes from start to finish and it made such a huge difference. I have some remnants of an old Easter tablecloth I am already eyeing to cut up and make into some cute spring covers.
Cat approved