*This post may contain affiliate links, which means I may receive a small percentage from qualifying purchases if you make a purchase using the links, at no additional cost to you*
-------------------------------------
Do you have an ugly concrete patio? I know I did! And to make it even worse the offending patio was right next to the door everyone uses to enter my house, there was no hiding it, every person coming over sees it.
I decided to undertake a little makeover on the exterior of my house (click here to read more about that makeover). One of my biggest issues was how to make the old cracked concrete patio look better. I knew I didn't have the budget for pouring a new patio or to cover it with a more attractive option like a wood deck.
Here is a photo of where we were starting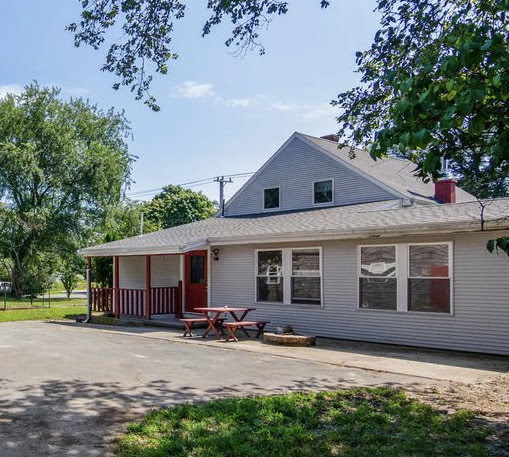 One of the problems with concrete slab patios is they often lack definition. Wooden decks have railings or at least a step down. Patios often just abruptly end and turn into grass, or in my case, the driveway. I started by adding a long planter to provide a physical barrier between the patio area and the driveway.
Then I tackled the patio décor as you would a room. Inside, you would start by anchoring the seating area with an area rug. I thought about getting an outdoor rug, but in an uncovered area I knew it wouldn't be long before it was stained, soggy, and gross. I settled for the next best thing – a permanent painted "rug"!
How to stencil a concrete patio rug
The very first step before painting concrete is to make sure it is as clean as possible. You want the paint to bond with the concrete, not with the grime. Using a power washer is the most effective way to do this. If you have moss or algae build up on your patio, you can add an extra cleaner to the water. Otherwise plain water works just fine! Take your time and go slow to really release the years of built up grime.
Check out the HUGE difference we made power washing with just plain water!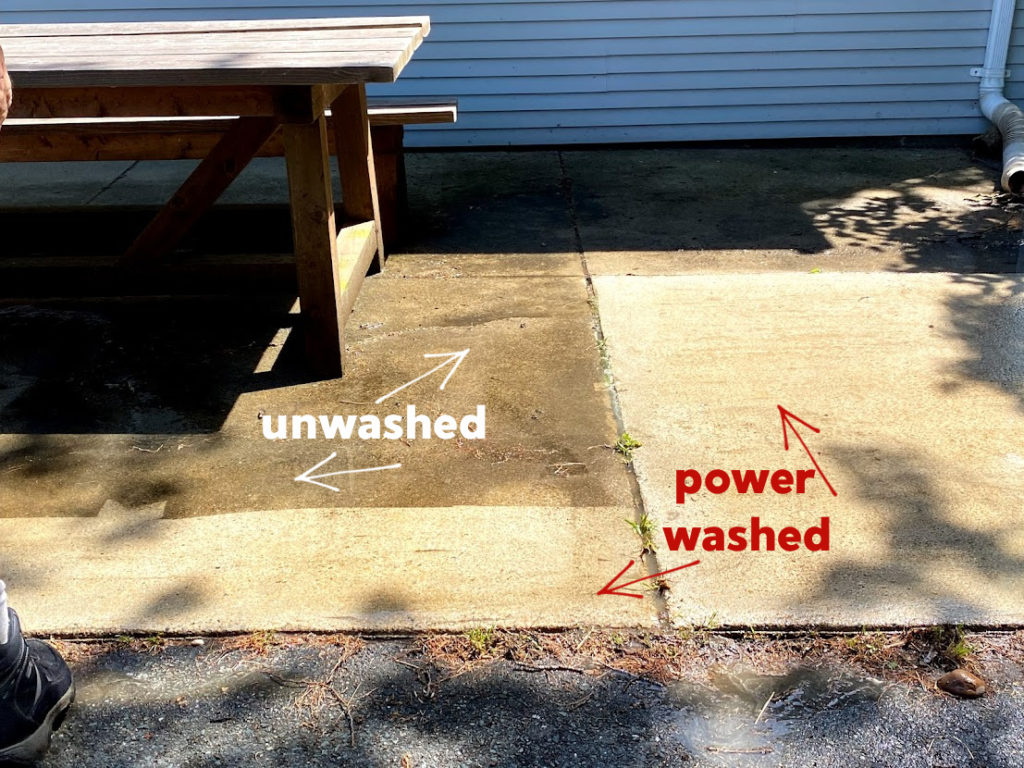 Next you need to choose the correct type of paint. You don't want to just use regular latex house paint. It will be slippery and won't adhere properly. Be sure to find actual masonry paint. The paint we used was INSL-X Sure Step Acrylic paint by Benjamin Moore. It is specially made to bond with concrete and provide an even, safe surface for high traffic areas like patios.
The paint I chose comes premixed in six different colors. I went with white for the base of my "rug" and gray pearl for the stenciled design. The grey pearl color is a pretty bluish gray but I think it veers more towards blue which is just what I wanted.
The paint's instructions say each gallon covers 80-120 square feet. My rug is 120 square feet and I needed every single drop of the white gallon to do the base of the rug. This paint is THICK, it rolls on easily and covers pretty well with just one coat, but there are definitely a few spots towards the end that I wish I had just a little more paint for. I wasn't too worried about it because I knew I planned to go over it with a stencil, but if you are planning just a single solid colored rug, I would plan on the 80 square feet per gallon when buying paint.
Getting started
You'll want to start out by putting down some painter's tape for the boarder of the rug. It can be hard to get a good seal on it with the uneven surface of concrete. Super crisp edges are going to be nearly impossible to achieve, but really unless someone is sitting on the ground looking really close it will not be noticeable. Don't sweat the small stuff!
When taping out your dimensions, take into account the size of your stencil. You should make sure your rug won't end in a partial stenciled block. I made my rug 14 stencils by 9 stencils. My stencil is 12 inches by 12 inches, so my rug is 168 inches by 108 inches.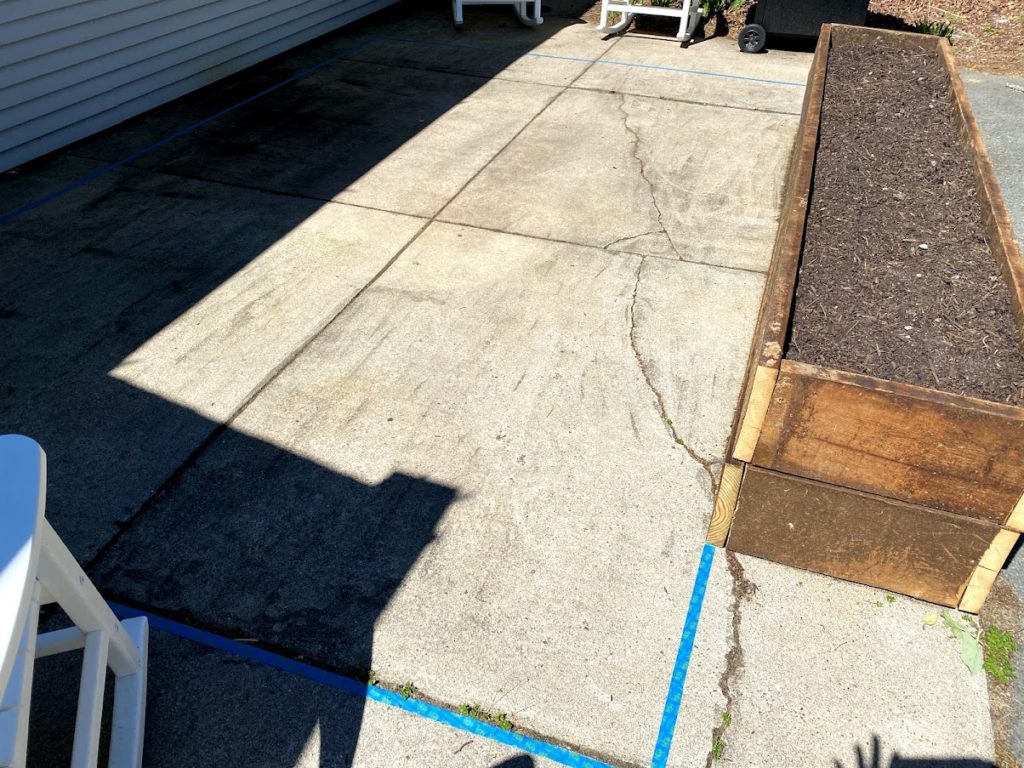 If you have cracks, the paint can still be used and it will even seal small ones. If you have larger cracks like I do, just do your best to clean them up. Sweep the patio area to remove any lose debris.
Really stir up the paint before rolling it on. Like I mentioned earlier, it is very thick and has small particles in it. You really want to be sure they are all evenly distributed. Use a long handled roller to apply the paint for the fastest and most even coverage.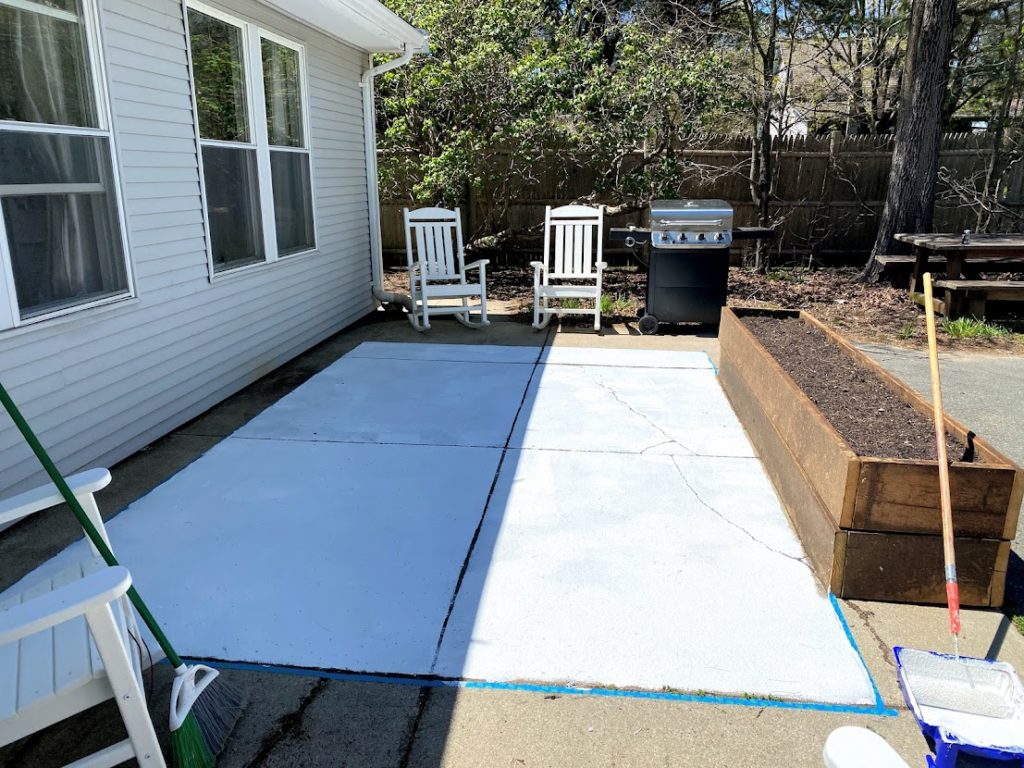 The concrete really sucks up the paint and it dries to the touch really quickly. Still, you want to avoid walking on it for a few hours (be sure you don't paint yourself into a corner!). We waited until the next day to do the stenciling.
Stenciling
Now for the "fun" part! There is no getting around it, this part is time consuming. If you have two people, you can get two stencils and work together from opposite ends. If you are tackling this project alone and have a large area, plan to break it up between a couple days. Sitting or kneeling on concrete for long periods of time can take a toll on you – it's much better to take this on over a few days rather than hobble around in pain for a week afterwards!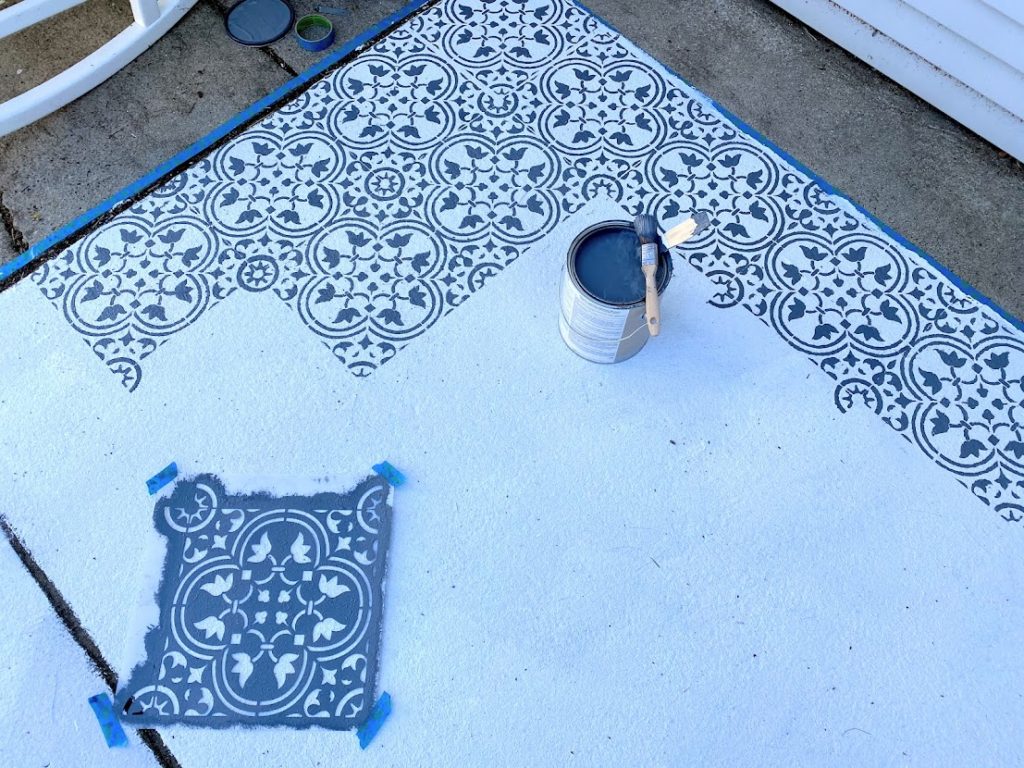 I used a little bit of tape at each corner of the stencil to hold it down, but really it's doesn't stick to concrete super well. I loved the stencil that I used, it had "guides" in the corner of the stencil so I could line up the next one to make one big pattern.
If you have never stenciled before, keep in mind you will want to use a "dabbing" motion and not a normal painting stroke. This is to keep the paint you are applying only to the stencil openings. If you used a painting stroke, paint is more like to be pushed under the pattern edges and make for a messy transfer onto your surface.
I found the stencil needed to be cleaned off after every 7-8 blocks. Most stencils are made from easy to clean heavy duty plastic. If you go too long between cleanings, eventually drying paint will gum up the pattern openings making them smaller and smaller with each application.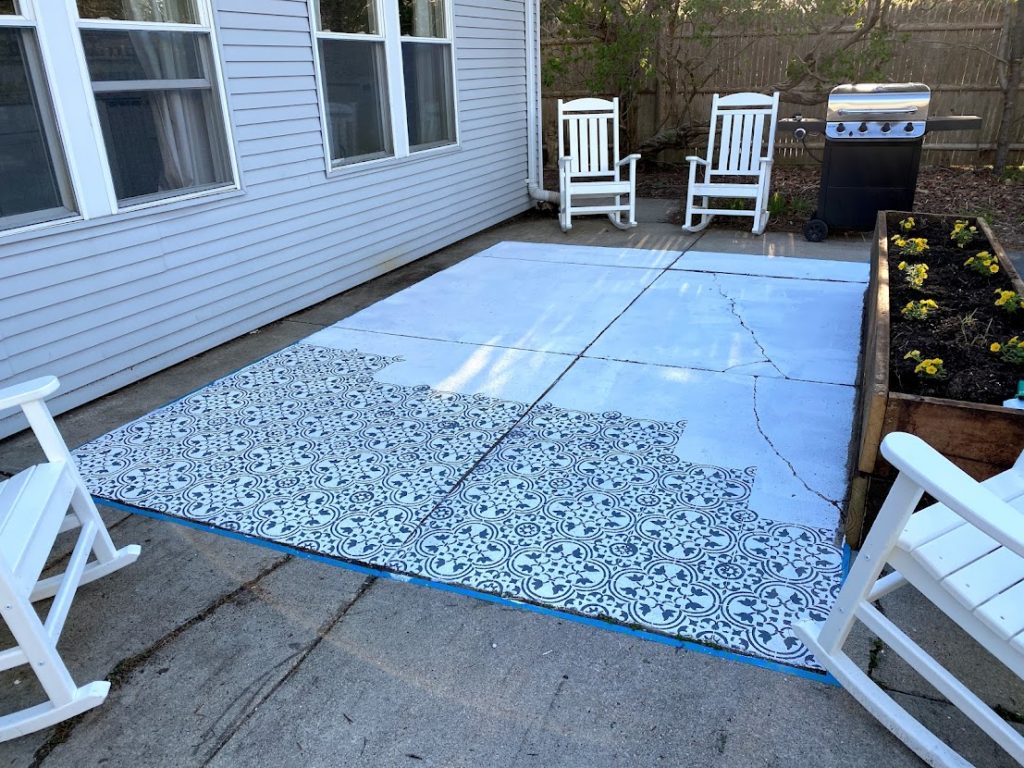 Progress after day 1, my back had enough of sitting on concrete for one day! I knew it was going to be a time consuming project but even I was surprised by just how long it took.
Day 2 went so much better – I knew what I was doing and really got into a good groove. It killed me to have to stop where I did, but it was starting to get dark so I had to leave the rest for Day 3.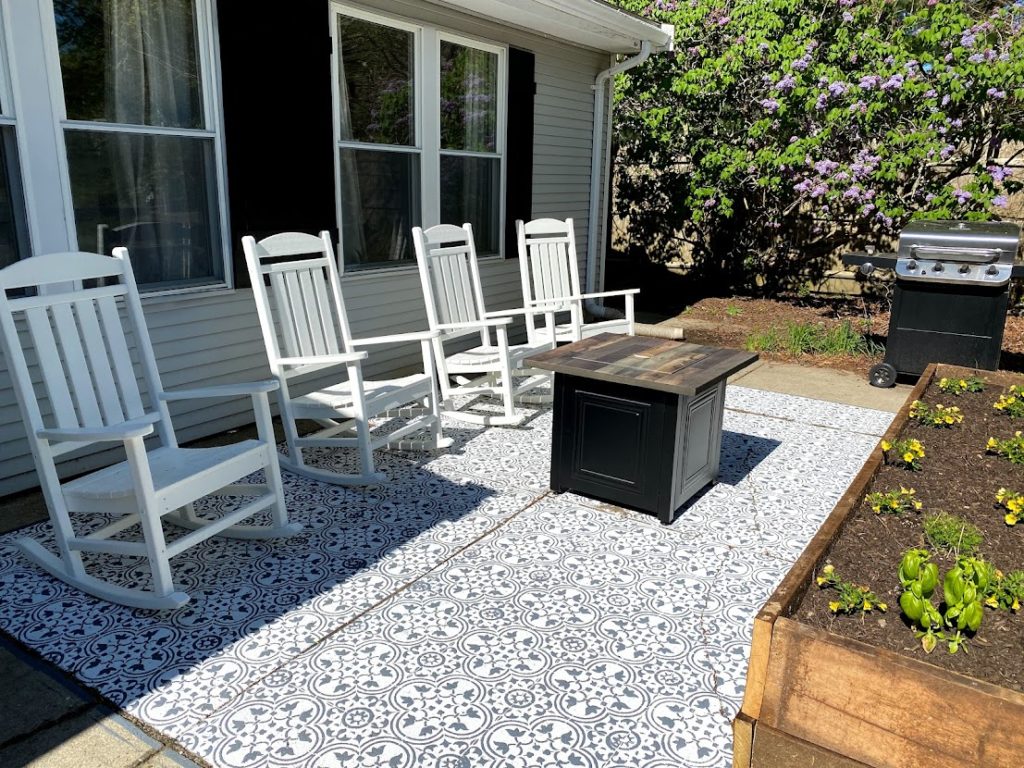 Once I was done stenciling, I finished off the edges by painting a small border with the gray pearl paint. All in all it took me about 7 hours to do the stenciling – so if you are trying to get a rough estimate on your project that is about 18 square feet an hour. But now that it is done it was SOO worth it! I love it and now my patio is a wonderful place to hang out and I'm not embarrassed when people come over.
But how does it hold up?
I waited 6 months to write this because I wanted to be able to report on how the painted patio was holding up. And I'm very happy to report it still looks amazing. We have had lots of foot traffic over it, it's in full sun for several hours each day, and we have had several drenching rain storms and it weathered it all well. The surface is not slippery at all, even when it's wet.
We recently had a big party and I wanted to clean up beforehand. I pulled out the power washer to clean off the patio and now it looks just as good as it did on day 1. Even power washing the paint did not cause it to peel or chip at all, it just lifted out the dirt from every day use.
I would definitely recommend this project to anyone looking to spruce up a boring concrete patio!