*This post may contain affiliate links, which means I may receive a small percentage from qualifying purchases if you make a purchase using the links, at no additional cost to you*
-------------------------------------
I was so excited about the front porch when we bought our house. It was run down, but I could so clearly see what it could be!
First, let's start with some before pictures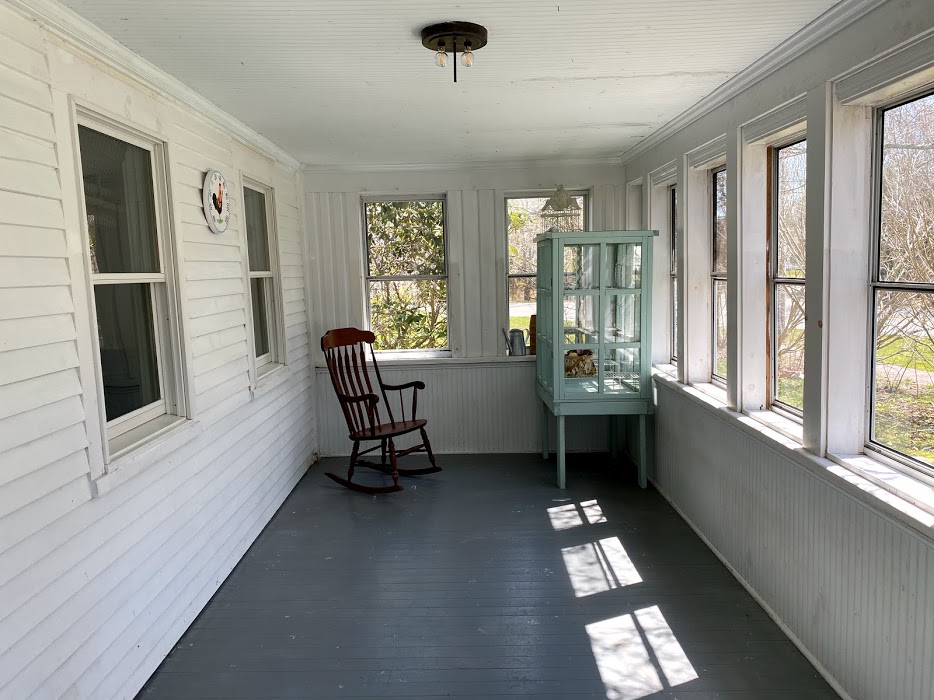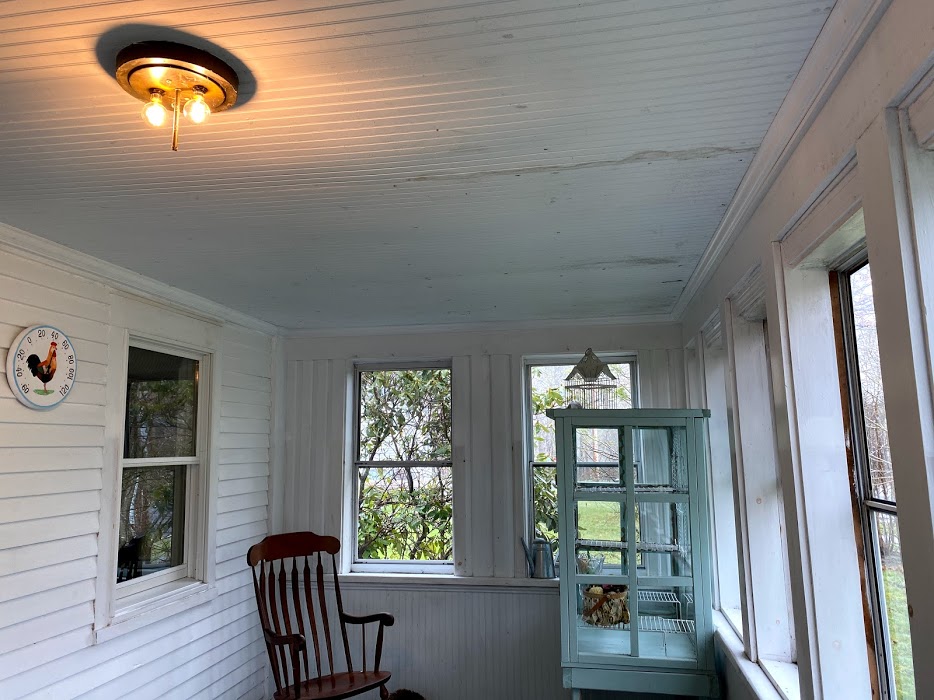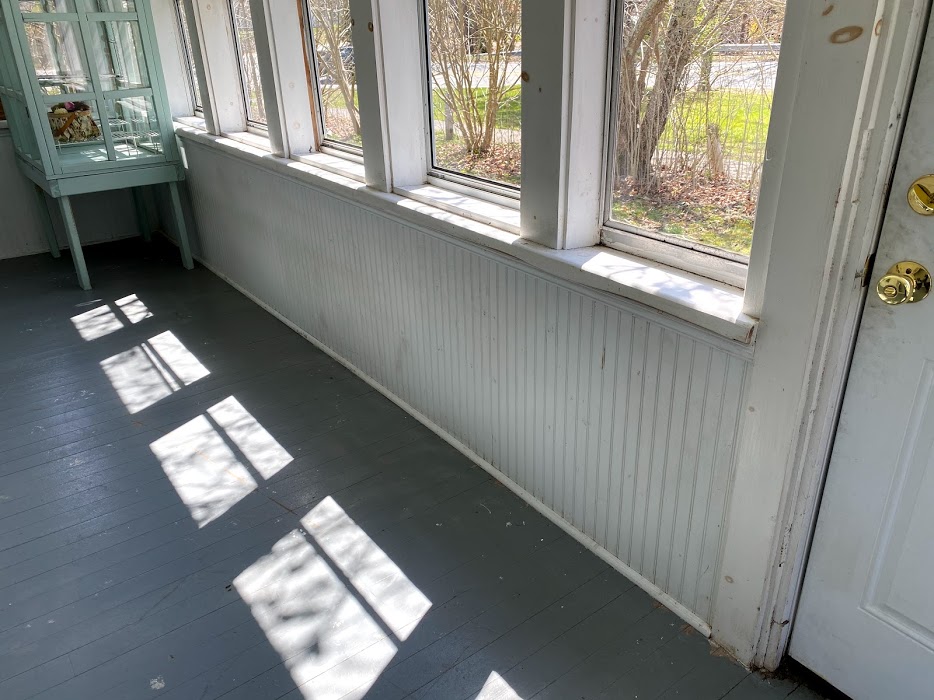 Great space right? This porch was grungy, dirty, and just plain neglected! This is my favorite type of transformation. Paint is seriously like magic. It is cheap, easy to do yourself, and makes such a HUGE difference.
Literally every surface in this room needed to be cleaned & painted. So top to bottom, let's get this room painted!
I might live in the north, but I know in the southern states it is considered good luck to paint your porch ceiling blue. I have pinned so many cute blue ceiling porch inspiration pics, there was really no debate on what color to use. Blue is my favorite color and I was really excited to get a fun pop of color in here! The color I used was Undine from Behr – it's such a neat shade that goes from shades of blue to green depending on the light in the room. I used this paint for the ceiling and for the doors.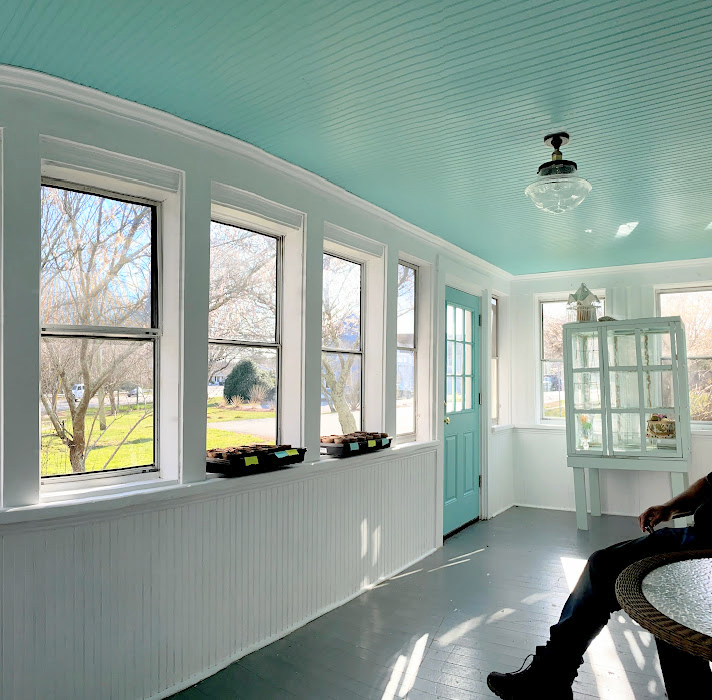 While we were working on cleaning up the ceiling, it was time to replace the ceiling light. The cover to the current light was missing when we moved in, likely broken long ago. All that was left was the base and a couple bare light bulbs. Anything would have been an improvement from there!
I found this cute school house style light fixture that seemed right at home here. I love the metallic band at the top, and the seeded glass.
The door hardware for both the outside door and the door into the house looked to have been last replaced in the 80s. They were bright, brassy gold and corroded. The former owners also didn't give us keys to either of these doors. They only key they had was to the back door! So it was time to replace these and actually be able to unlock our house. To update the doors, I replaced the knobs and deadbolt with some modern matte black hardware.
All the doorknobs in the house needed replacing – 18 doors. That was going to be expensive enough, so I decided to use black enamel to paint the hinges to match. So much easier! An 8 oz can of Rust-Oleum enamel in satin black set me back $10 vs $100 to replace all of those hinges was a no brainer. I plan to someday replace all the doors so they match each other and the time period of the house. When I replace the doors, I'll do the hinges, but for now the paint was an easy solution!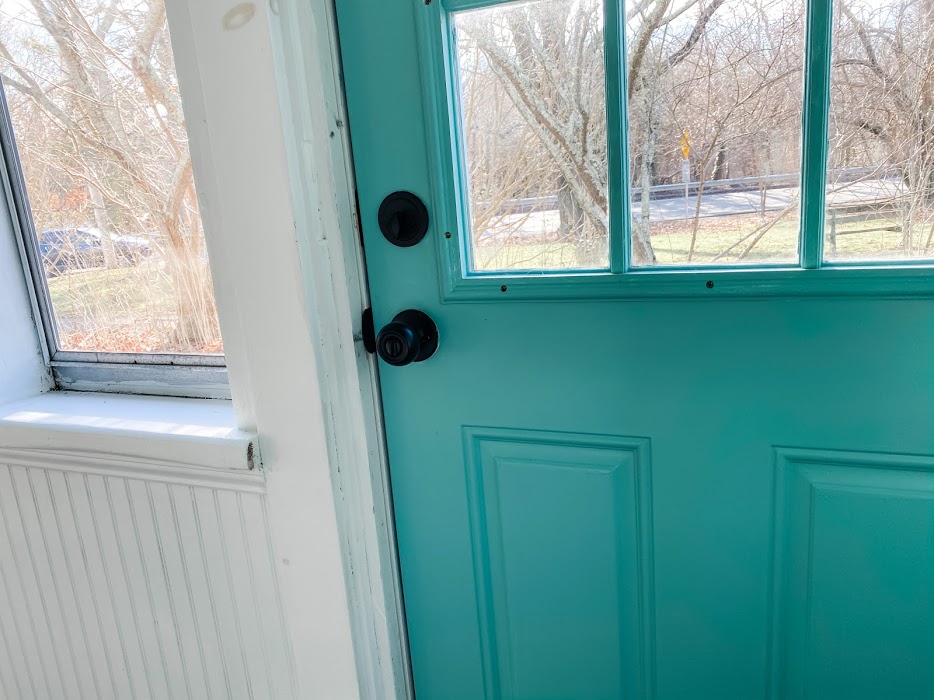 For the walls and window trim, I wanted to keep the room really light and bright. I needed three coats to cover all the grime! I used Behr Ultra Pure White.
The porch floor was already painted, but it was very chipped and scuffed. I saved the floor for last in case I made a bit of a mess painting the ceiling and walls (spoiler alert – I did). For the floor I used Behr Porch & Patio Floor Paint in Slate Grey. A long handled paint roller made painting the ceiling and the floor so much easier!
Now that the room is entirely painted, it's time for the fun stuff! The bright blue ceiling really inspired me. This room was calling out to be playful, fun, and feminine! I was really excited about this plan because it's not a style I typically use.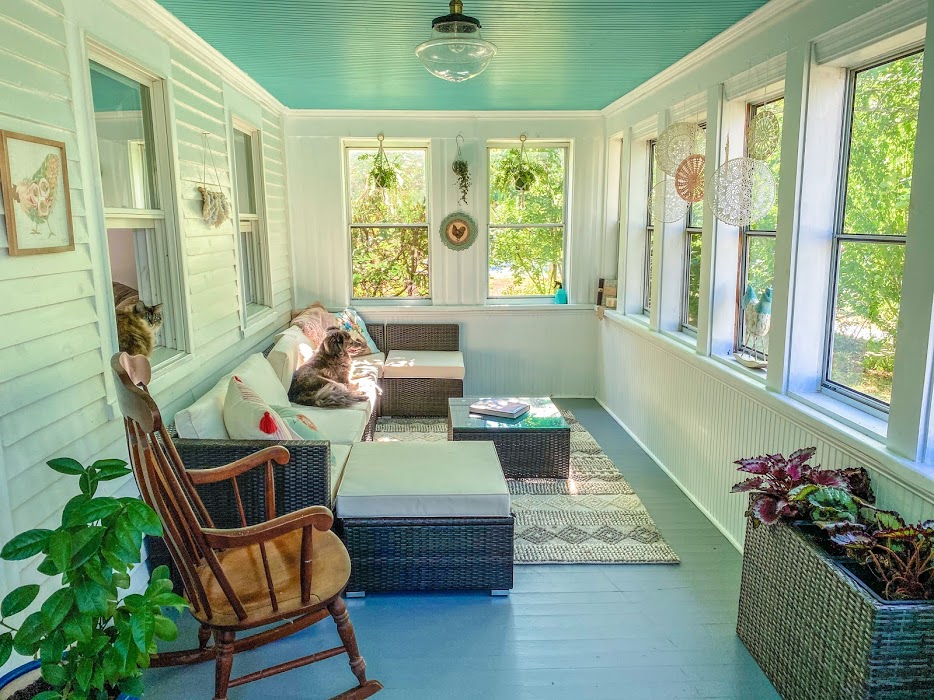 A sectional sofa provided us with plenty of seating for our large family & friends. It's modular so I can move the pieces around to rearrange really easily. Unexpected bonus – when the sectional was shipped to us some of the pieces were damaged. Wayfair resent us the two boxes with damaged parts and with a little imagination I was able to construct two extra seats from the spare parts!
Pier One was having their going out of business sale (boo, I am so sad!), but I was able to pick up some cute pillows and a throw blanket pretty cheap. The quirky rabbit pillow came from Home Goods in their Easter clearance.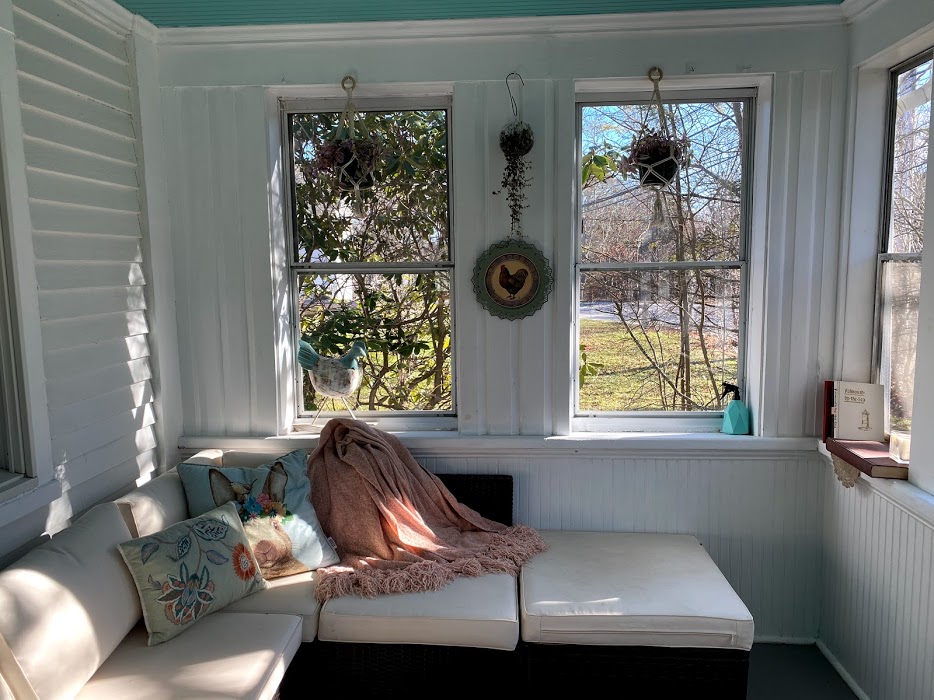 I LOVE the area rug, the texture, the colors. It anchors the room perfectly.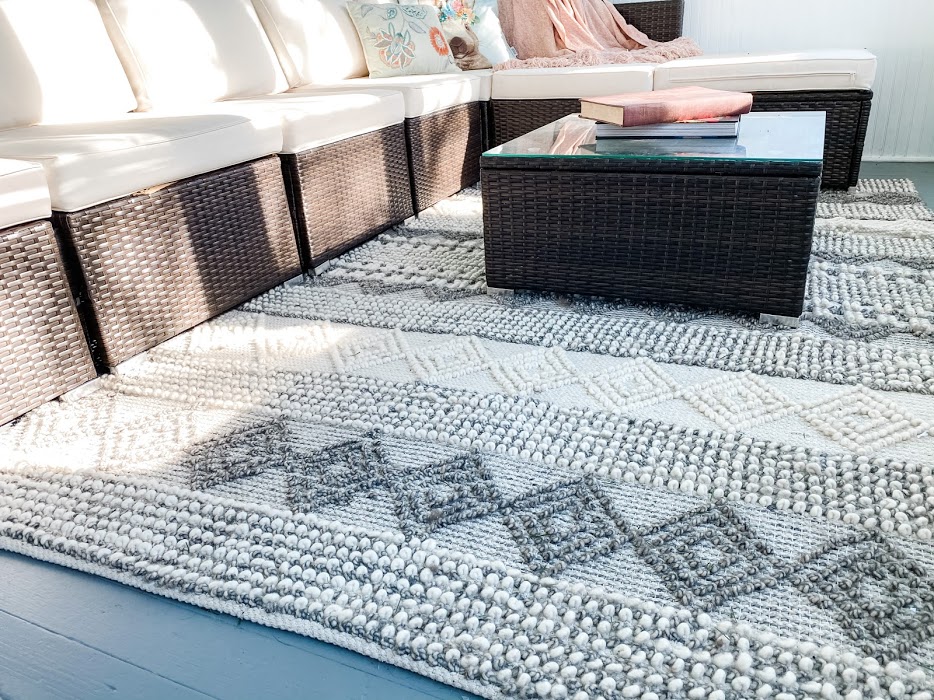 With all this great light from the south facing windows, we had to have lots of plants! Macramé plant hangers and wall hangings provide a cute, feminine boho vibe.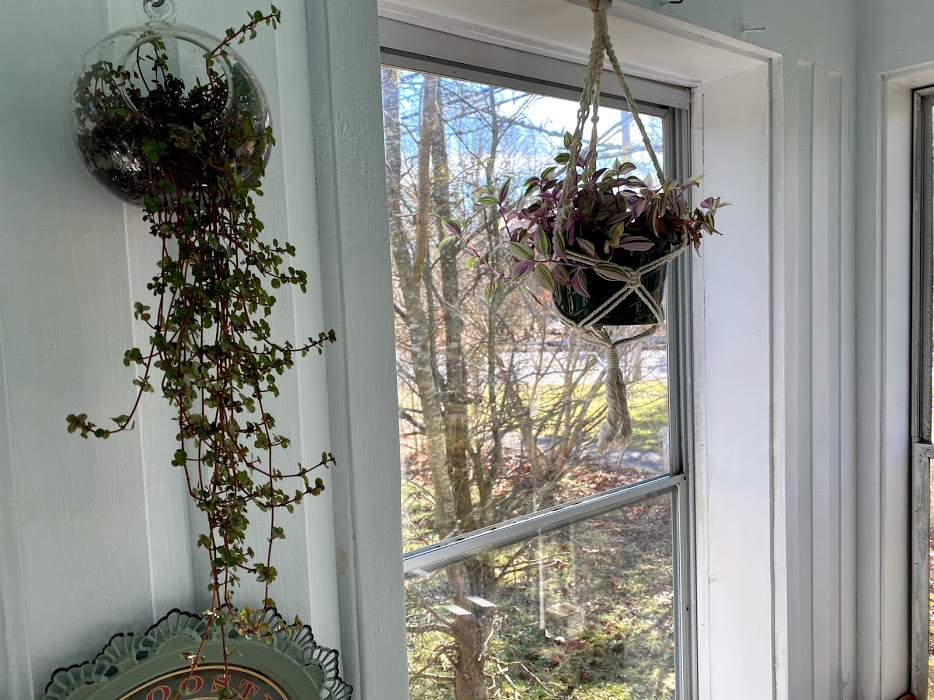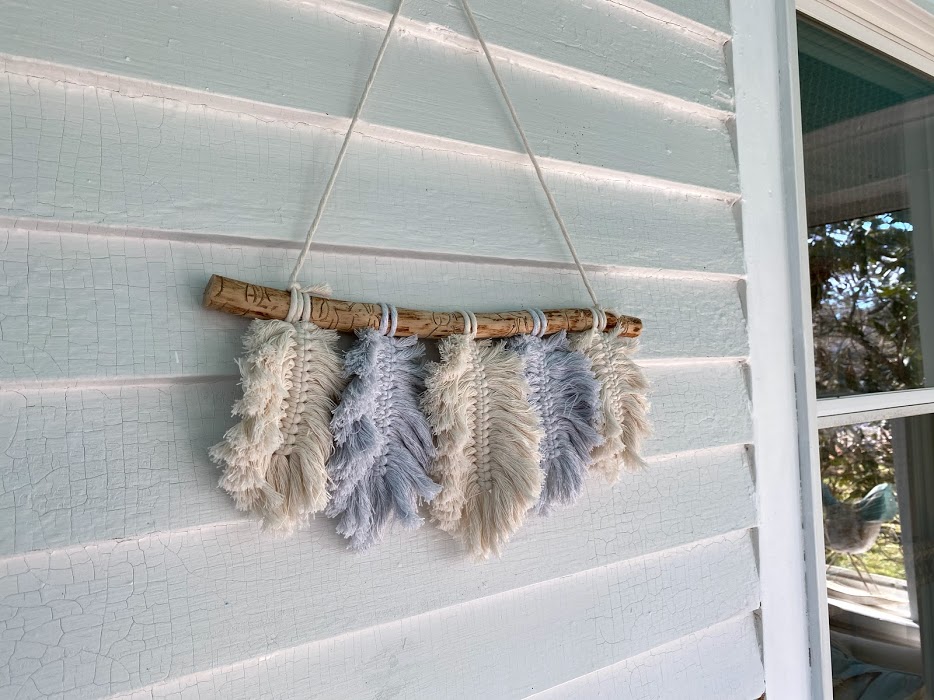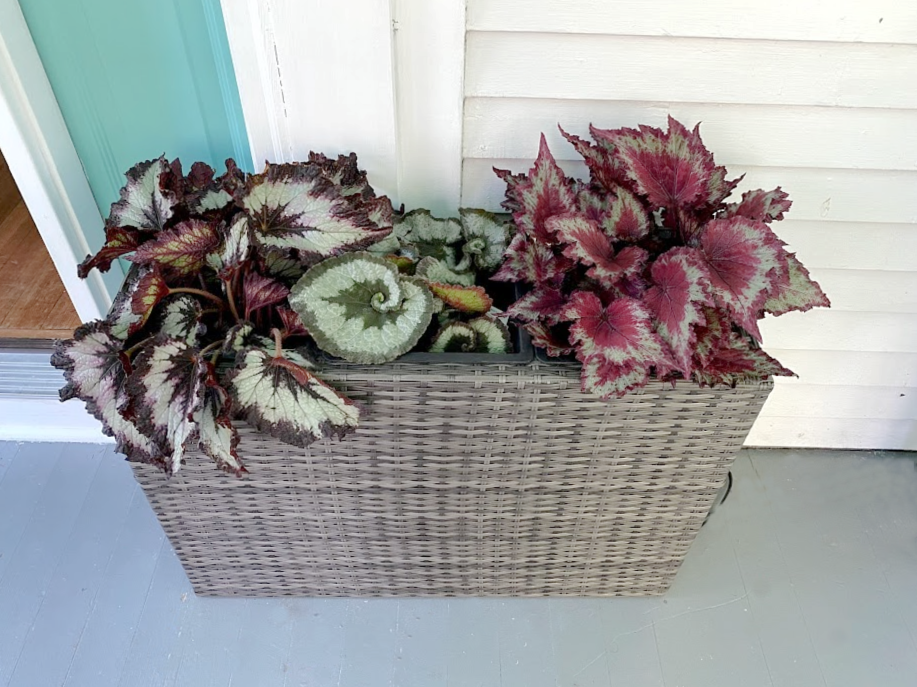 For even more plant space, I have my greenhouse that I moved from the old house. Years ago, I made this from picture frame glass and simple lumber as a way to keep my cats from eating all my plants. I've used it for general plants, starting seeds, and fairy gardens. click here to check out the tutorial It fits perfectly in the space and was already a cute shade of pastel green!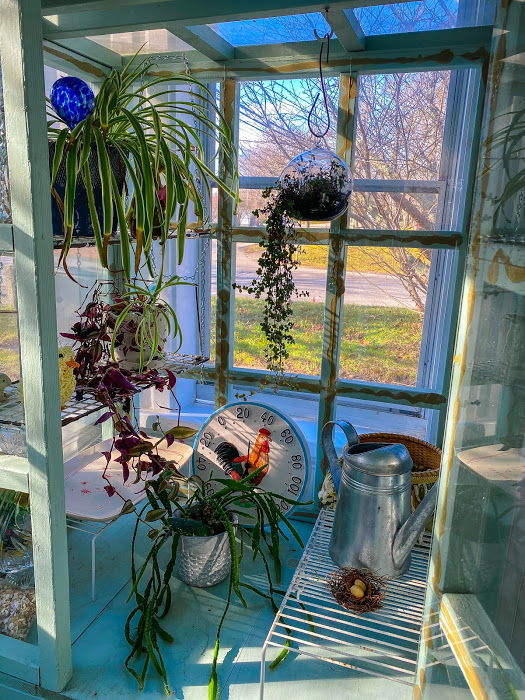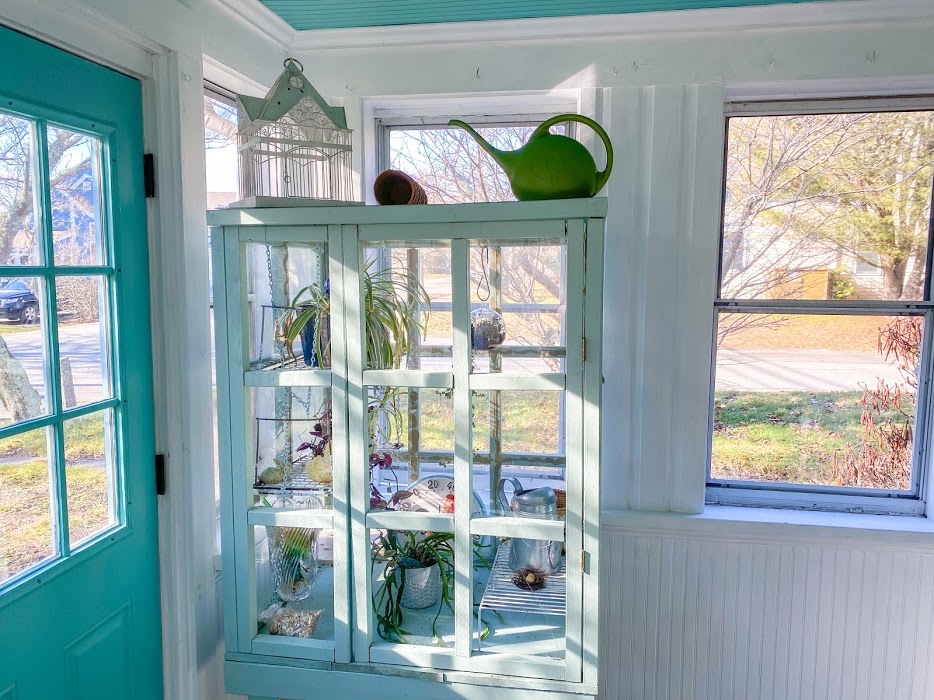 I wanted a clean look without curtains. For a little pop of texture at the windows, I made these super easy, super adorable hangers out of old doilies. You can catch the tutorial here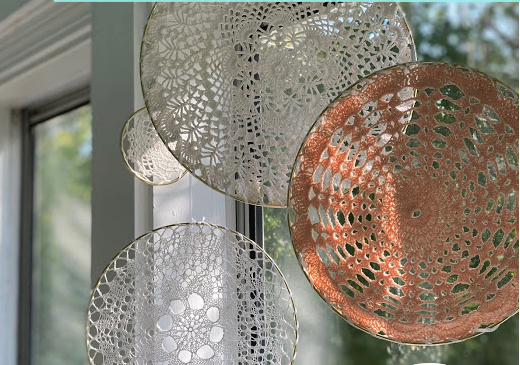 I am so happy with my front porch refresh. We still have some heavier work to do in here – all the windows need to be replaced and I would love to replace the modern steel entry doors with something more historic. This is a lovely place to hang out in the morning with a cup of tea, or lounging in the cool summer evening with a book.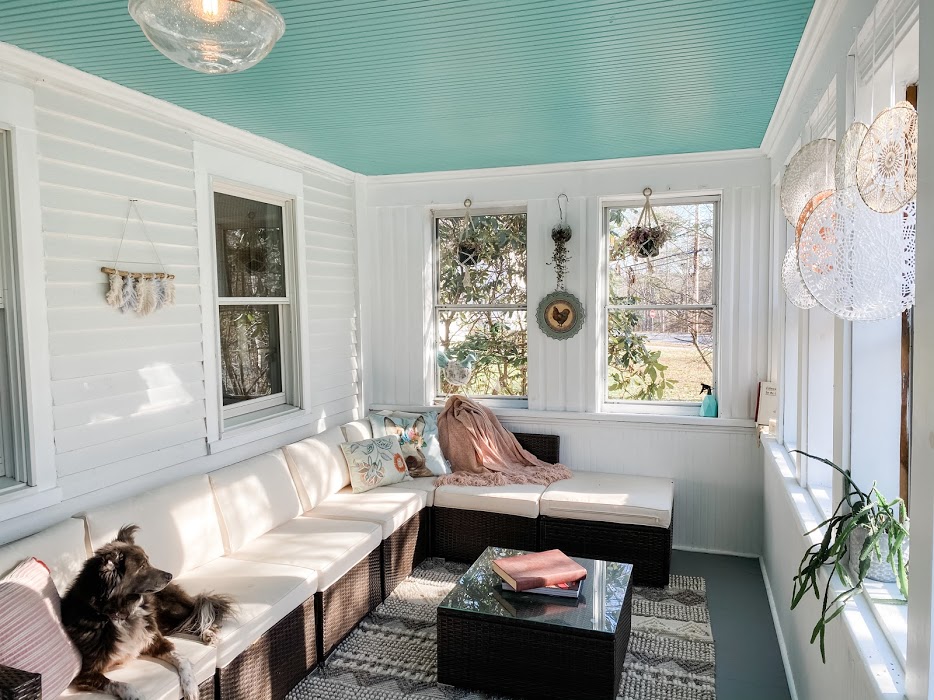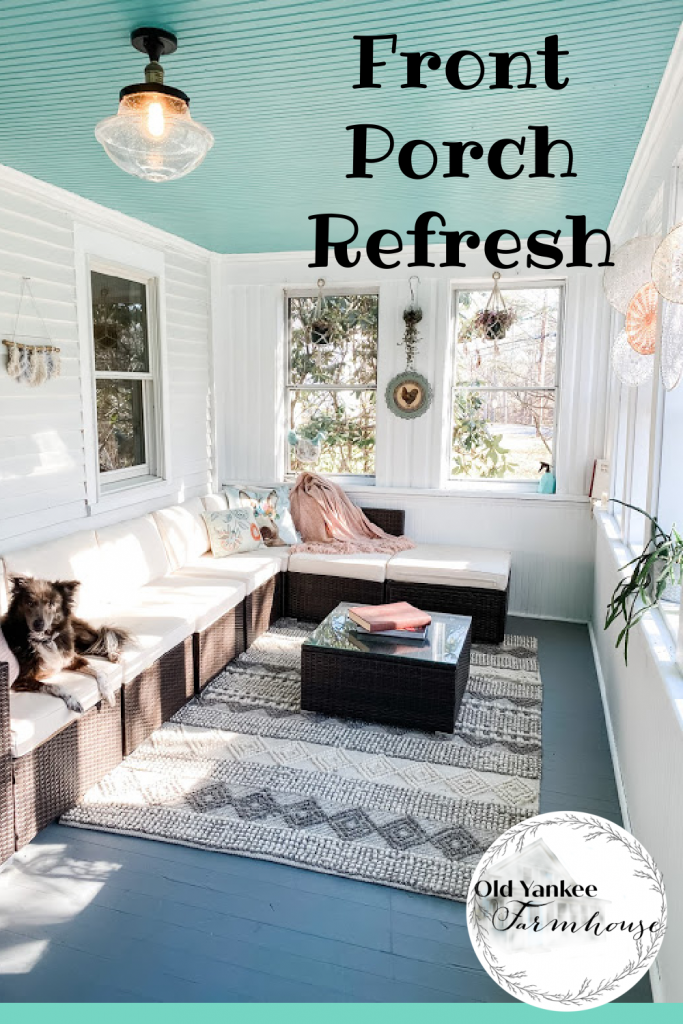 Shop this room