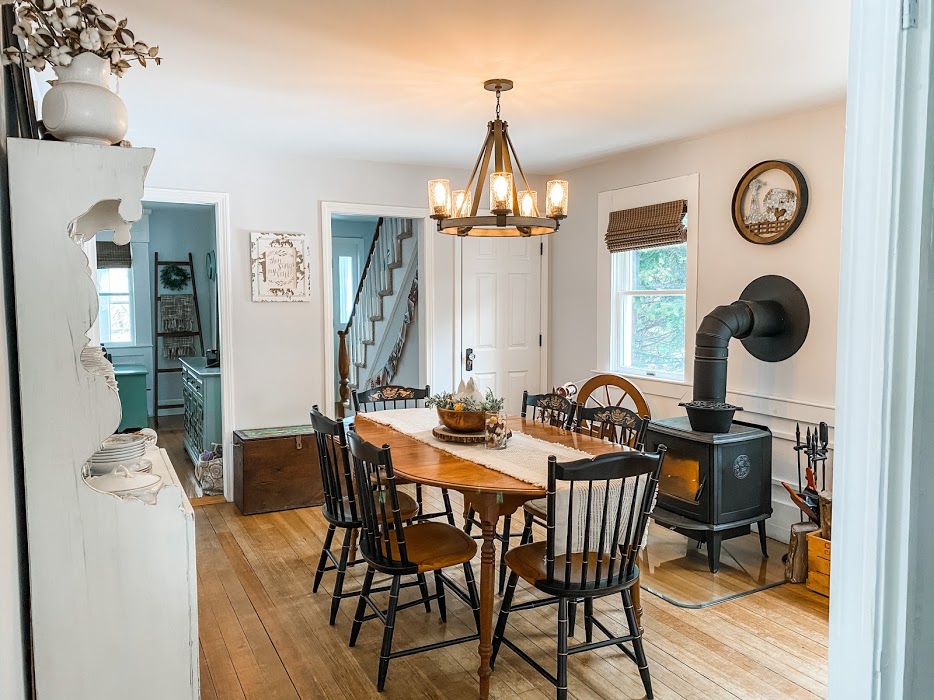 *This post may contain affiliate links, which means I may receive a small percentage from qualifying purchases if you make a purchase using the links, at no additional cost to you*
-------------------------------------
The kitchen might be the heart of the home, in our house the dining room is the hub of the home. Not only in family meals shared around the table, but our dining room is literally a hub. It's in the very center of the house with 7 doors that spoke off of it. That can make arranging furniture very tricky! To complicate matter more, there is also a woodstove in the room, which I love for the warmth & ambiance, but limits functionality sometimes.
Let's start this room tour off with some pictures from when we first moved in: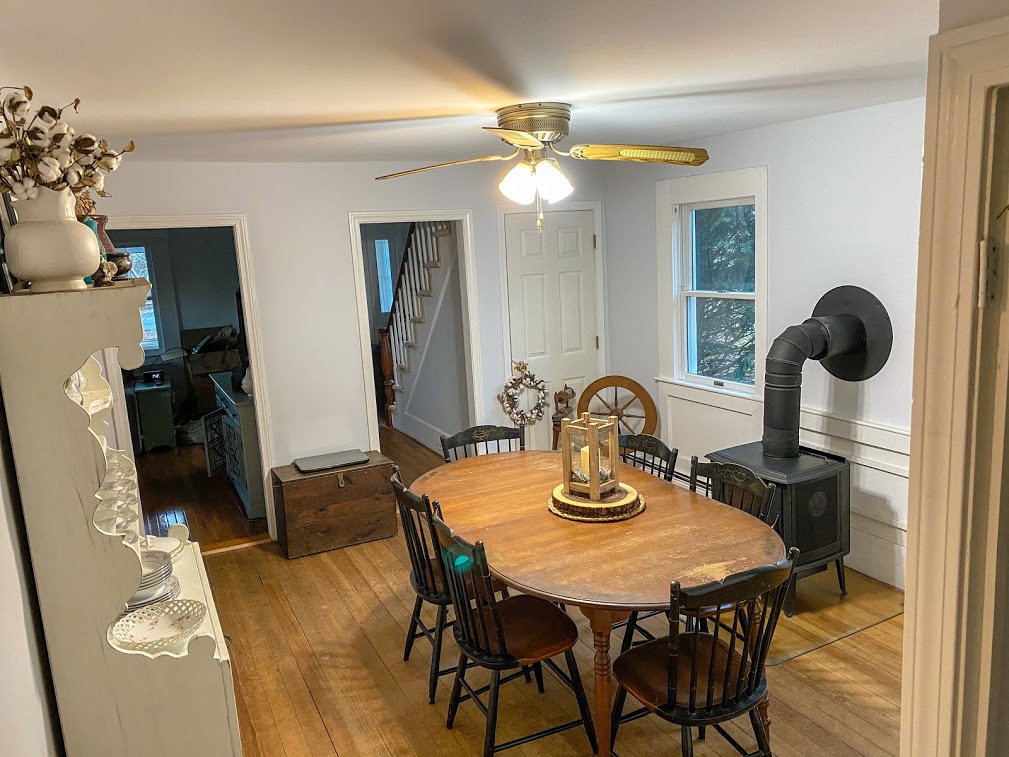 The picture above was from just a couple days after we moved in. The bones of this room were great, it just needed a little push. I was really luck to find some old pictures of the interior of the house. I am not positive but I think they are from the 1980s. They were very adventurous with color back then – I'm glad I didn't have to try to paint over this bright yellow!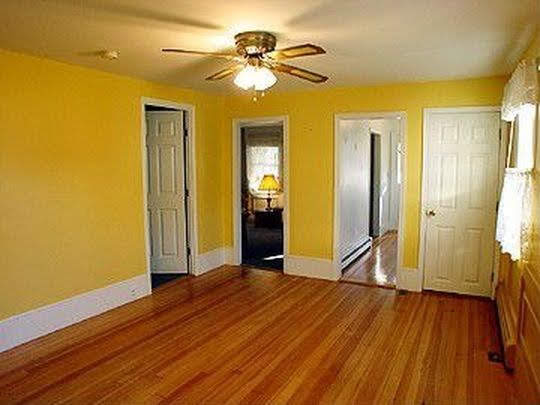 My two favorite things about this room are the trim work & the original wood floors. This room and the living room have lots of wonderful original trim – the wide baseboards and details around the windows and some of the doors. At some point I plan to recreate this in the rest of the house.
The very first thing I did in this room was remove the ceiling fan. We had it down within a week of moving in! I just really dislike ceiling fans in general and this one was especially ugly, probably from the 1960s or 70s with faux wood and faux caning and lots of brass. We replaced it with a simple circular chandelier with seeded glass shades.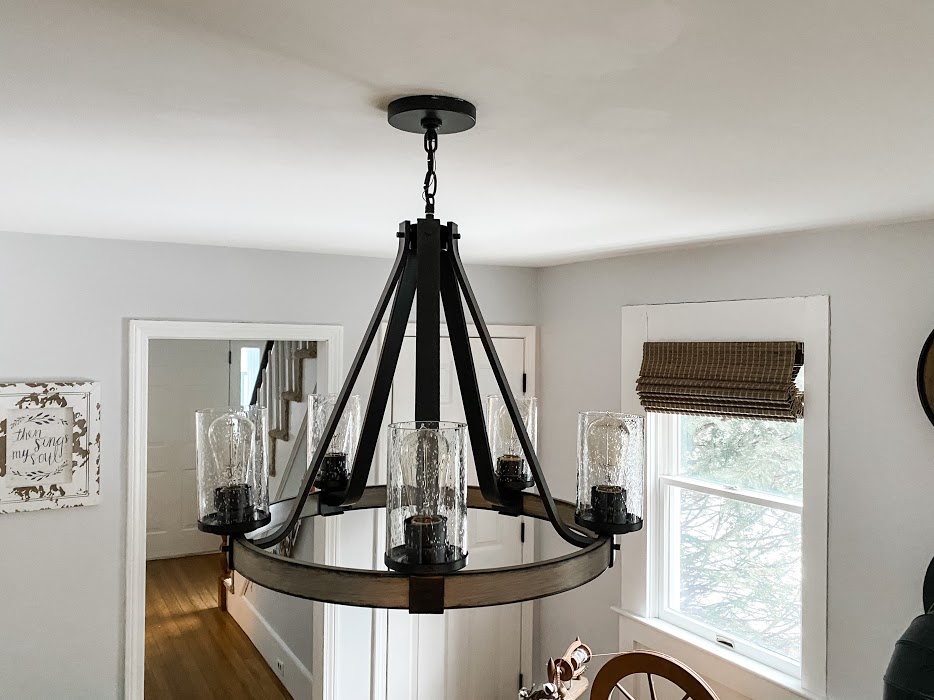 The room was already painted in a very soft grey – "Marilyn's Dress" by Benjamin Moore. The trim and doors were a cream color (or maybe they were just really dirty?), so I painted all the trim and the doors in "Ultra Pure White" by Behr. It was a subtle change, but really made the trim pop.
One of the things I love about living in an old house is finding clues about the changes the house has seen. While painting the trim & baseboard heaters I found a couple hard to reach places that were still sporting some stylish harvest gold coloring. I wonder if the walls were avocado green to match?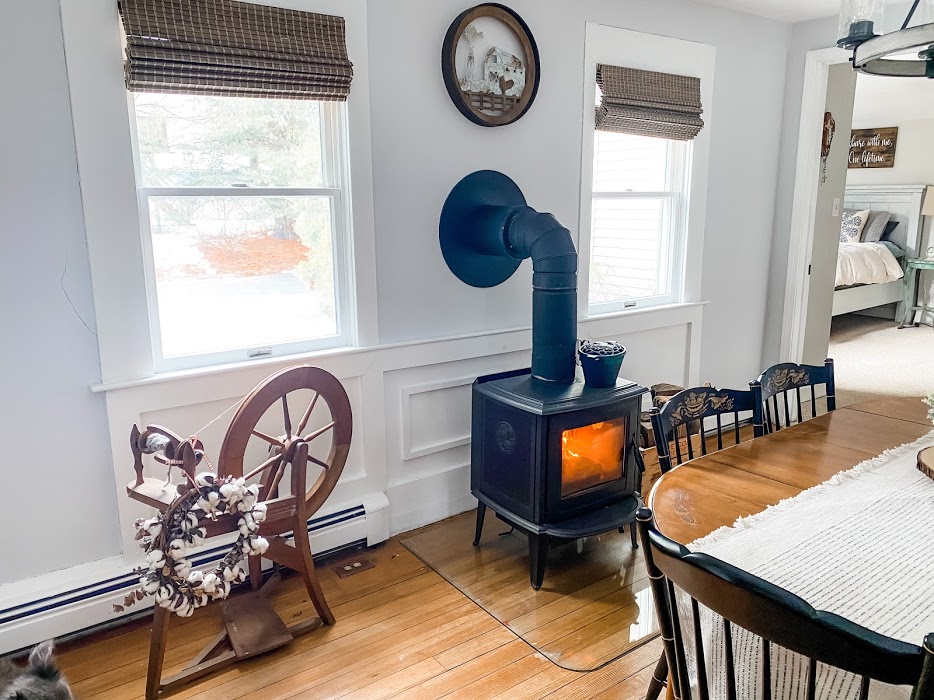 The woodstove was in great shape, a fairly new addition to the room from a previous owner. It just needed a quick cleaning with some woodstove polish. We found an old cranberry crate at a local antique shop for holding extra wood. I have loved adding different aromatic items to the steamer pot – my favorite so far is cinnamon sticks & pine needles.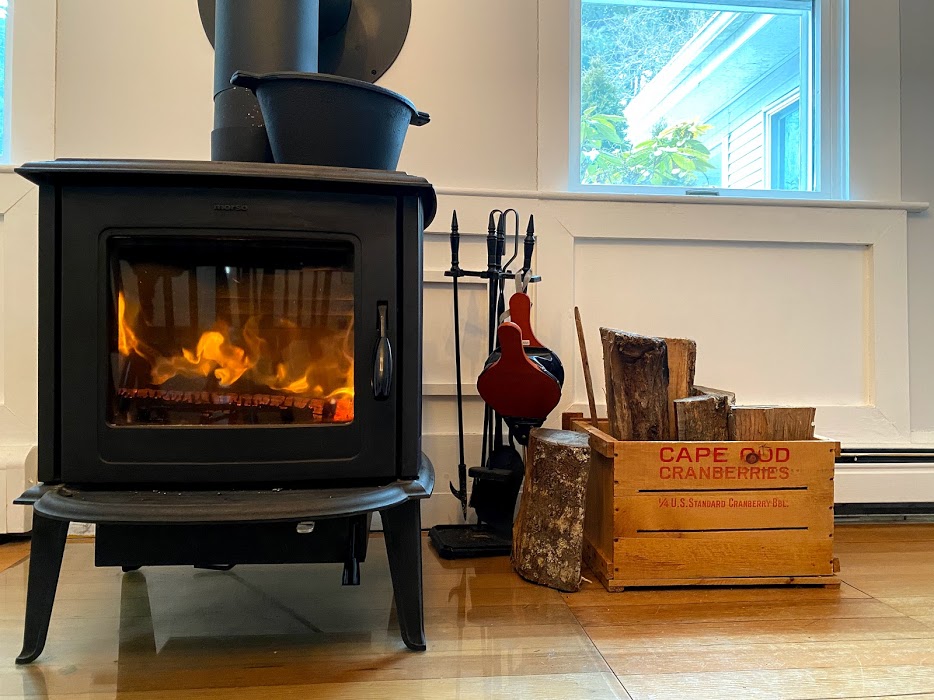 The dining table is a Hitchcock set from the early 1970s. It belonged to my parents when they were newly married. Stenciled Hitchcock furniture has been a staple in New England homes for 200 years. My set showed every bit of it's 50 years – the finish was rubbed clean off in parts, my kids had carved marks in it, the polyurethane was sticky with age.
Other than the family history, one of the best parts of the dining set was the stenciling. I was worried about refinishing and losing it so I put it off for years. Finally I decided it was time. I hand drew my best approximation of the stencils and had a stencil maker on Etsy custom cut them. Then I refinished the table & chairs and held my breath. It certainly doesn't look as good as the professionals at Hitchcock, but I still love how they came out. Now my dining set is ready for another 50 years! click here to read more about this project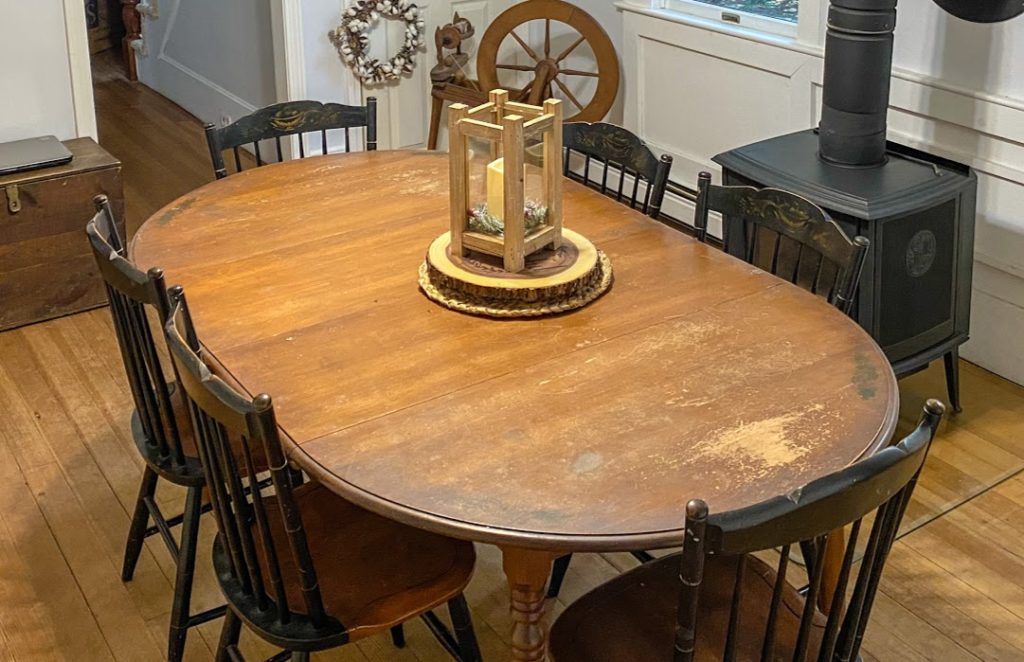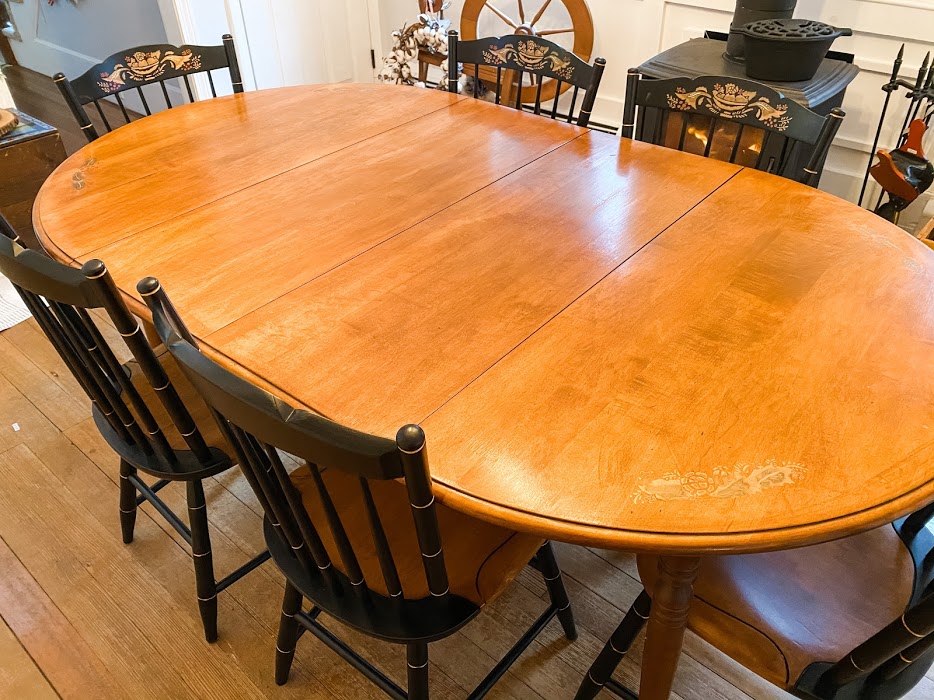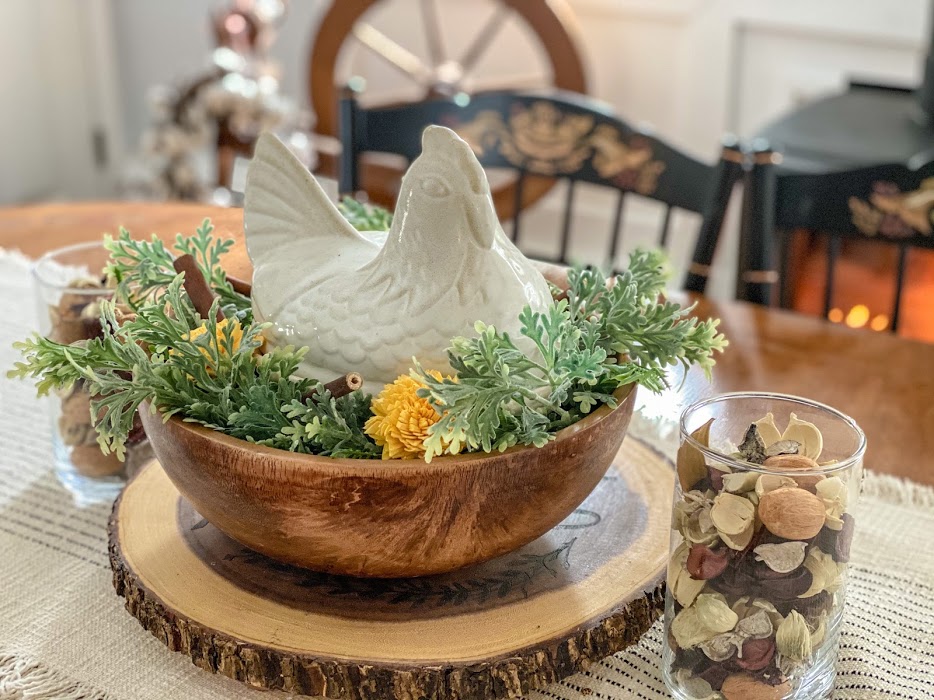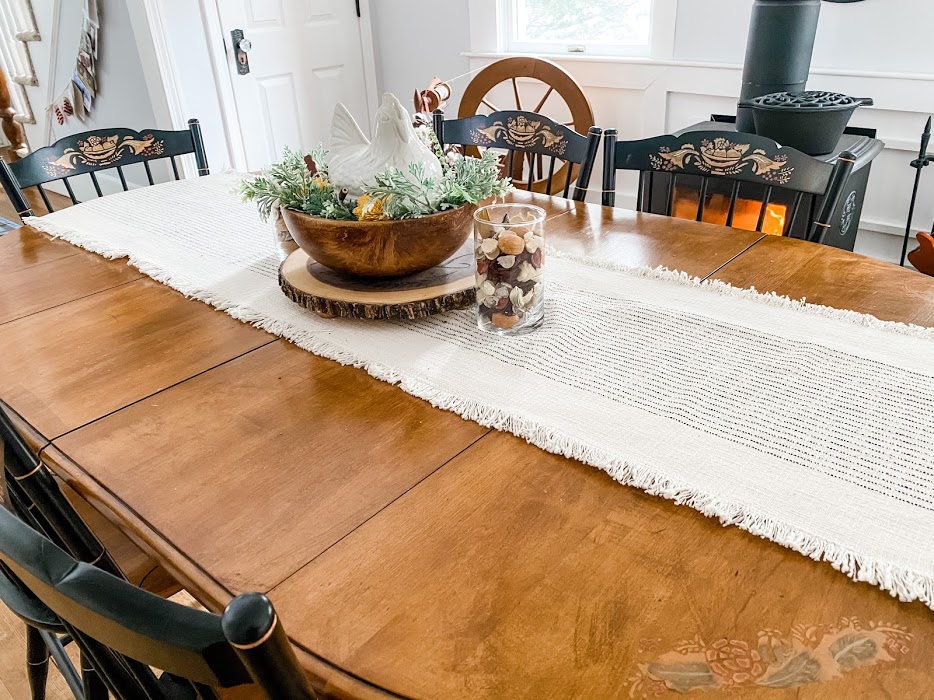 The china hutch also belonged to my parents. I am so grateful to have some pieces in my home that have history to them, it's really what makes this old farmhouse work! A few years ago I painted the hutch with white chalk paint, lightly distressed, and swapped out the hardware from brass to black. I love the scrolling designs along the side.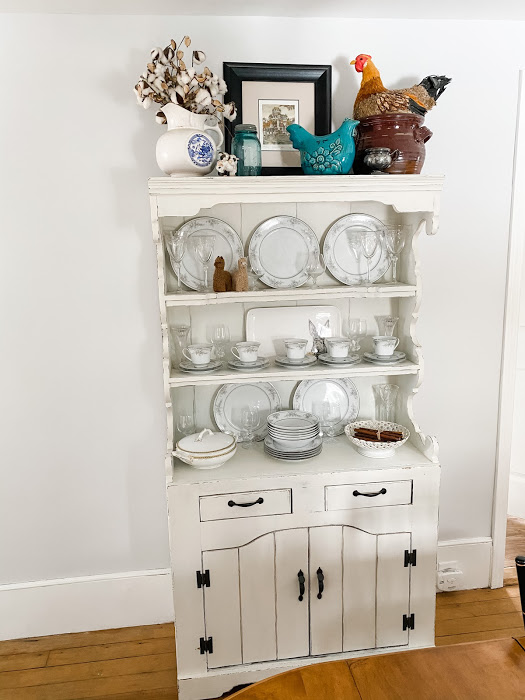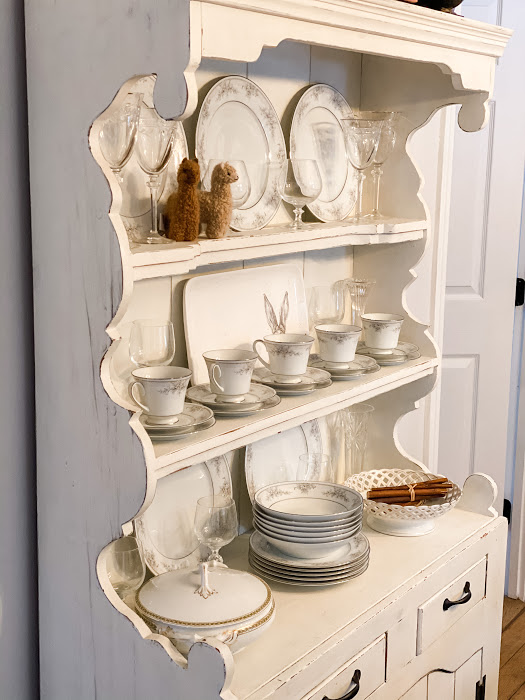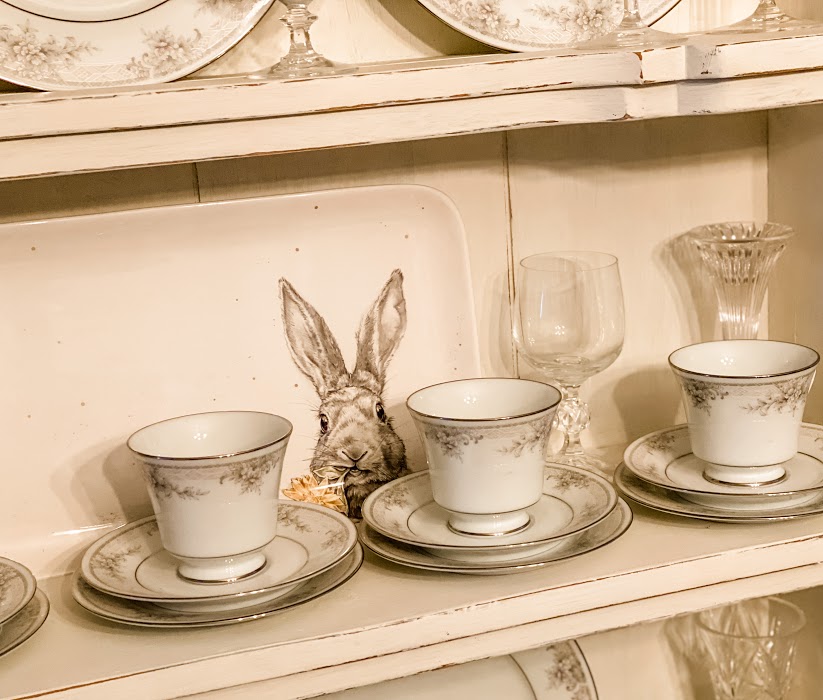 You may have read on some of my other pages about the ordeal we had to go through when buying this house. The deal nearly fell through several times. It ended with us needing to take a huge leap of faith by closing on our old house and renting this house temporarily even though we were still unsure if we would be able to buy this house. Thankfully it did not end with us being homeless, we were able to close a couple weeks after moving in, but it was possibly one of the scariest times in my life.
My oldest daughter bought this sign for us that says "then sings my soul" right before we moved in. I tend to operate by instinct, by faith, for much of my life. After seeing this house for the first time, I told her it sung to my soul. I knew it was where we were meant to be. This sign was the first thing I hung on the walls, to remind me that if God brings me to it, He will bring me through it.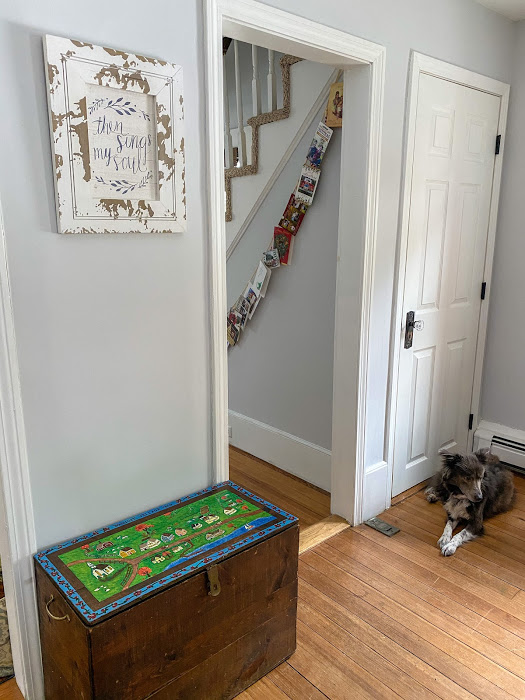 Below the sign is an old horse tack box that I cleaned up and painted a little folk art rendering of our neighborhood in 1860. I certainly took some artistic liberties but I did research which of my neighbor's homes were here in that time period!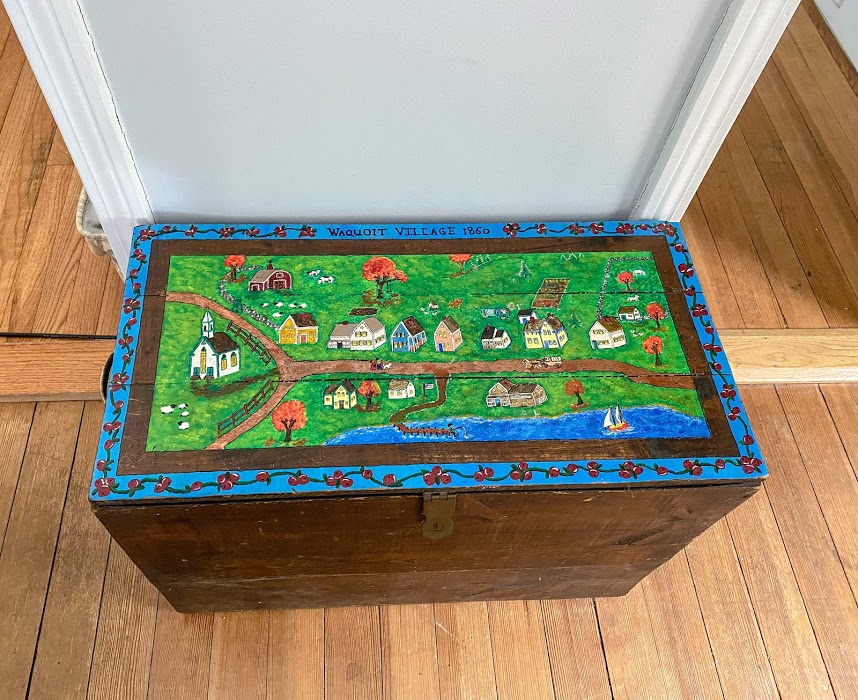 Someday I want to replace all the interior doors with something more period appropriate. But for now I settled for replacing the old brass door knobs with some historic glass ones with a backplate. I love how they came out! click here to read more about this project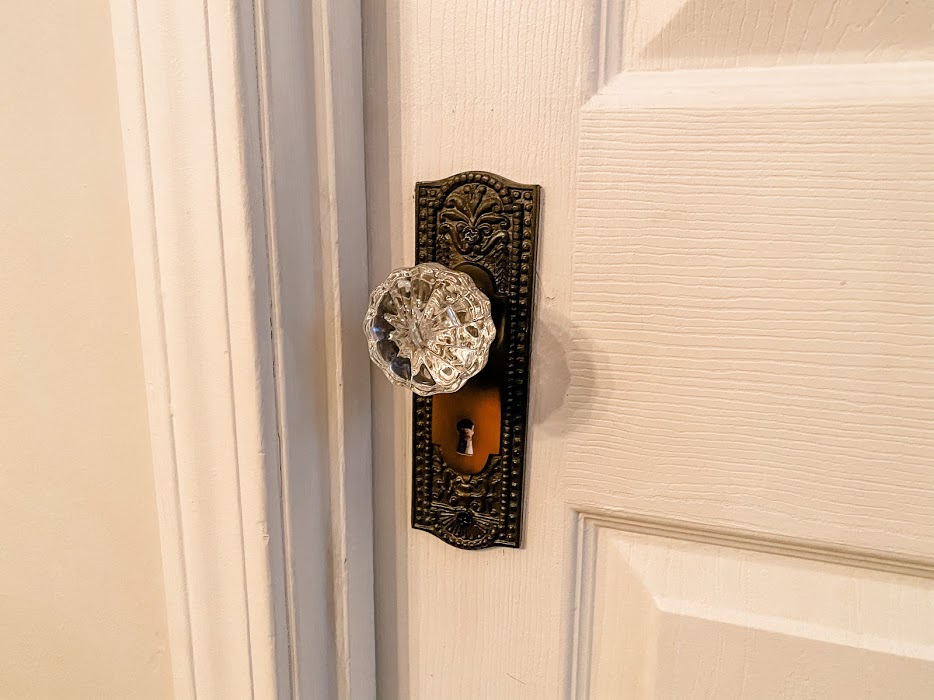 Shortly after starting our farming dream with just four little chickens, I found out my grandfather grew up on a chicken farm in Connecticut. He had these great pictures of him & his sisters with some of their chickens. I recreated the photos with my own kids and printed them all in black and white. In the center is a silver turkey platter that belonged to my grandfather.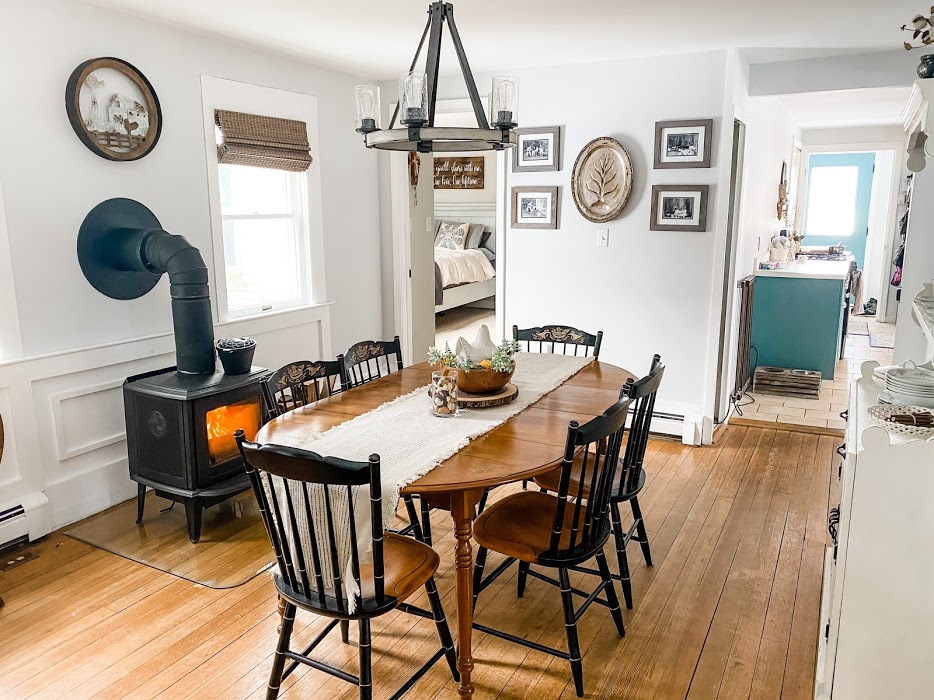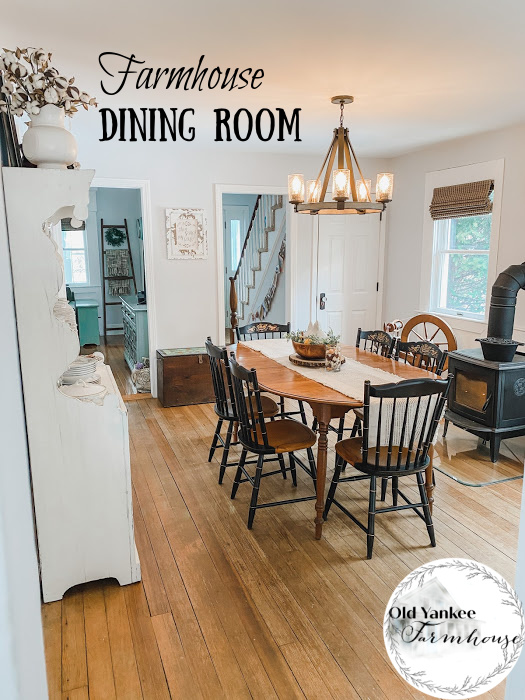 Dining Room Shopping Guide
Paint – walls "Marilyn's Dress" Benjamin Moore, trim "Ultra Pure White" Behr
Chandelier – Kichler Barrington 5-Light Anvil Iron in Distressed Antique Grey
Window Shades – Hyman Inc Radiance Cordless Roman Shade in Driftwood
Woodstove – Morso 7110 with tempered glass hearth pad
"Then Sings My Soul" sign – Hobby Lobby
Dining table & chairs – Hitchcock Chair Co