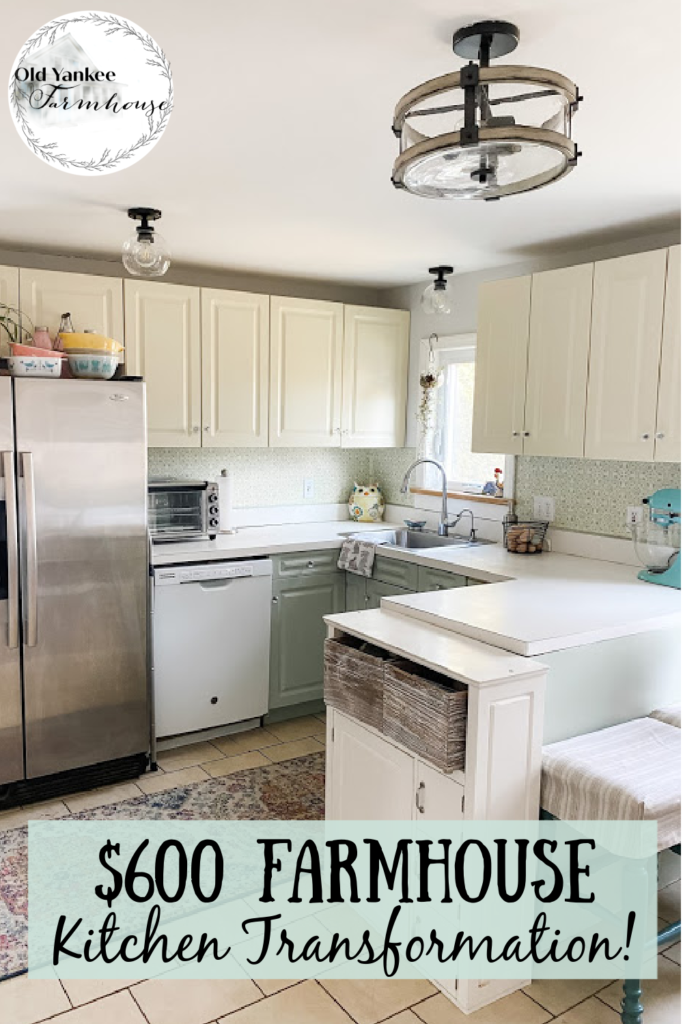 *This post may contain affiliate links, which means I may receive a small percentage from qualifying purchases if you make a purchase using the links, at no additional cost to you*
-------------------------------------
The kitchen is arguably one of the most important rooms in the house. Everyone gathers there, meals are cooked, laughs are exchanged. I have a love/hate relationship with my kitchen. I love all the natural light it gets. I love how large the room is. I love the potential. I hate the layout. I hate all the wasted space. I hate the chipped cabinets. I hate the old appliances. I hate the light fixtures. I really hate all the cracked floor tiles.
When we bought our house we thought we were going to have just enough money to gut the new kitchen after the sale of our old house. But then we found out we had to replace the septic system on the old house before we could sell. Then I lost my job in the travel industry a week after we closed on the new house due to Covid. So kitchen reno plans are on the back burner. I am hoping it's only a couple years away, but I know how life has a way of getting in the way sometimes.
But just because I can't gut the kitchen, it doesn't mean I need to live with an ugly kitchen! I was determined to play up the parts I loved and try to hide the parts I don't. I set myself a budget of $600, and I think it made a huge difference! It's bright & cheery and perfectly livable for now.
Let's see where we started out: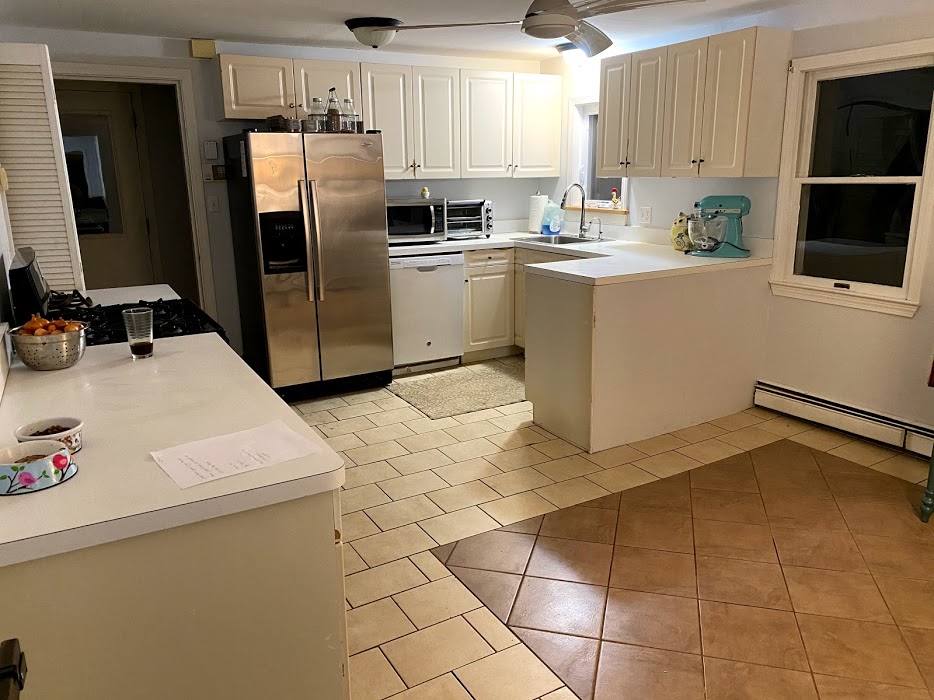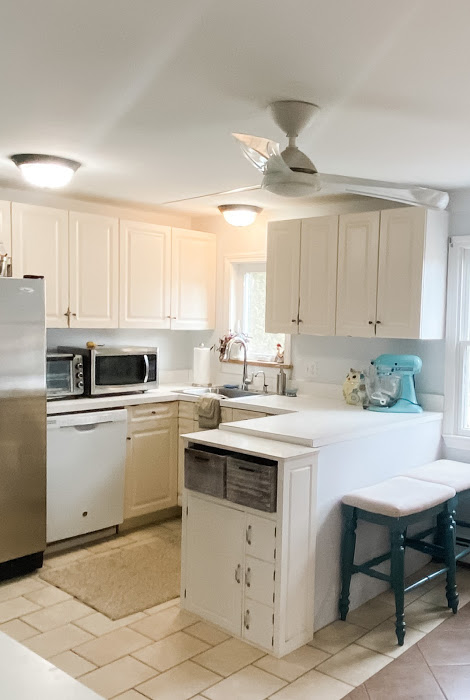 You can see it's a nice size room, but half the room is empty! I assume previous owners used this space for a small table & chairs. The dining room is just the next room over. I don't really want or need two tables right next to each other.
I believe the kitchen was last renovated in the early 90s. The laminate countertop has chips, the cabinet fronts have LOTS of chips, the appliances are about 15 years old but nearing their end of life, at least two dozen of the floor tiles are cracked/chipped/loose. And there is so much missing tile grout. At least someday it will be easy to remove them! I especially "love" that fancy tile "rug" in the eat-in area. I am sure in 1991 this kitchen was top of the line, but 30 years later it's showing it's age (also how is it 1991 was 30 YEARS ago??!).
Luckily, lots of the things on my "hate" list are things I can at least patch up for the time being.
Let the facelift begin!
First, I ordered a couple of area rugs to cover up the worst of the chipping tiles. This is not only an aesthetic issue, some of the tiles have sharp corners and I don't want anyone to hurt themselves. I found a small rug for in front of the pantry and a matching long runner at Kohls. Bonus: I had $90 Kohls cash so they only ended up costing me $35!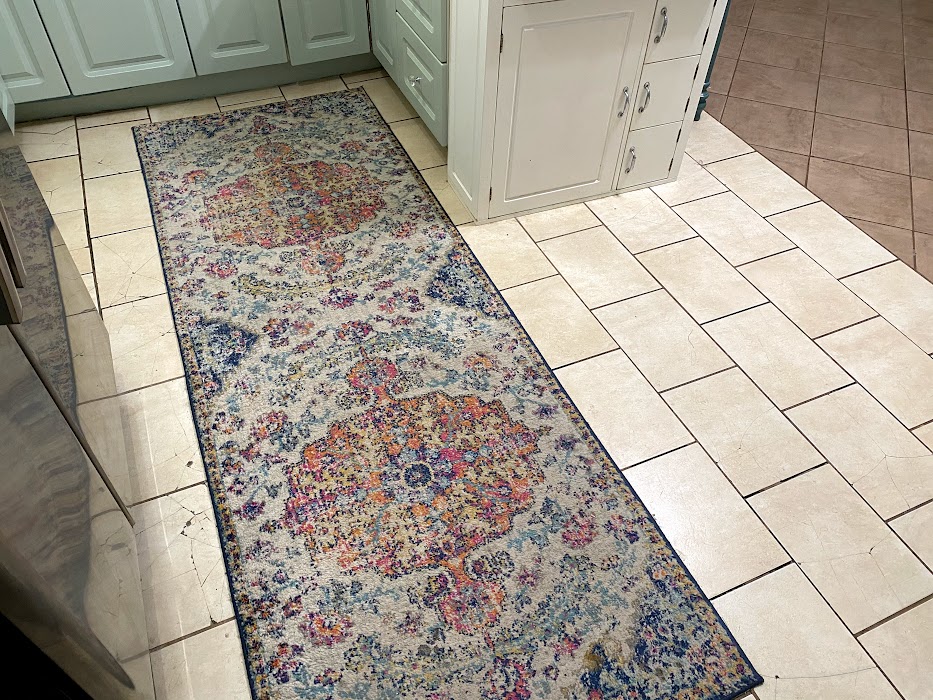 The doors to the pantry were louvered (which I am not a fan of) and also falling off their tracks and wouldn't close. I replaced the doors with solid bifold doors and also used some scrap wood from the barn to build some more functional pantry shelves so I could move the microwave & coffee maker in there. Click here to read more about my pantry organization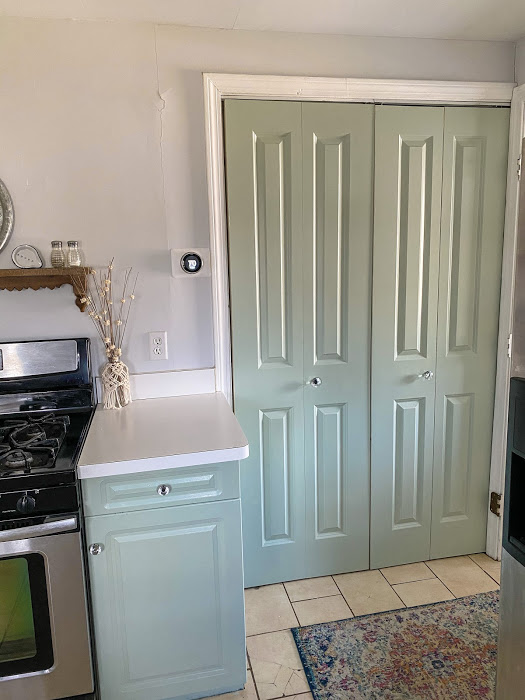 Next it was time to tackle the chipping cabinets. The cabinets were an off white/cream color. I took some of the chipping finish to the paint store and had them color match it. I painted all of the upper cabinets with the cream paint. Even though I didn't change the color, getting a fresh coat of paint on them made such a difference!
For the lower cabinets & pantry doors I went with a light sage/minty green. It's bright and happy and slightly retro and I absolutely love it!
The old cabinet knobs used to be very tiny metal grey balls. I swapped them out for some glass knobs. The glass knobs added to the retro vintage vibe and also matched the glass door knobs in the adjacent dining room.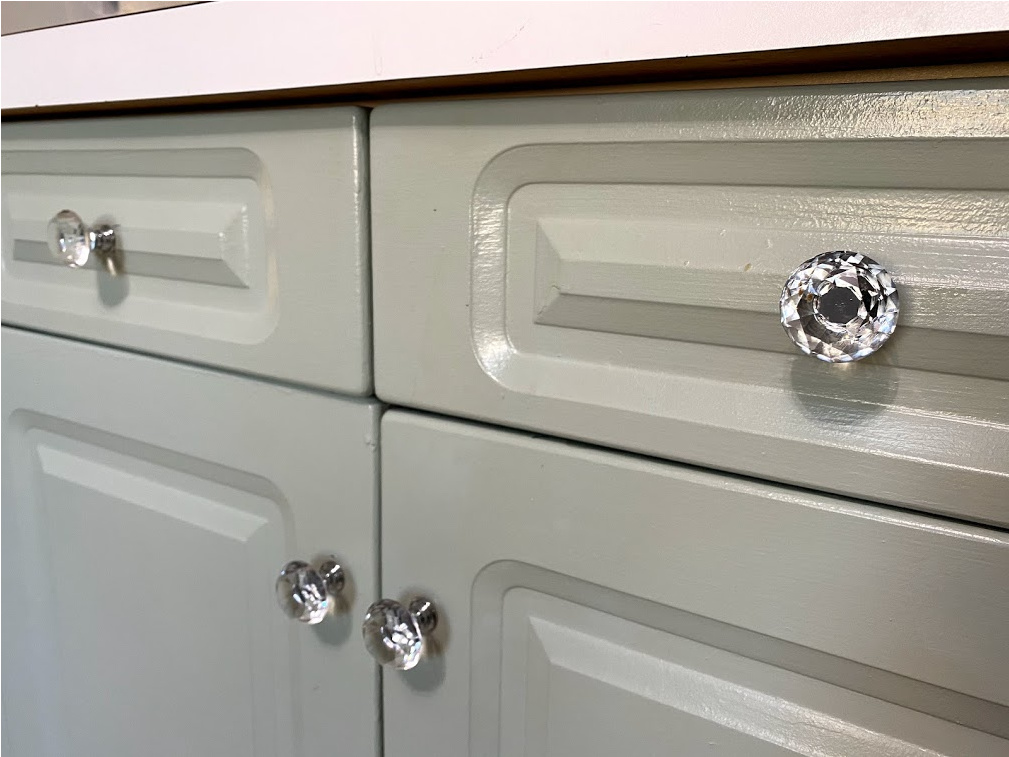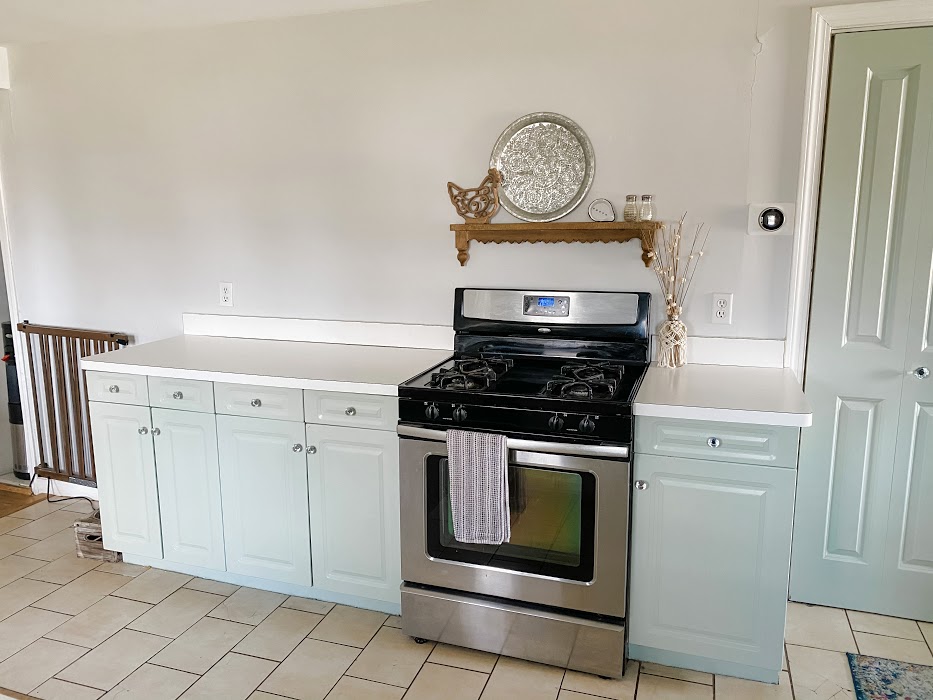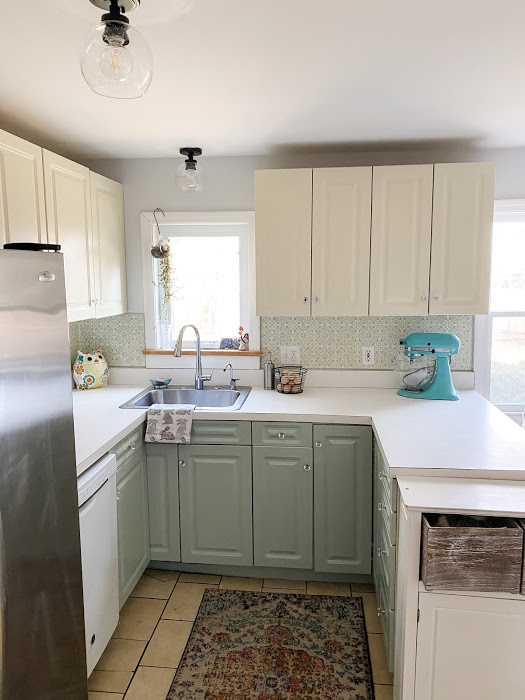 The backsplash in the kitchen was just drywall and looked so unfinished. I didn't want to get into tile just to tear it out a couple years later. I decided to stencil a tile design using the upper & lower cabinet colors. I think it came out super cute! click here to read more about this project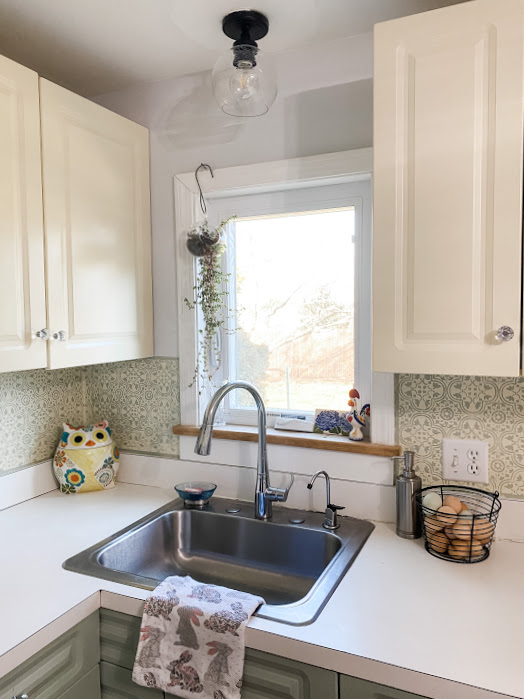 There are three light fixtures in the ceiling – one was a ceiling fan with no light and the other two were rusty and gross. I don't love ceiling fans and this one didn't even have a built in light, so the entire right side of the room has zero lighting beyond the windows. So I swapped the ceiling fan for a semi flush mount light, and swapped the two side lights for some more modern glass fixtures.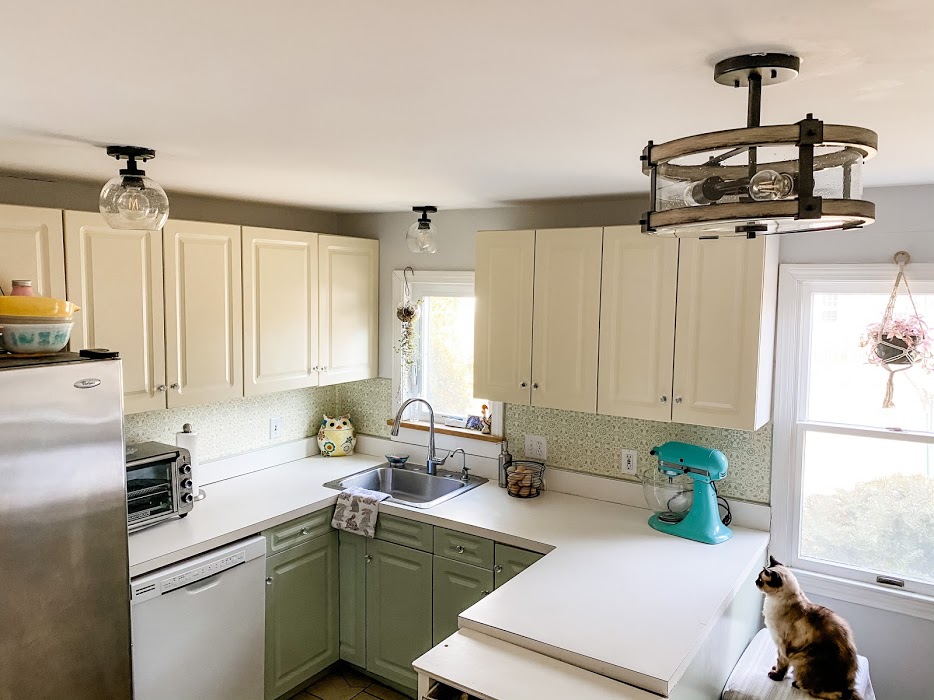 For a little bit of extra storage and counter area I pushed this slim cabinet against the counter return. This was a cabinet that came out of our old bathroom so I already had it and it fit pretty perfectly! The stools also came along from our old house where we had counter seating. At this house we don't really have counter seating because there is no where to put your legs but it's somewhere to sit anyway.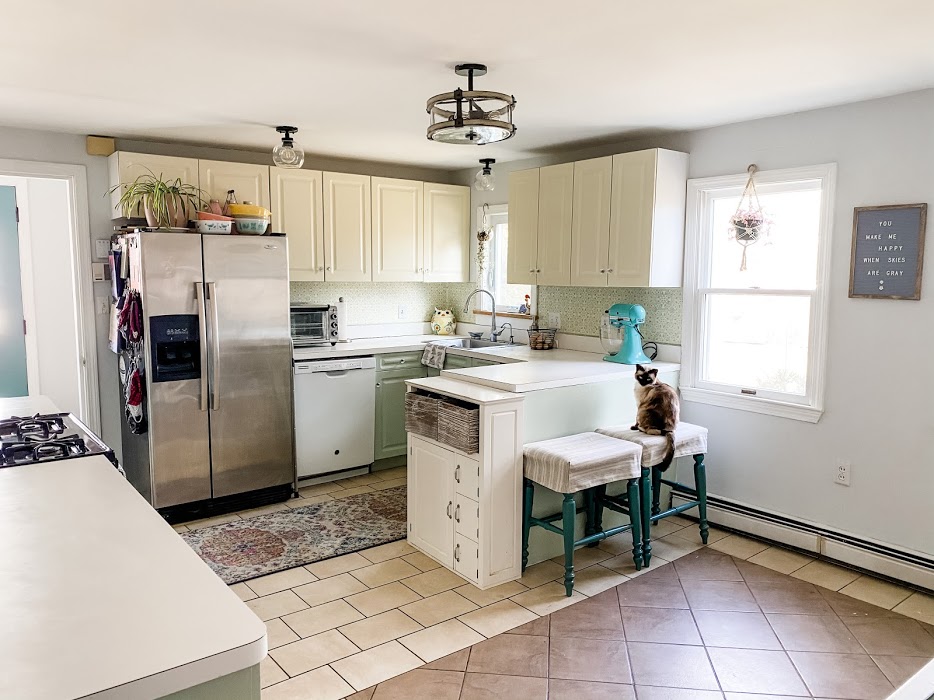 So what do I do with this strange awkward eat in area? I'm still not really sure! I don't want a table cluttering up this area. I think I may just enjoy the open space for now. This room is the first room you come to when you enter the house, so I set up my grandma's gateleg table (click here to read about that restoration) for keys and wallets and what-nots.
Next to the gateleg table is our shoe basket cabinet. We have a coat closet, super inconveniently located faaaaaaar from the door so my kids never put their shoes away. This shoe basket unit is also from the old house where we also didn't have an entry closet. Maybe someday we will get an entry closet!
I was faced with this large blank wall just begging for something. I've had these hanging rails for years, I used to hang my necklaces on them. They look much nicer in the kitchen! I bought the bread boards on Etsy, and the copper mold & old kitchen utensils came from Ebay. Add a few hanging faux plants and the rails were complete! click here to read more about how to style kitchen rails
My lemon tree normally lives on the patio, but spends the winter in the kitchen where it's warmer. The antique chair in the corner was part of a group of old chairs I got for free and fixed up, click here to read more about that project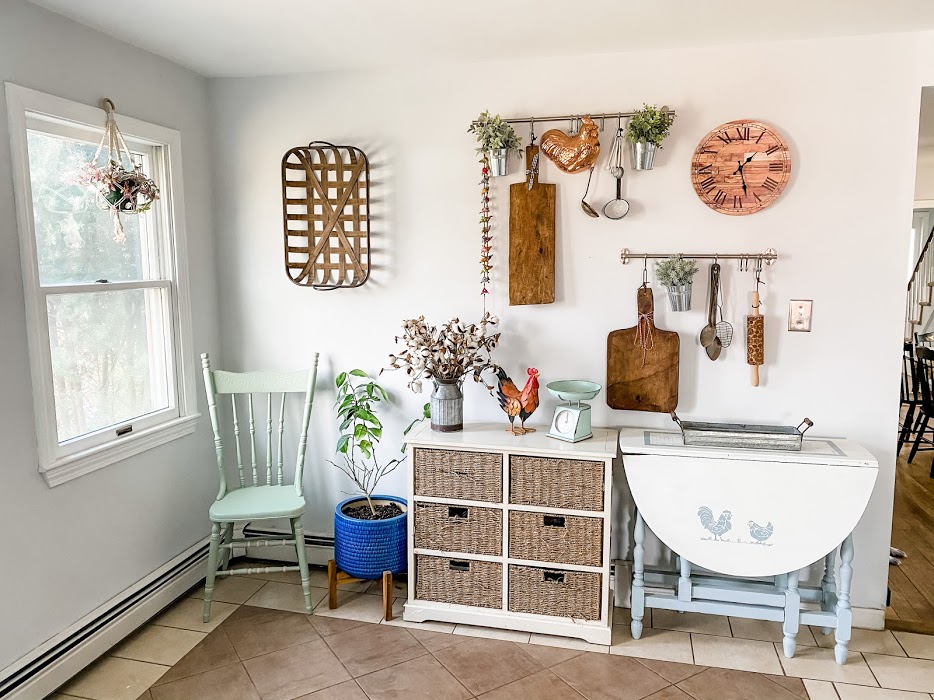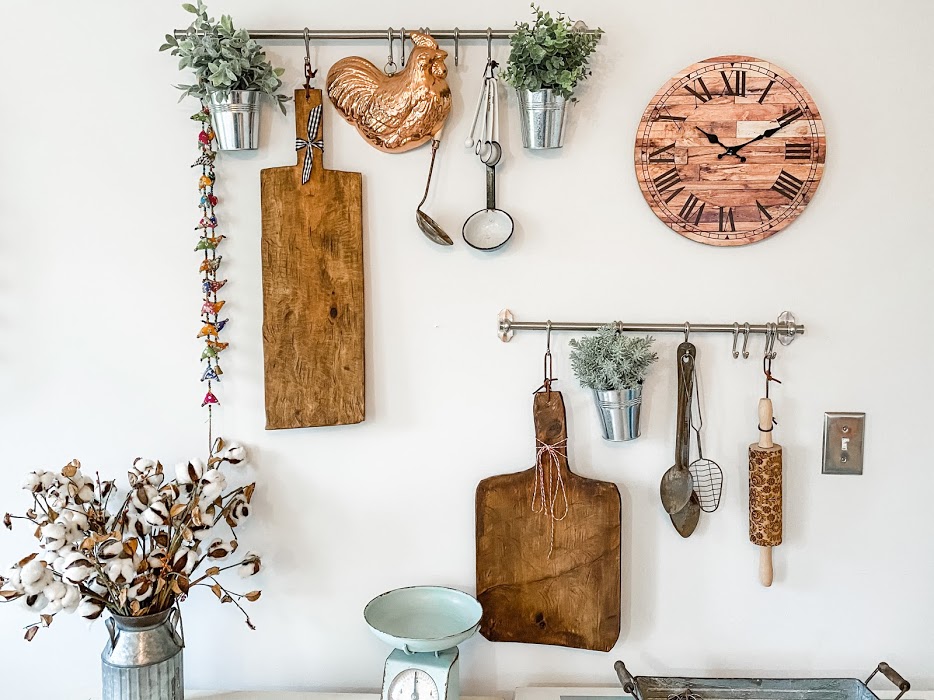 All in all it's not a terrible-looking kitchen anymore! I might not love the layout, but it's a happy place to spend time.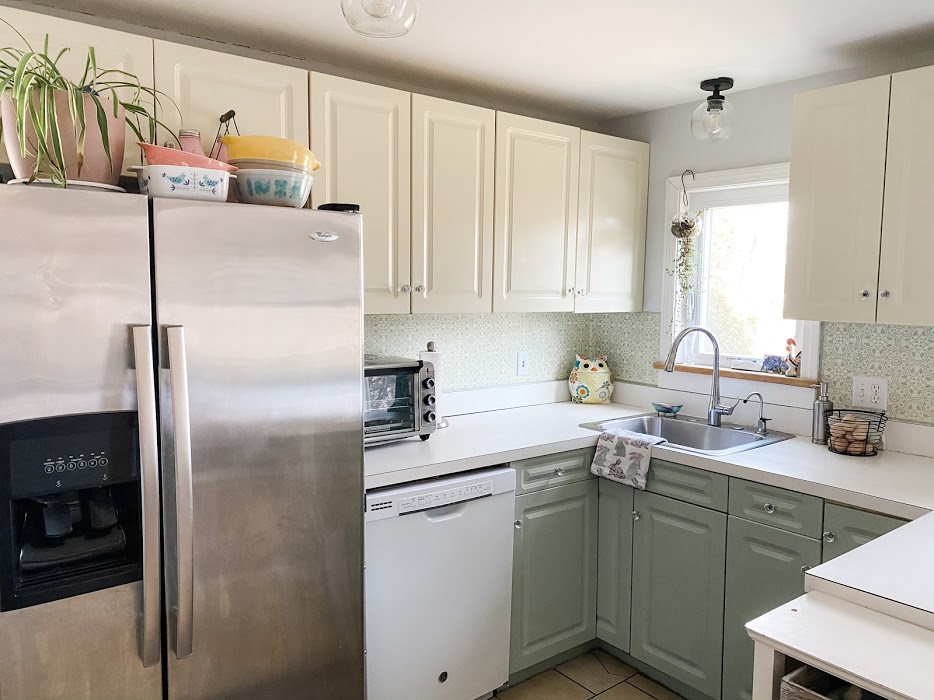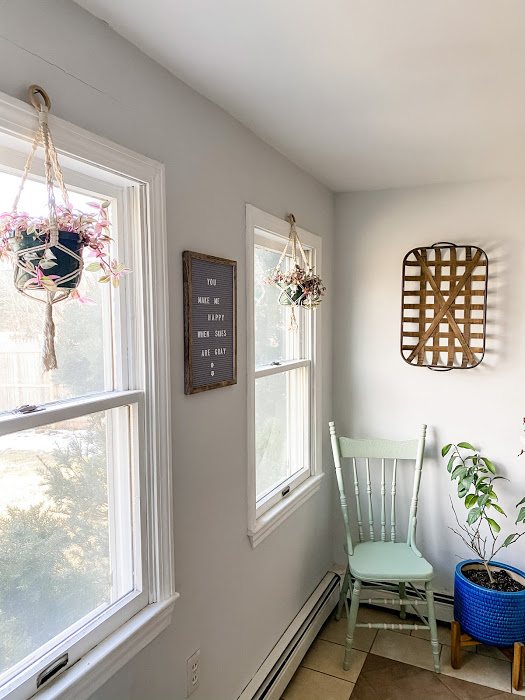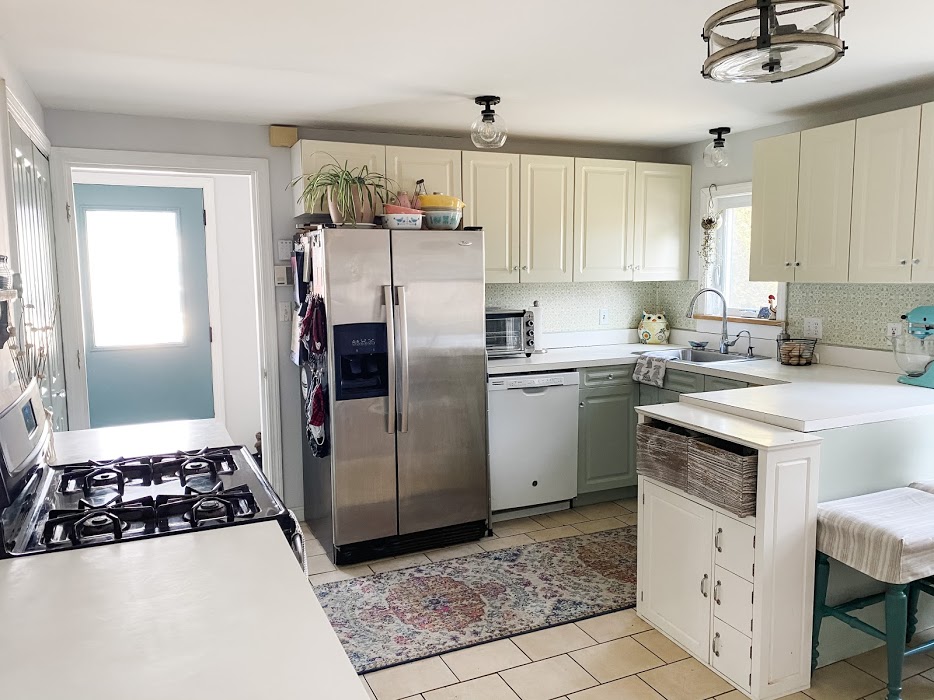 Who is ready to do some kitchen dreaming??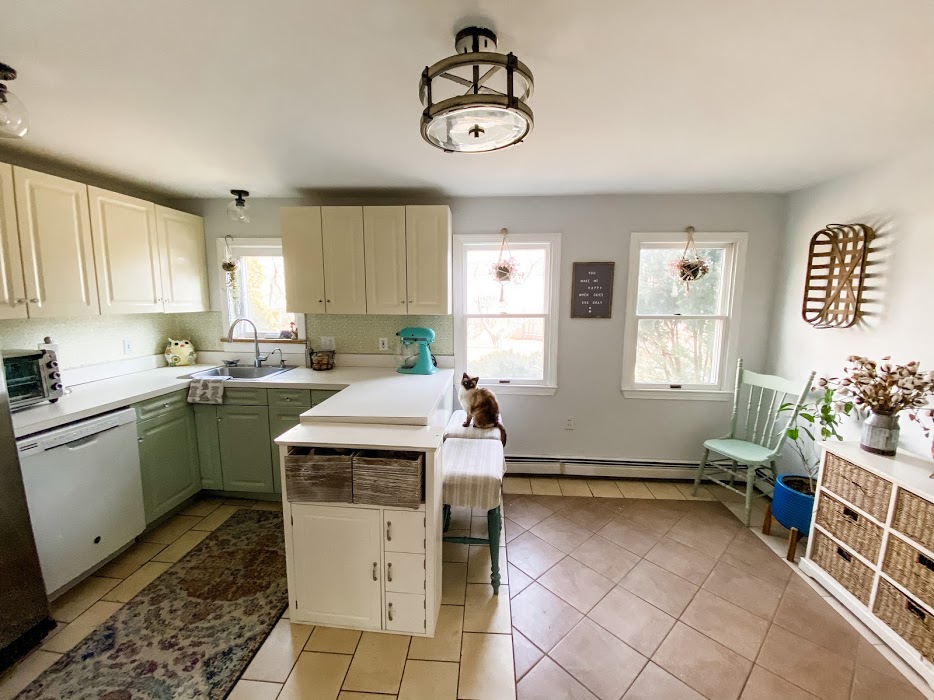 Come along on a little daydream with me! Can't you just see it? All wood floors. The refrigerator can stay where it is on the left. Straight ahead a big farmhouse sink centered on the wall with a big window over it with open shelving on either side. On the right wall, upper & lower cabinets and the range with a nice big farmhouse hood over it. In the middle of the room a big wood island with actual room for seating. A big rustic chandelier over the island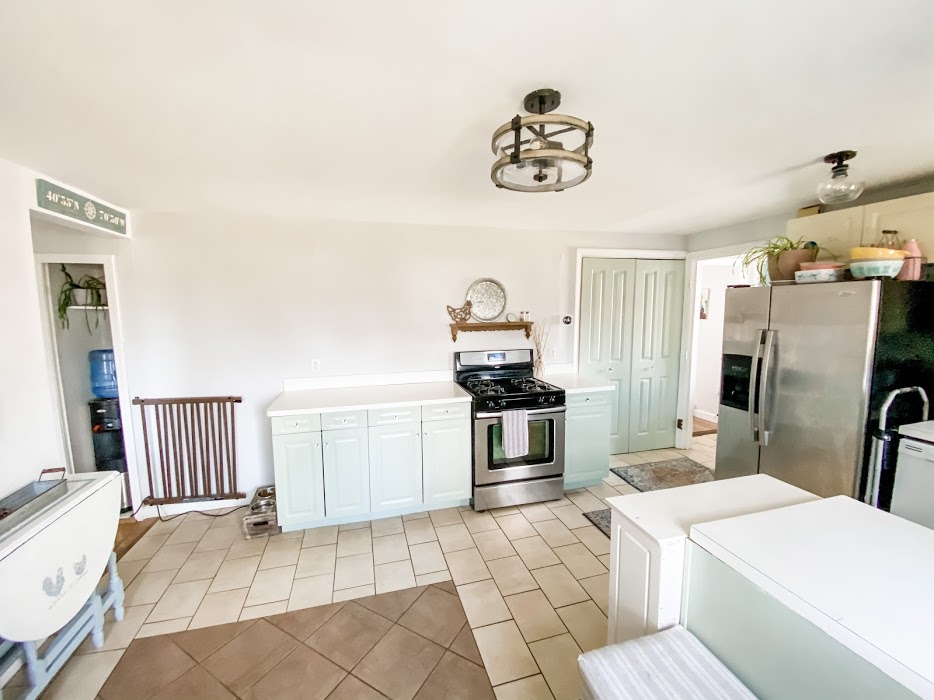 Then for this wall we remove all those cabinets and put in a cool barn door for the pantry. I can't wait!! **KEEP SCROLLING DOWN FOR SOME PICS ONCE I GOT MY DREAM RENOVATION**
Shopping Guide & Budget Breakdown for our $600 Kitchen Transformation
$60 – Paint: color match for upper cabinets, "Balsam" by Glidden for lower
$35 – Rugs: Astra Abstract Area Rug in Burnt Orange (Kohls)
$26 – Knobs: 10 PCS Glass Pull Handle Cabinet Knobs, 30 mm (Amazon)
$140 – Pantry Doors: Cambridge Molded Closet Bi-fold Door (Home Depot)
$22 – Stencil: Scandinavian Tile Stencils (Amazon)
$130 – Chandelier: Kichler Barrington Anvil Iron & Driftwood Semi-flush Mount Light (Lowes)
$80 for two – side lights: Bronson Simple Globe Semi Flush Mount, matte black (Wayfair)
$89 misc decor items
$582 TOTAL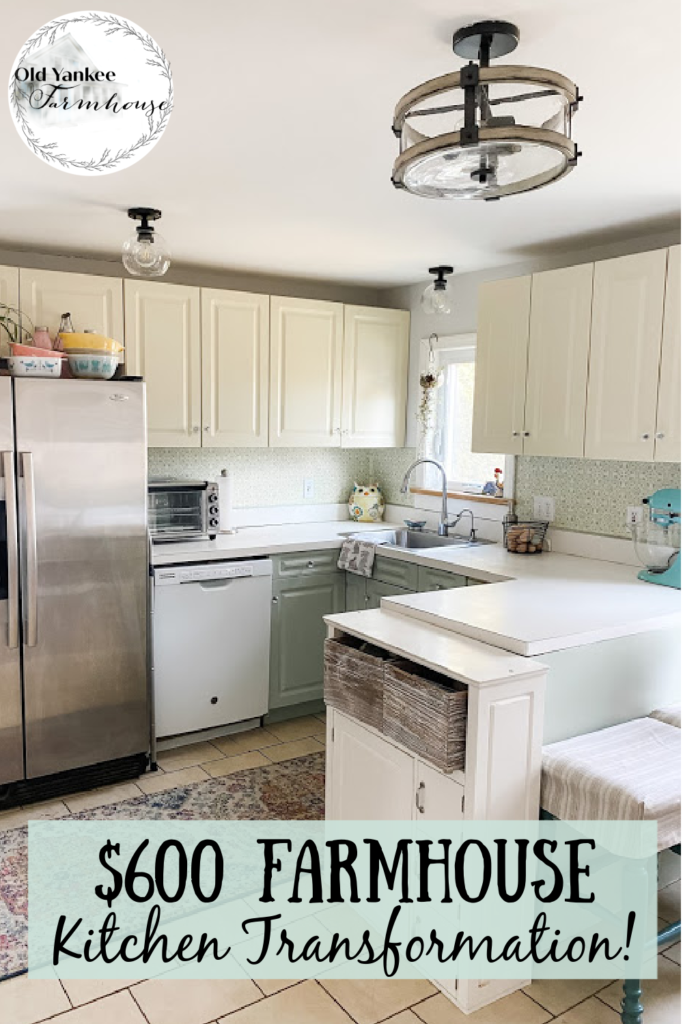 2023 update
I had to wait three years after moving in, but I got my dream kitchen renovation! It was a far cry from the $600 facelift here (add a couple more zeros, unfortunately) but it was SO worth it. I may never leave this kitchen again! I'll do a post on it before long, but here are some sneak peek photos