*This post may contain affiliate links, which means I may receive a small percentage from qualifying purchases if you make a purchase using the links, at no additional cost to you*
-------------------------------------
I admit it, my heart skips a beat browsing through organization supplies! Even though I love organization, I am definitely guilty of hiding messes behind doors and pretending it doesn't exist. My pantry was a victim of my messy streak. I started out so strong with it! Replacing the rusted open pantry doors & building some new shelves to replace the inadequate and mostly broken shelves was one of the first projects I did when we moved in. Here is a photo of the pantry from when we first moved in: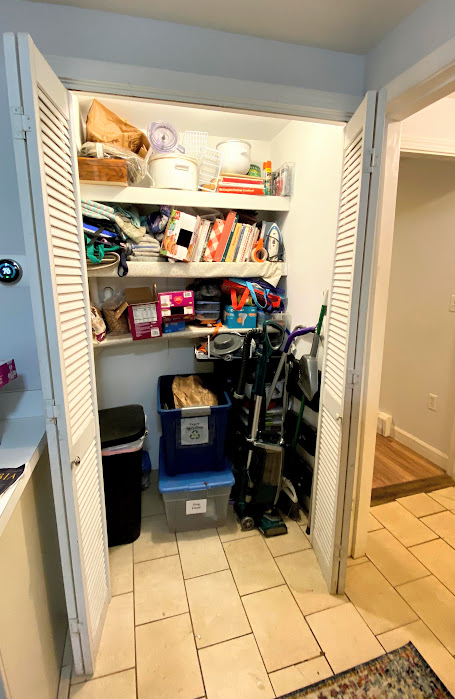 It was just a jumble of random shelving that didn't take advantage of the depth of the pantry. Here it was after I initially redid the shelving: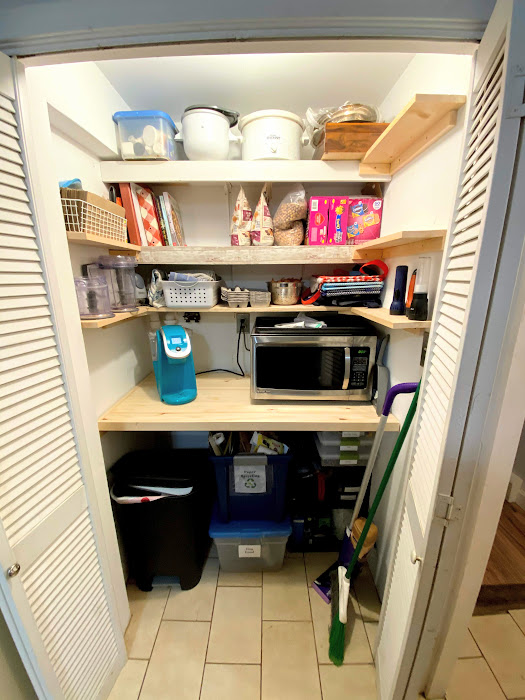 I added shelving along the sides and made the bottom shelf extra deep so I could move the microwave & coffee maker in here (because I also hate countertop clutter). My big downfall here – I had the shelving but no organization system. It was only a matter of time before it became a mess. I have three teenagers in the house, we buy our snacks in bulk. Bulk food takes up lots of space. Teenagers are messy. They also love to just toss things in closets and close the door. After a year this is where we were at: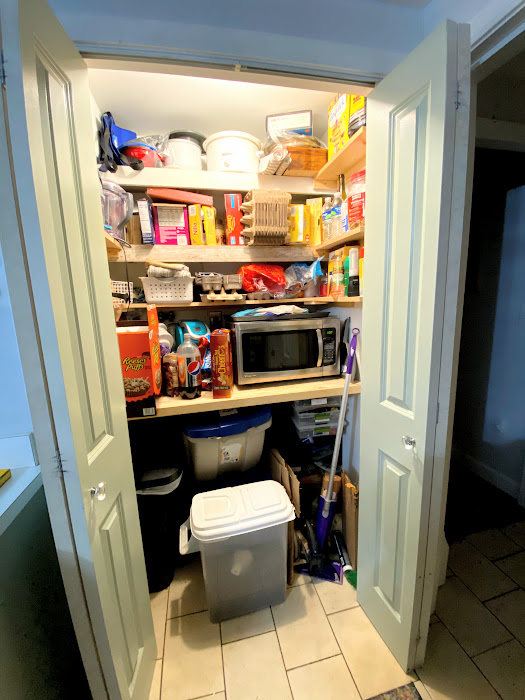 I know. Don't judge me! Such a mess! Anyway I decided it was well past time to do something about this. The problem with buying food in bulk is that the boxes are huge and never really fit on the shelves. Tidy labeled bins to the rescue!
I decided to spruce up the tired walls by adding some really fun & bright wallpaper. It's such a cute surprise every time I open up the doors! I love to add bold wallpaper in closets. It would be overwhelming in the entire kitchen, but behind the pantry doors, it's just a fun pop peaking out from behind the bins! The wallpaper is peel & stick, so it was really easy to put up and will be easy to take down when I'm ready for a change. I can't even decide if the wallpaper or the organizing bins are my favorite part!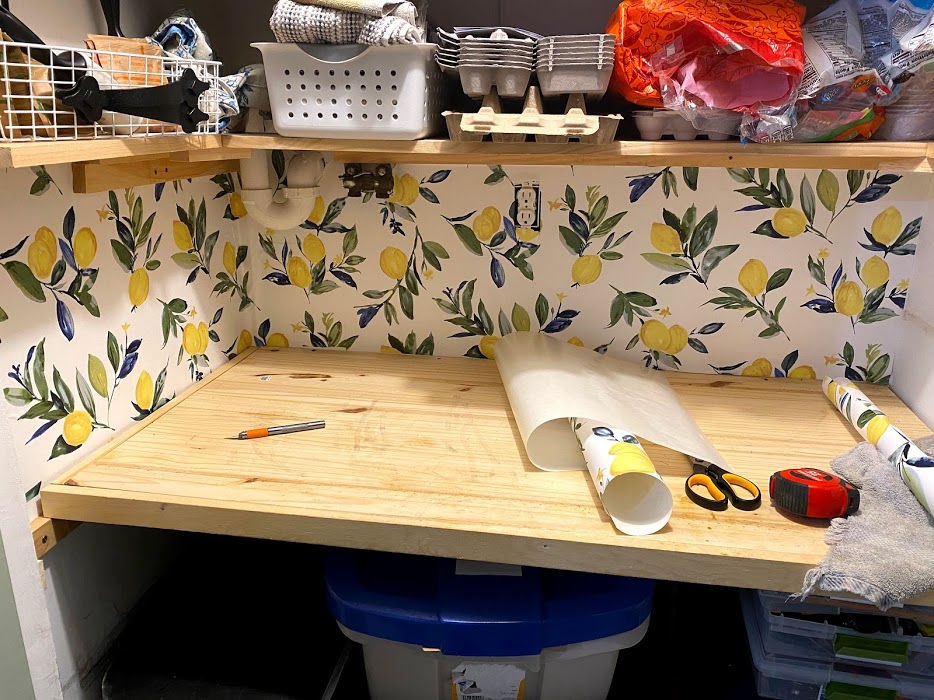 After I got the wallpaper up, I painted all the shelves a light yellow (Banana Cream by Behr). I almost don't want to put anything back in here! These retro lemons are so cute and go well with my vintage looking mint green kitchen (click here to tour my kitchen).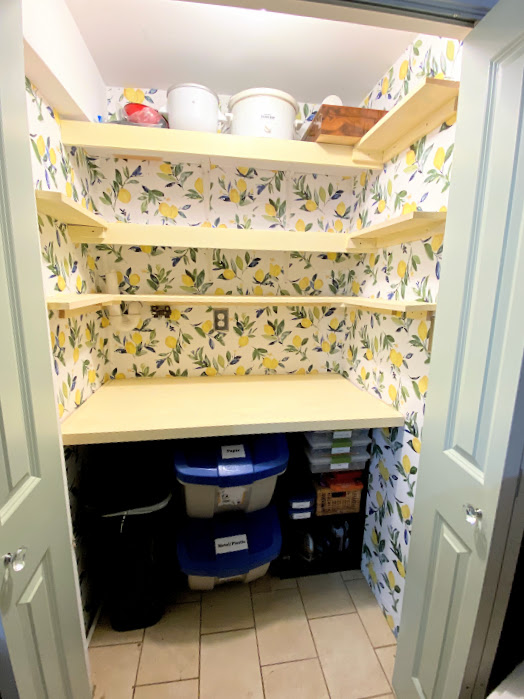 I added back in the microwave and Keurig. We are not a coffee drinking family, but it's nice to have single coffee pods for guests. Other than that we just occasionally use it for tea & hot chocolate. To organize the pods, I got this awesome little drawer organizer. Now we don't just have a jumble of half full boxes shoved in the back corner! Add a couple cup hooks and mugs and we have a cute little drink station.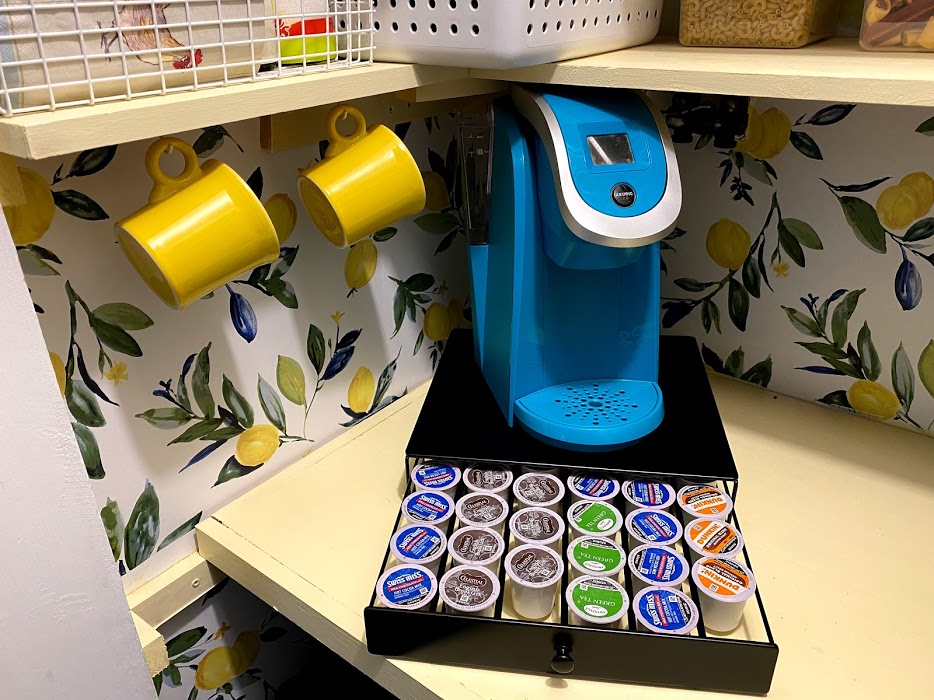 Underneath the main shelf, we keep our trash & recycling. Keeping the recycling center so close to the trash really ups the chances of my family using it. The clear bin holds the dry dog food and behind that some of the most used household tools. I do so many home improvement projects I don't want to run to the basement every time I need a screw or a hammer! Labeling the bins keeps me on track while putting things away.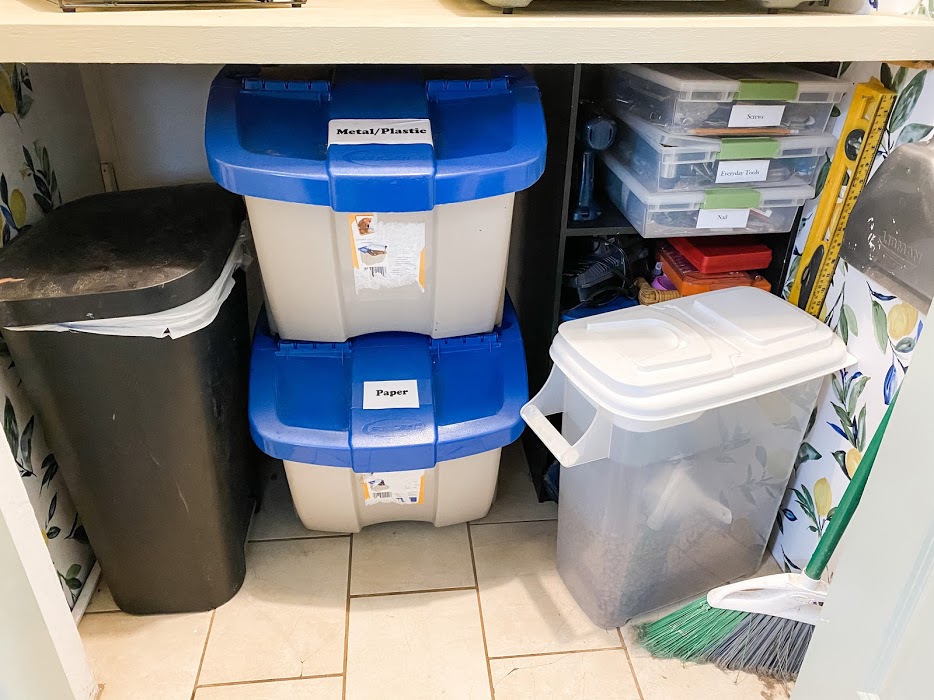 And now on to the food bins! I measured my two shelves and ordered some airtight bin sets on Amazon to fit. Luckily, I have some additional shelving on the basement steps where I can keep overflow, but for the most part even the large warehouse size packages all fit nicely in these bins. I used the large bins for grab and go snacks like granola bars for the kids & cereals for breakfast. The smaller bins hold other miscellaneous often used products. Now that the kids can see everything at once, there should be no more complaining there is nothing to eat!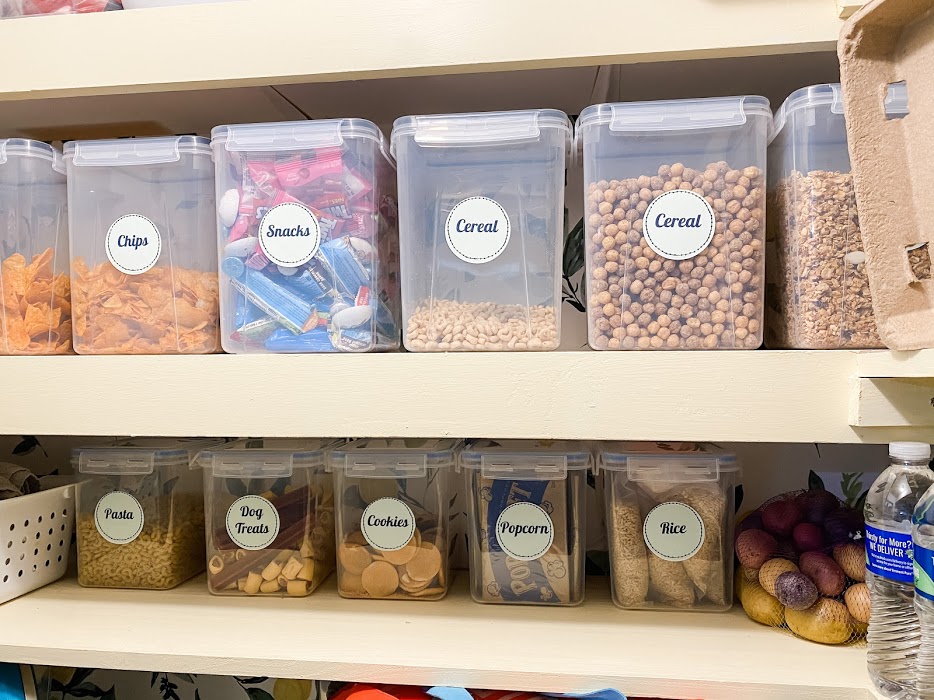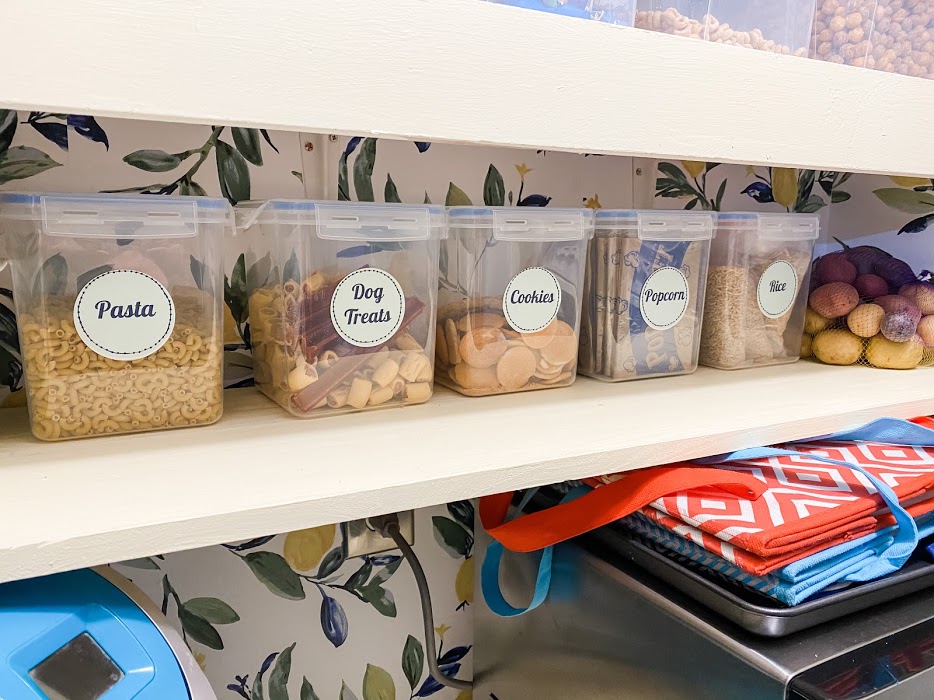 The smaller bins came in a set of 10 which worked out great because I ended up having enough to also organize my baking cabinet! This used to be such a mess, now everything is so easy to find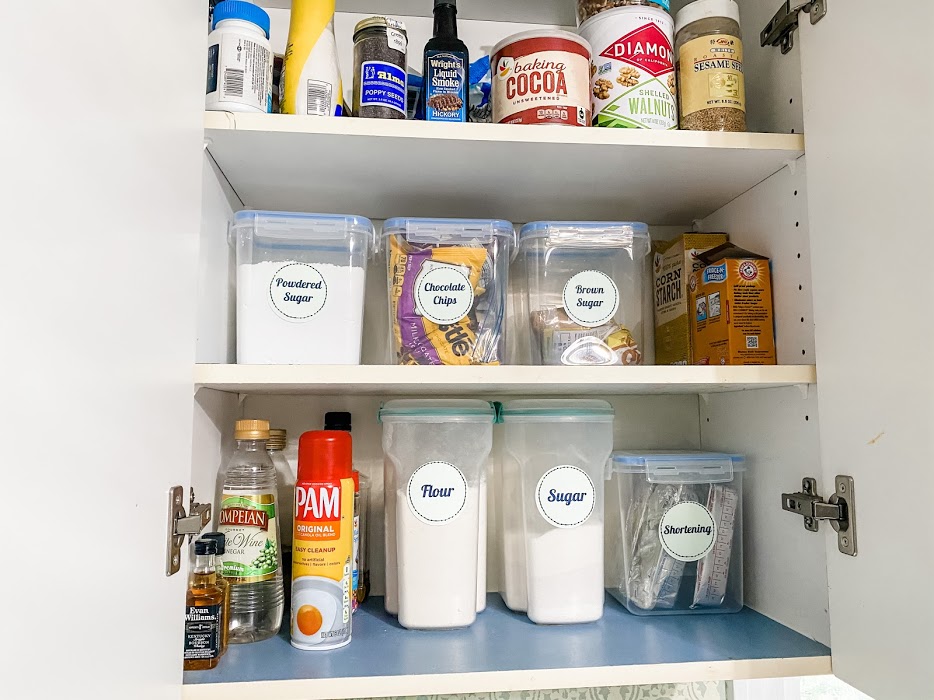 My blender and food processor fit neatly on the side along with a bin for napkins and kitchen towels.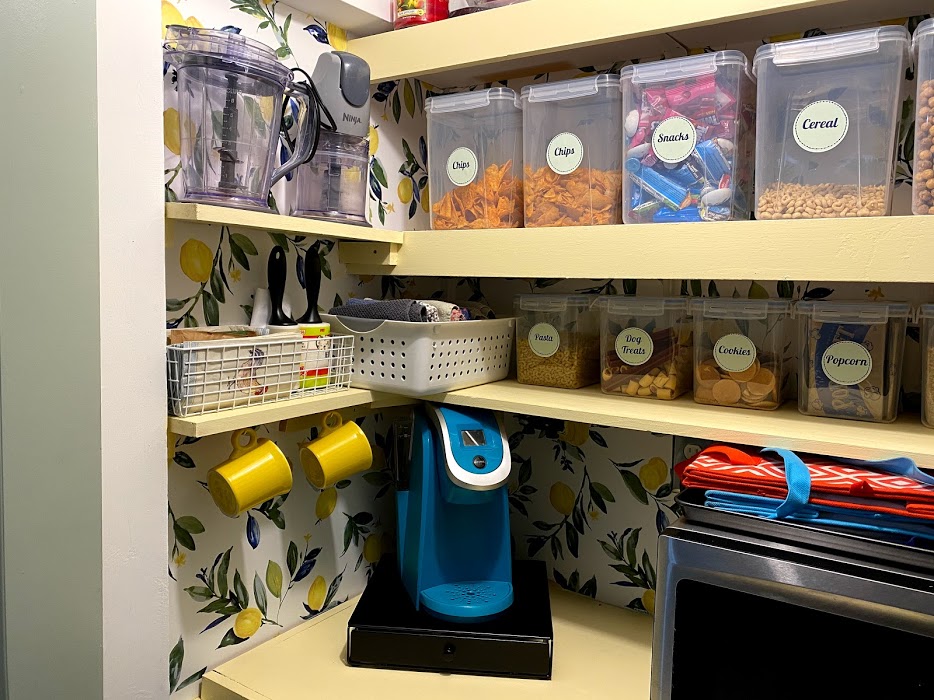 Along the right hand side I have used the shelves for storing egg cartons – with almost 3 dozen chickens & ducks this is something we need to have on hand all the time!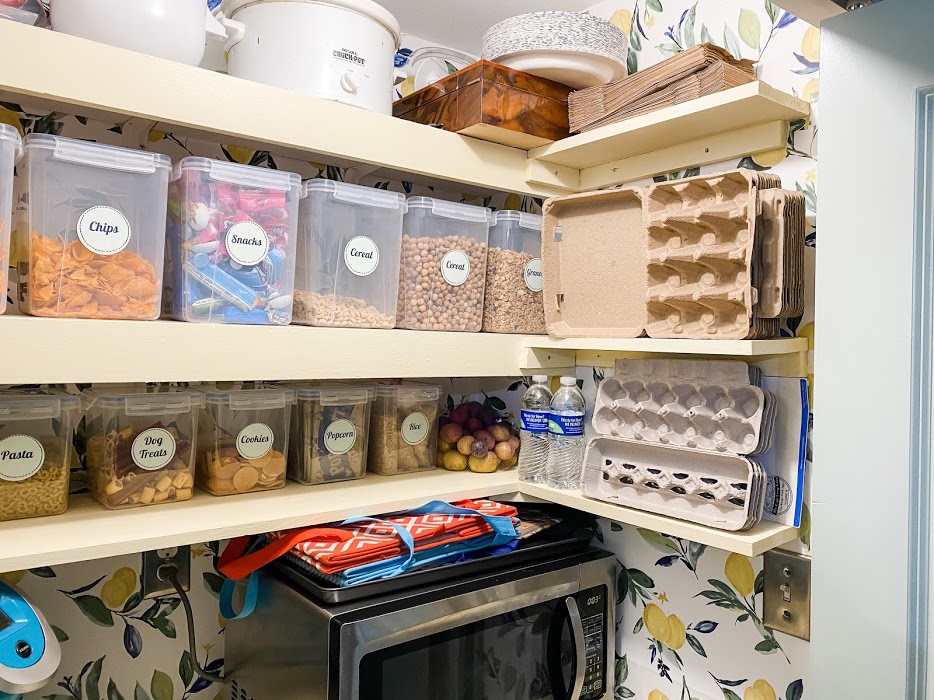 The very top shelf I have space to neatly store my lesser used kitchen appliances.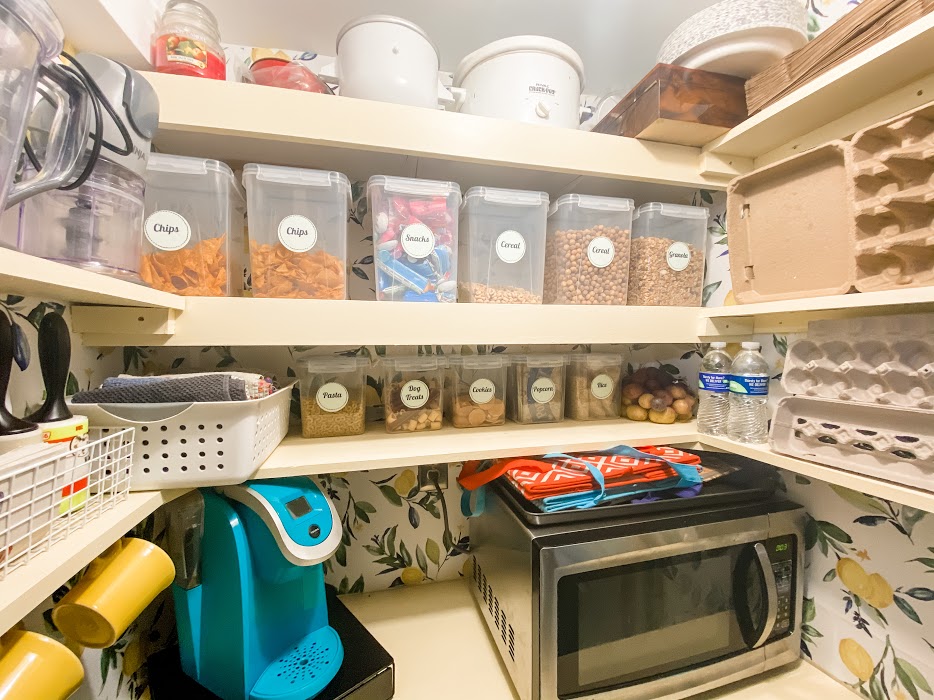 All this organization makes me so happy!! I have gone from hating every time I needed to find something in here to smiling from ear to ear when I open these doors!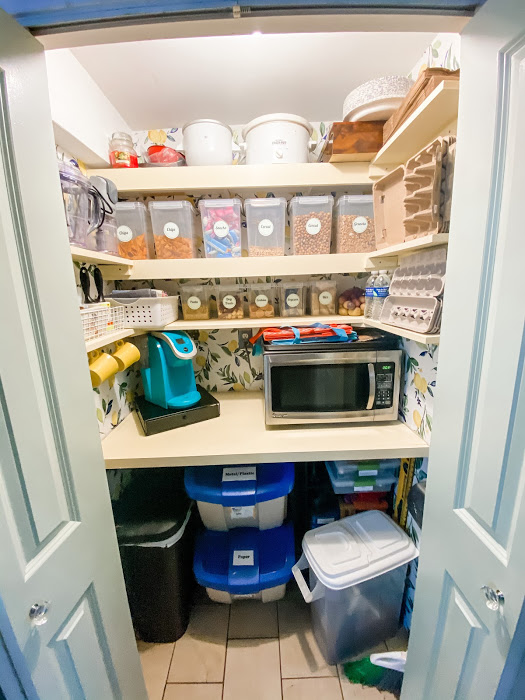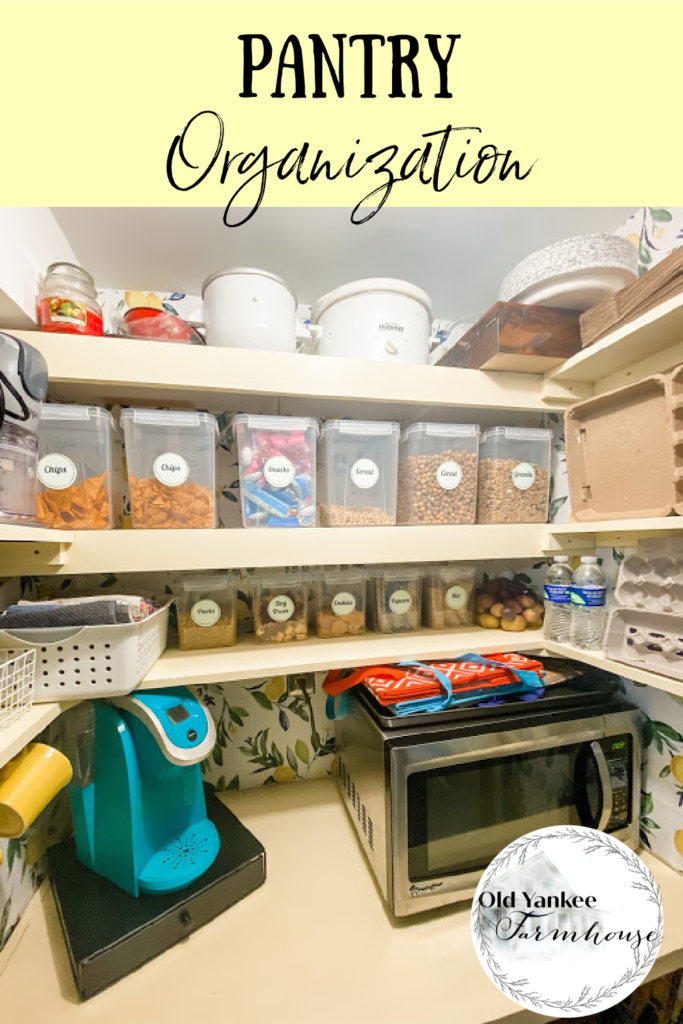 Shopping Guide
Doyden Lemon Drop Peel & Stick Wallpaper from Wayfair
Large Food Storage Containers from Amazon
Small Food Storage Containers from Amazon
Coffee Pod Organizing Drawer from Amazon
Keurig Coffee Maker in Turquoise from Amazon
Suncast Stackable Recycling Bins from Amazon