*This post may contain affiliate links, which means I may receive a small percentage from qualifying purchases if you make a purchase using the links, at no additional cost to you*
-------------------------------------
Pot rails are a popular way to organize & display often used items in the kitchen. There are as many ways to style and use pot rails as there are chefs! Some people like to utilize them to keep cooking utensils handy, some are purely decorative, some are a mix of the two. They can be a great way to add personality to your kitchen!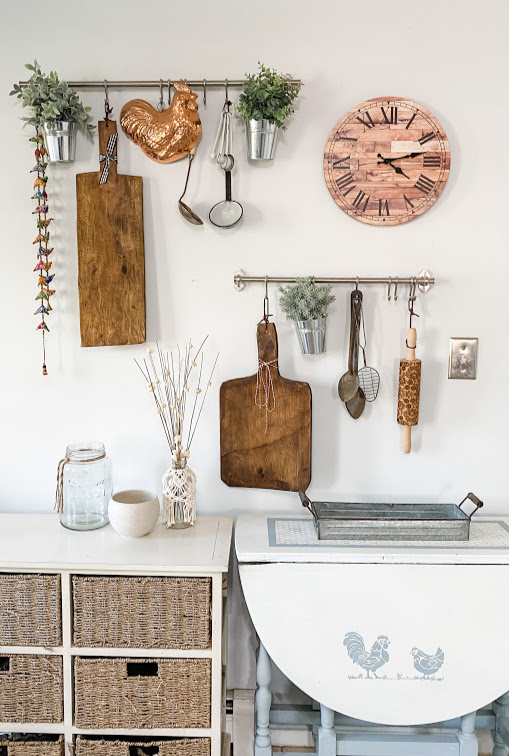 The best farmhouse kitchen rails have an eclectic mix of textures, materials, and shapes. You want it to look like a collection gathered over time and generations! Here is a simple tip to help you customize your kitchen rails – aim to have at least one item from each category:
natural (plants, mini wreath, hanging dried herbs, fruit)
wood (bread or cutting board, wooden utensils, wood pot scrubber, signs, wooden masher, vintage rolling pins. wood beads)
mixed metals (metal utensils, jello or chocolate mold, pans or lids, wire baskets, mini colander, grater)
Chose items that will give you a mix of short, long, and medium lengths, with some wide and some thin. Now that you have your items together, you don't want to just hang them all in a straight row. Have some items layered in front of others. The amount of items on your rail depends on how long your rail is and how wide your items are. Aim to visually fill about 2/3 of the hanging space beneath the rail.
My Kitchen Pot Rails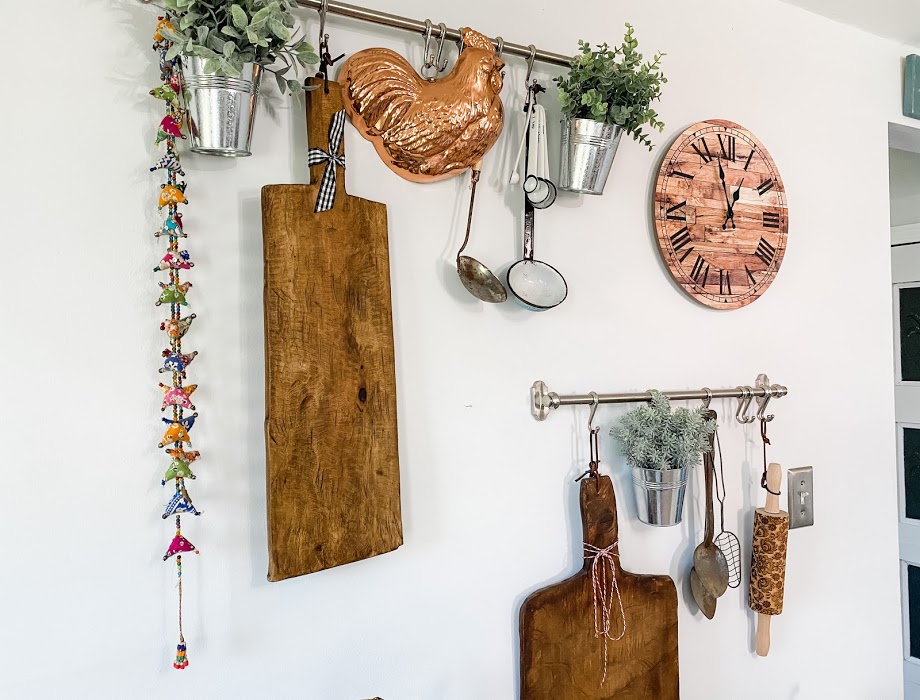 My kitchen rails are purely decorative. I have a really large empty wall in my kitchen that was calling out for something but it is too far from the "hub" of the kitchen area to really be useful. click here to read more about the awkward layout of my kitchen and how I've worked around it! Ikea is a great source for wall rails. They have all sorts of accessories & hangers to style and organize your rails if you need help. The rails and hooks I am using are from the FINTORP line.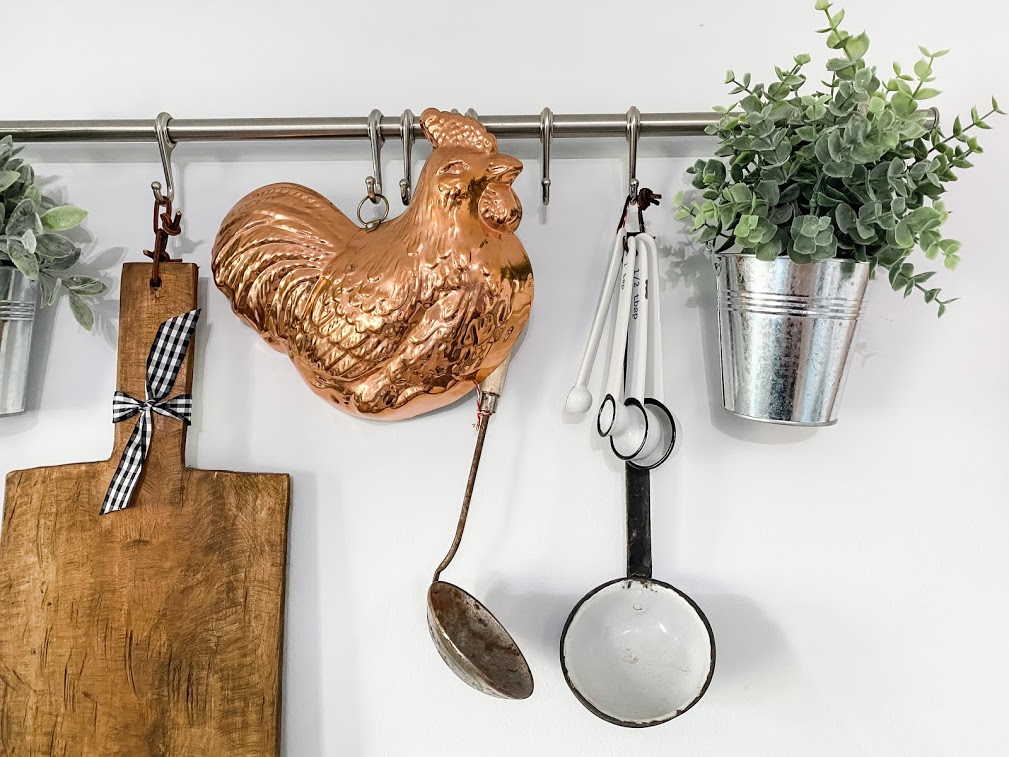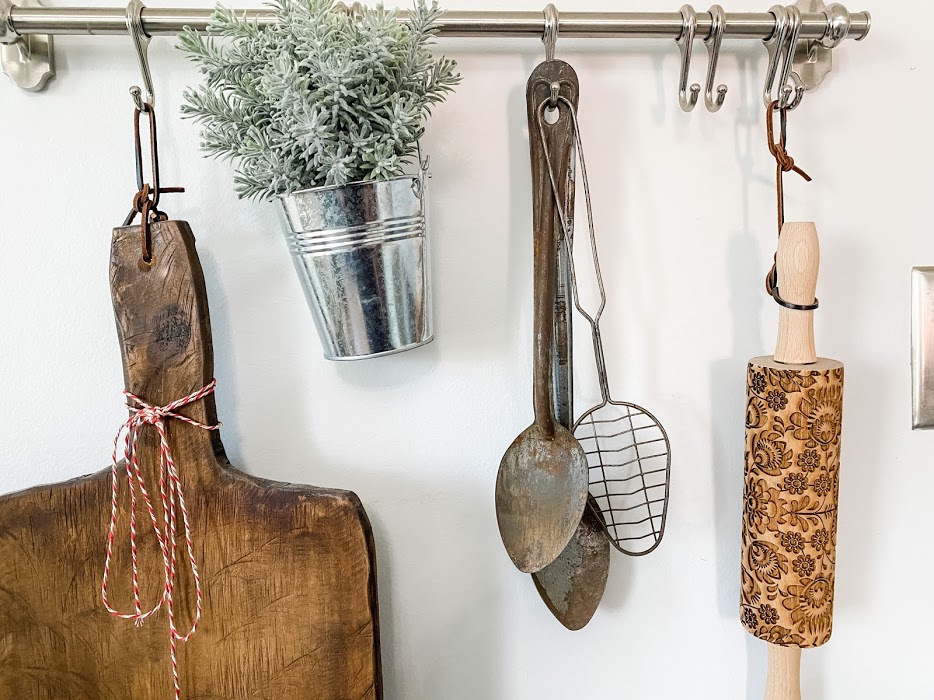 For my "natural" items I have faux eucalyptus & rosemary plants. The "wood" items are two gorgeous bread boards I found on Etsy, and an embossed rolling pin. For the "mixed metal" section I have the shiny buckets for the faux plants, rusty ladles & spoons from Ebay, and a copper chicken Jello mold, also from Ebay. For some fun color I hung a garland of prosperity hens.
Some of my favorite kitchen rails from around the internet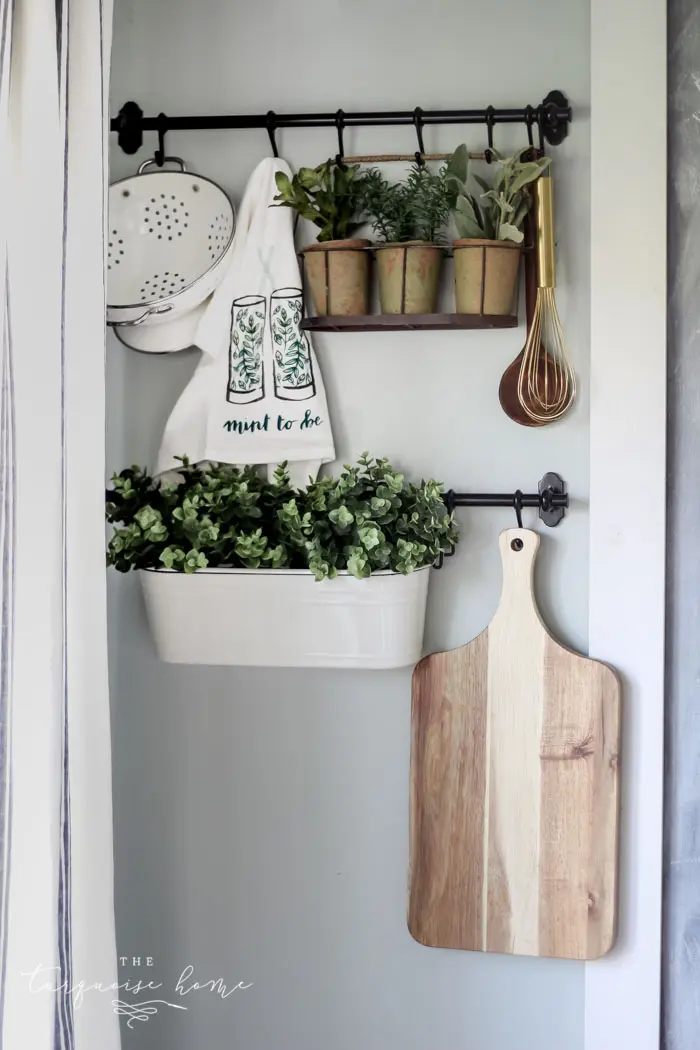 I love this rail system from The Turquoise Home. It really makes me want to spray paint my rails black, because they look amazing! And that gold whisk?? So gorgeous!
This sweet little rail is installed on the end of an island, from Just a Girl and Her Blog. Such a great use of a space that often goes neglected!
A great way to add a functional kitchen rail is underneath your wall cabinets or open shelving. This one from Hornsby Style is so dreamy with it's copper color. And side note – how AMAZING is this stove???
Another great example of a long kitchen rail from Ikea's website. Both functional and beautiful!
Kitchen rails don't have to be metal – another cute option is to use shaker pegs like this one from Ingredients LDN
Love, love, love this collection of various bread boards from Cottonwood Acres!!