*This post may contain affiliate links, which means I may receive a small percentage from qualifying purchases if you make a purchase using the links, at no additional cost to you*
-------------------------------------
My husband and I have been married for over half of my life. He is amazing and always super supportive of all my crazy dreams. When I told him I wanted to get some chickens a decade ago he might have looked at me strange but said "let's do it". I kept adding more chickens, then other farm animals, but he was always supportive. When I told him I wanted to move to a circa 1852 fixer upper farmhouse that had a 2000 square foot barn….he definitely paused, but he agreed to follow my dreams (he doesn't like to admit it but he totally loves being a farmer!). Despite being someone who hates change, he has made my dreams his own. So I was very excited that this new house had an office, he deserved a place that he could make his own!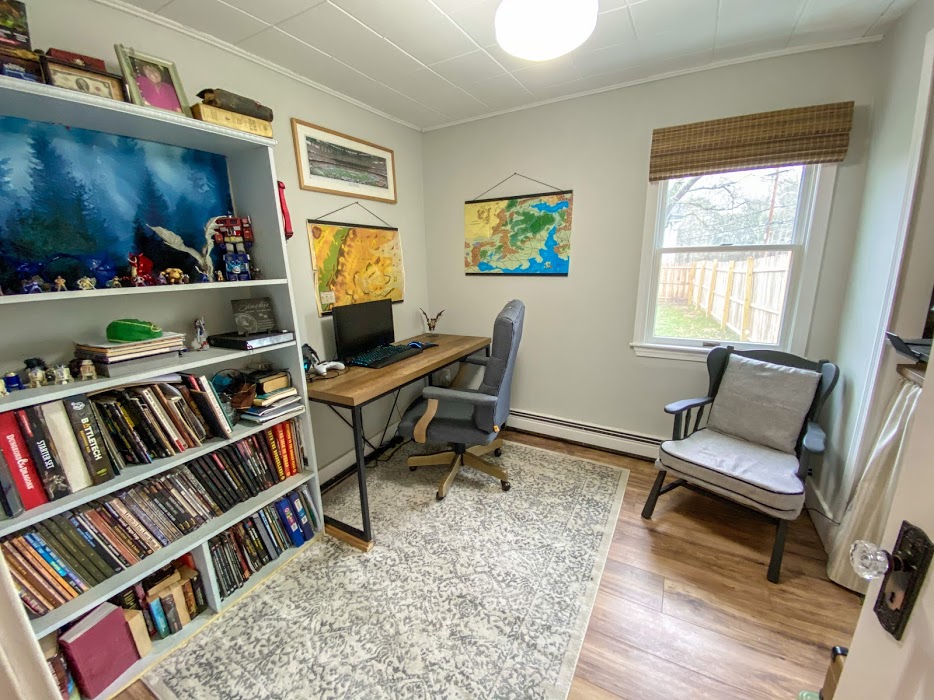 I've always had free reign to decorate the house in my style. Mostly because he doesn't care how things look as long as they function. But I wanted to let him take the reigns now that he had a space of his own.
A lover of all things nerdy – he has an extensive collection of Dungeons and Dragons books, action figures from his childhood, and general gaming things. Left to his devices, the office was more a jumble of random items we weren't sure what to do with: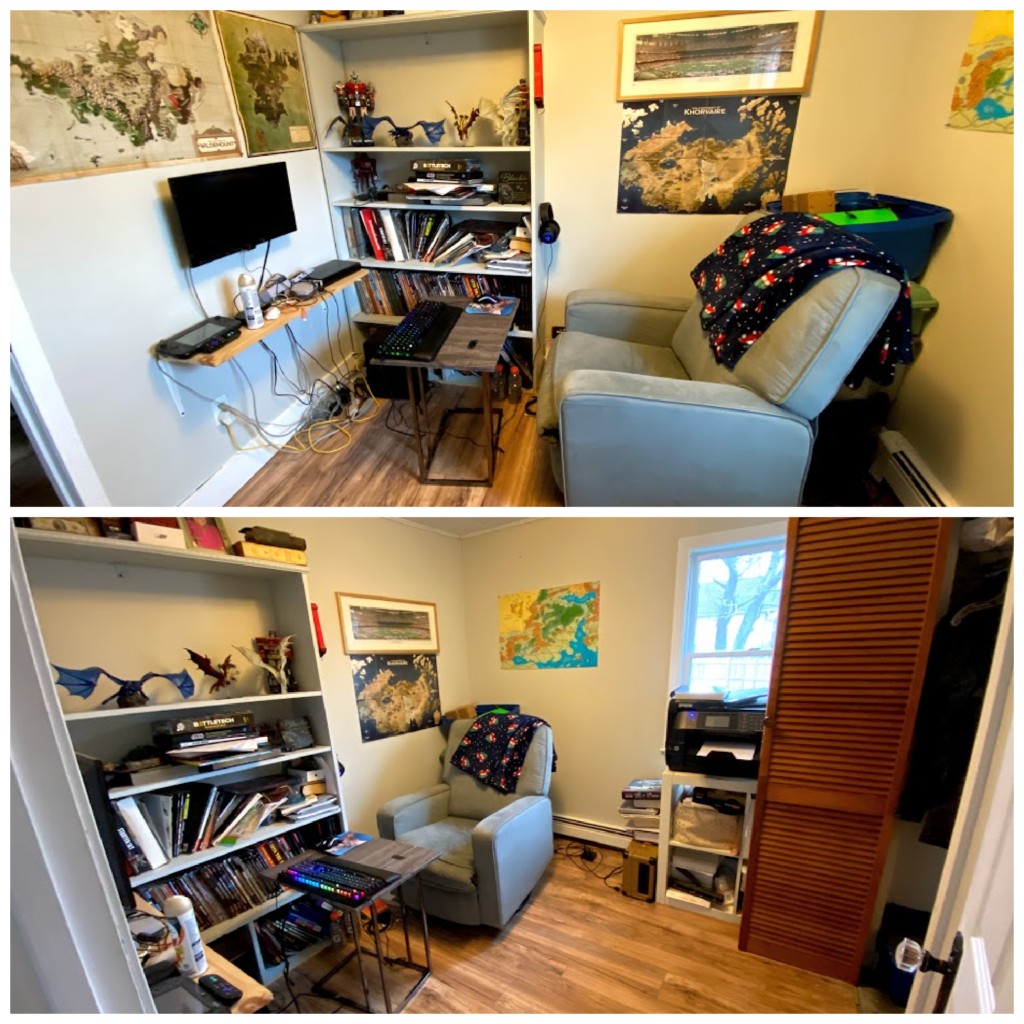 The recliner didn't fit in our new living room so it went in the office. We didn't have a desk, so he grabbed a little end table we had. Mounted a tv on the wall for the computer monitor and called it a day. I have to hand it to him for making due with things we already had, but the result wasn't the prettiest, or most functional.
Honestly, he probably would have been fine to leave it like this. It technically functioned and that was his only real requirement. But I couldn't help myself, I had to meddle. I wanted it to be his room…..but this was killing me! I asked him if I could help make it function better and he agreed.
First that recliner had to go and a proper desk needed to come in. I knew he wouldn't want anything fussy. I went with this modern style desk I found on Wayfair and a comfortable padded office chair for hours of gaming.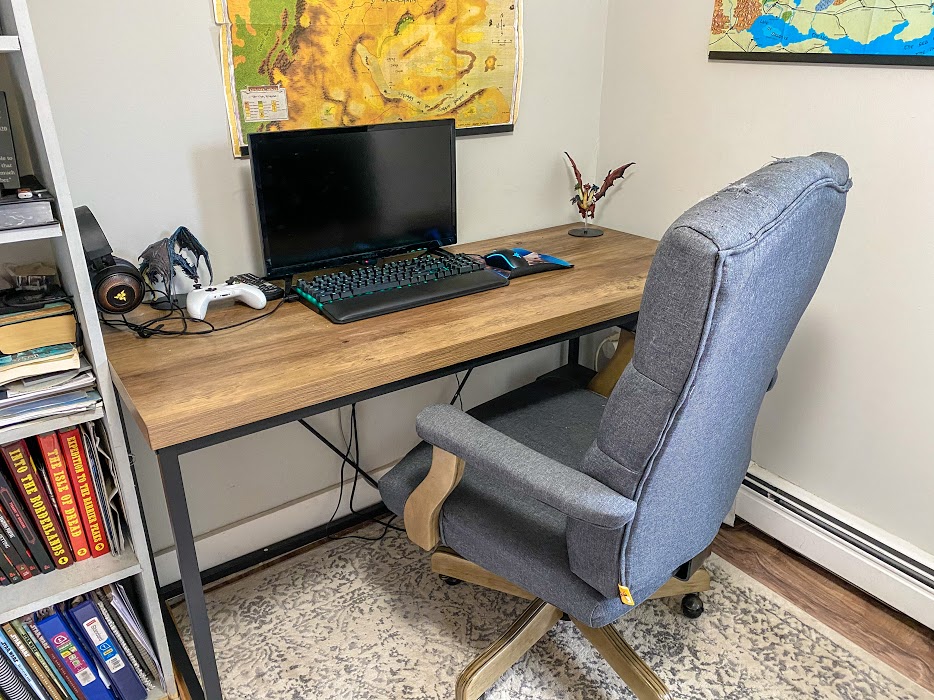 We knew that the floor in this room had a pretty decent slope – one of the quirks of living in a historic home. But I was pretty shocked when we put the desk in and needed to raise up one side of the desk by nearly 2 inches to make it level!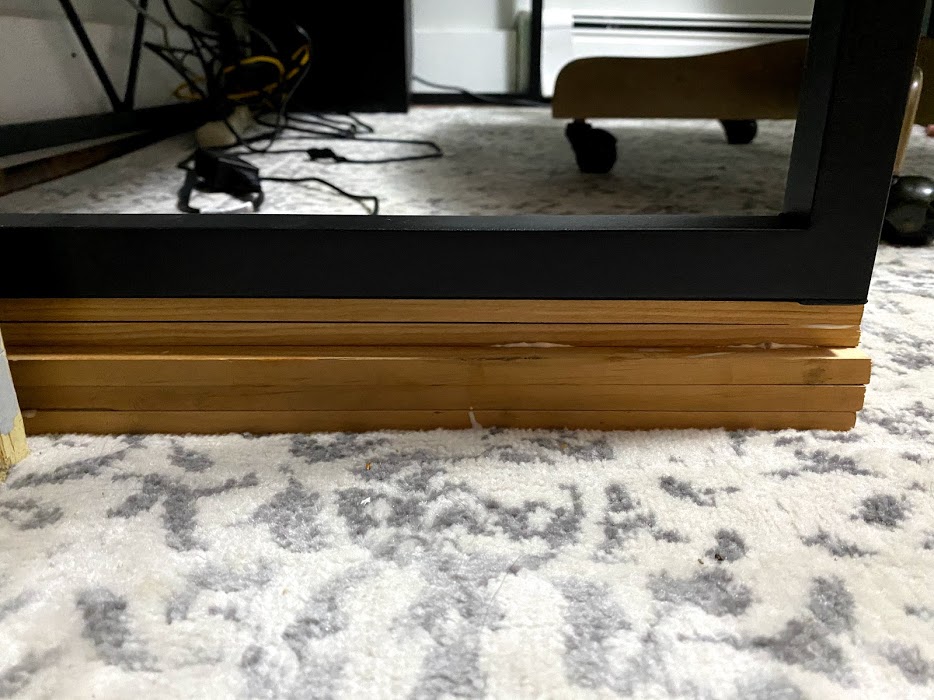 There is a nice big bookcase for him to store most of his gaming books and to display his toys….I mean collectibles. As much as I want to step in and make this "artful" he has it how he wants it.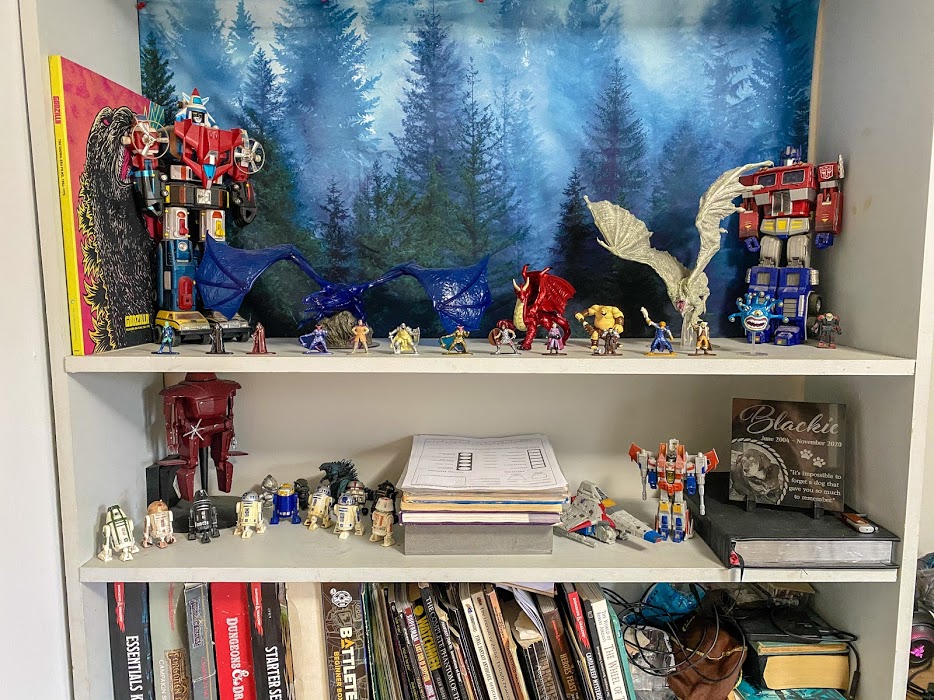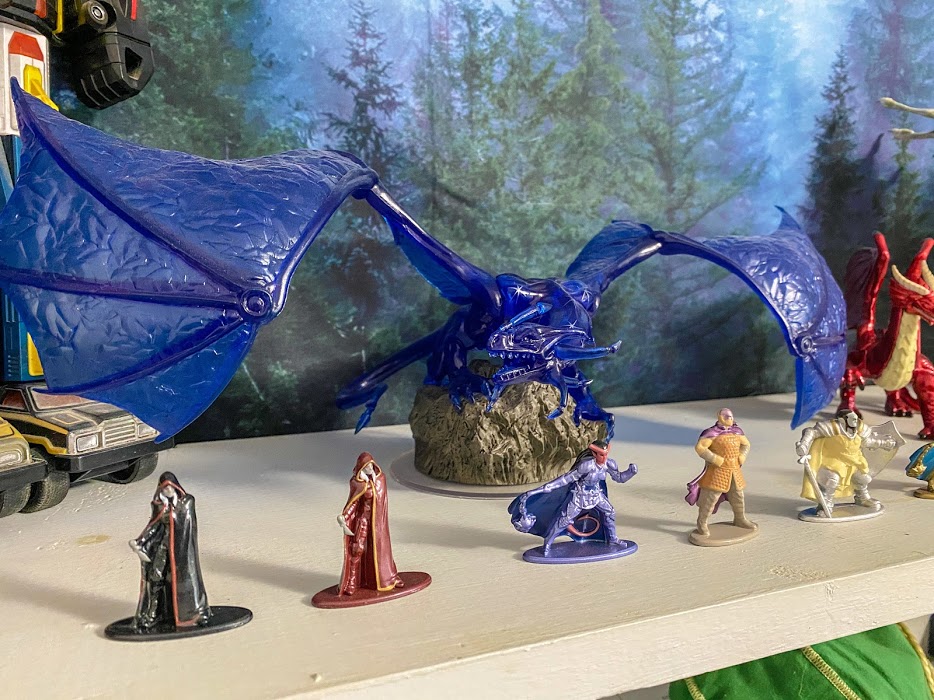 When we moved in there was a really cheap ceiling fixture with no light switch, only a pull string. I replaced the fixture with one that matches other fixtures in the house, and added a wireless light switch. It is a great option when you don't have a switch. The unit comes with a receiver that you screw into the fixture. Screw the light bulb into the receiver, and mount the remote control on the wall and you've got a light switch with no electrician required!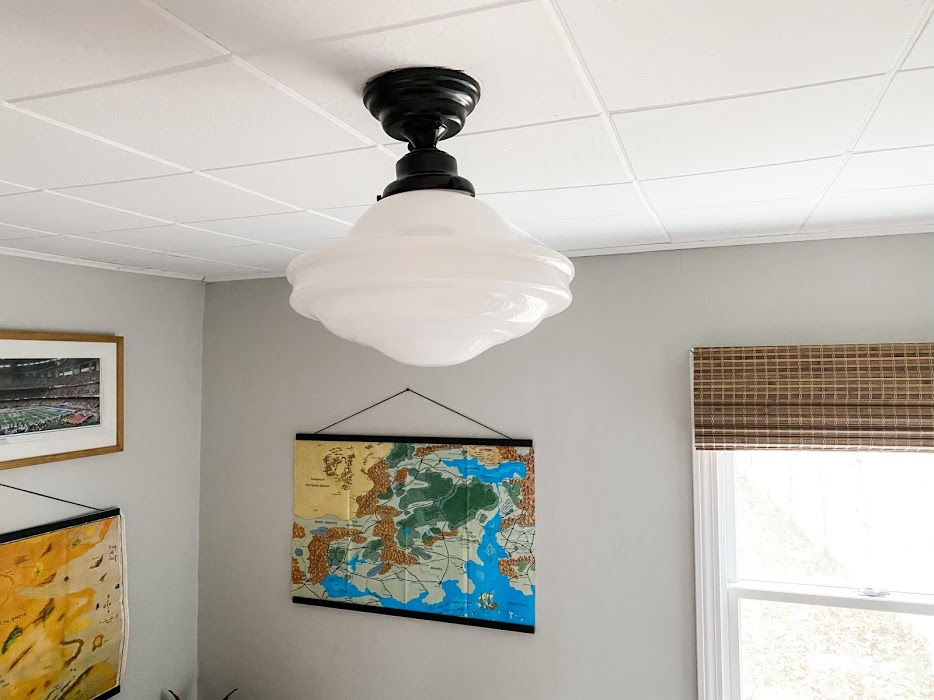 The only "decor" he added to the room was to tack up some fantasy map posters that come with his gaming books. I wanted the decor to be personal and something he loved, but we are also a little old to be tacking posters to the wall. The solution was affordable magnetic poster rails on Amazon. You just have to sandwich the poster between the magnetic rails, it doesn't ruin the poster and he can swap them in and out as he wants. Marriage is about compromise right?
I wanted to add a chair in the corner for a secondary seat and reading. I went to my local Habitat for Humanity thrift store and found this great candidate for only $5! It was solid and comfortable, just out of date. I painted the frame with a charcoal grey paint I had from another project. Then I found a tablecloth at Home Goods for just $15 that I used to recover the seat & back. Tablecloths are usually a thick fabric and are washable, so can make a great alternative to buying expensive upholstery fabric for chairs or curtains. For $20 I think this chair is not too shabby!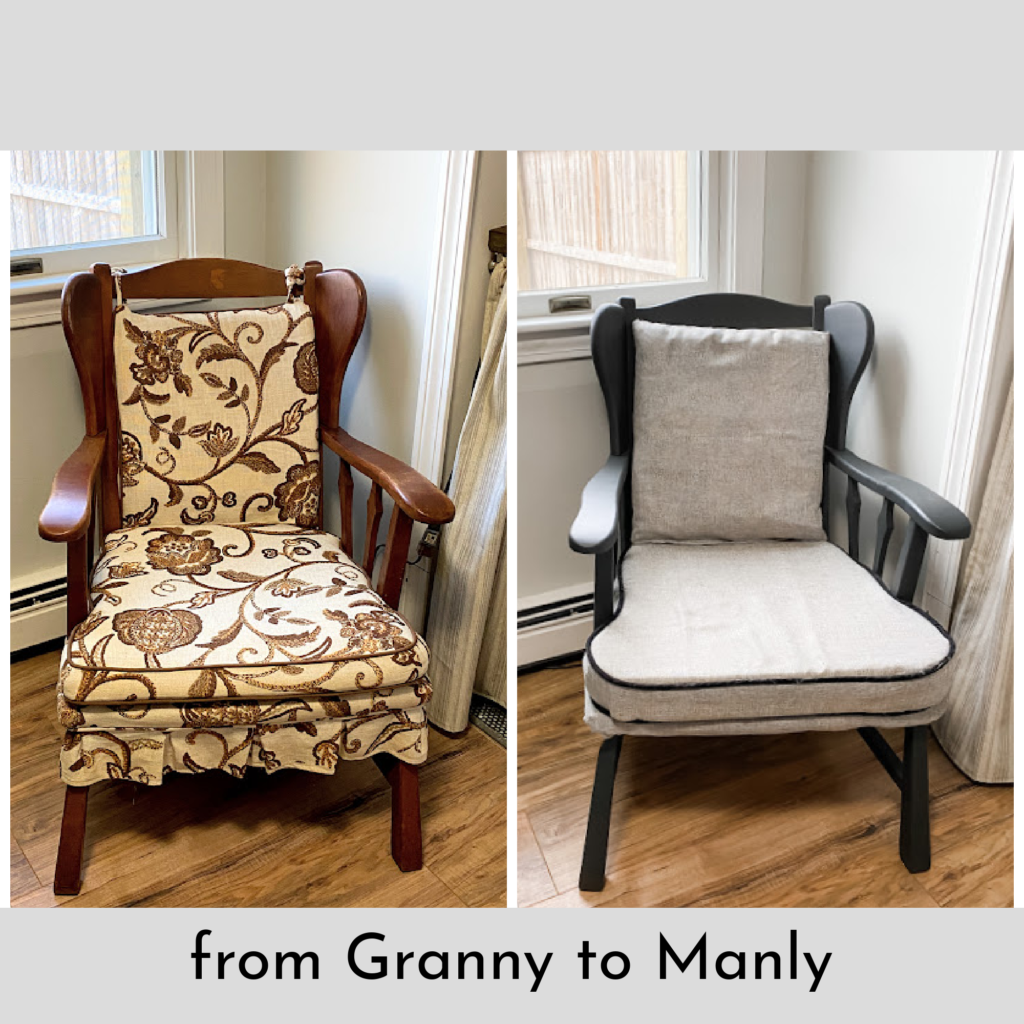 The wall opposite the desk has two closets – one that was just a jumble of random things, wasted space, and our cat litter box. The other tall narrow closet holds general office supplies and labels for my soap business.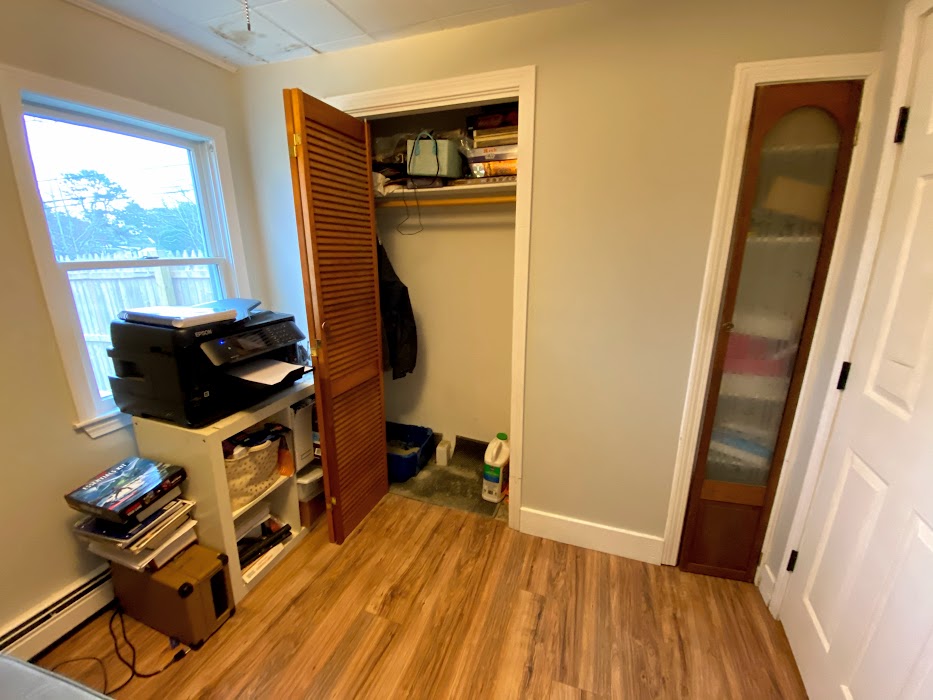 To save floor space, I decided to move the printer into the larger closet. I removed the bifold door and installed some shelving using wood from our barn. Below the printer is the cat box, extra litter, scoop, and trash bags. No one wants to look at that, but the cats do need to get in there. I hung a curtain to hide the area, and to give the cats a bit of privacy.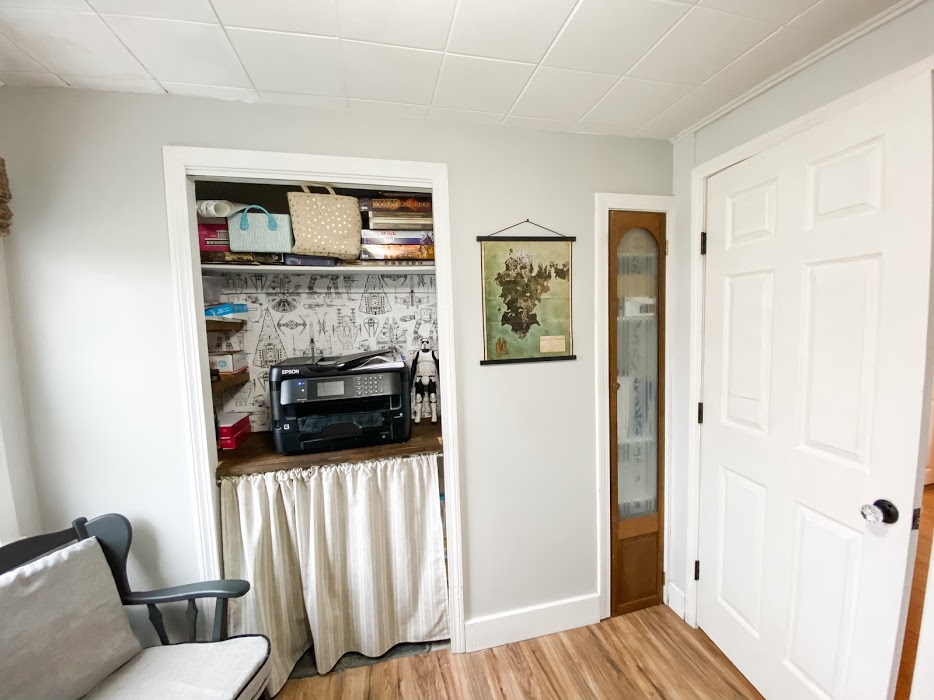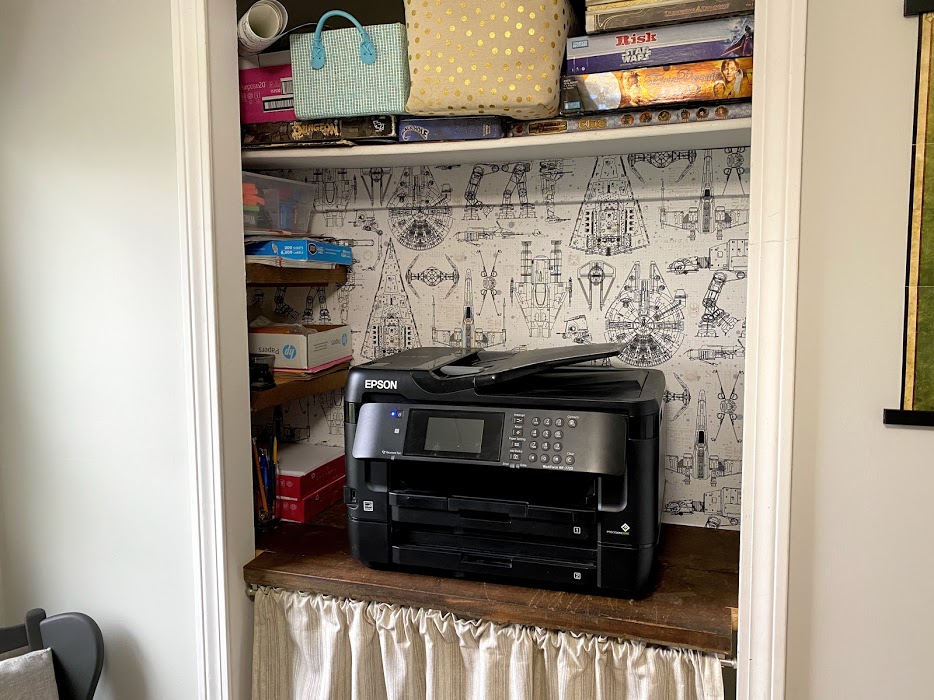 When I saw this Star Wars wallpaper on Wayfair, I knew I had to incorporate it somewhere! It makes a fun background for the printer nook, and it is peel & stick so it was easy to apply and will be easy to remove if we ever want to change it!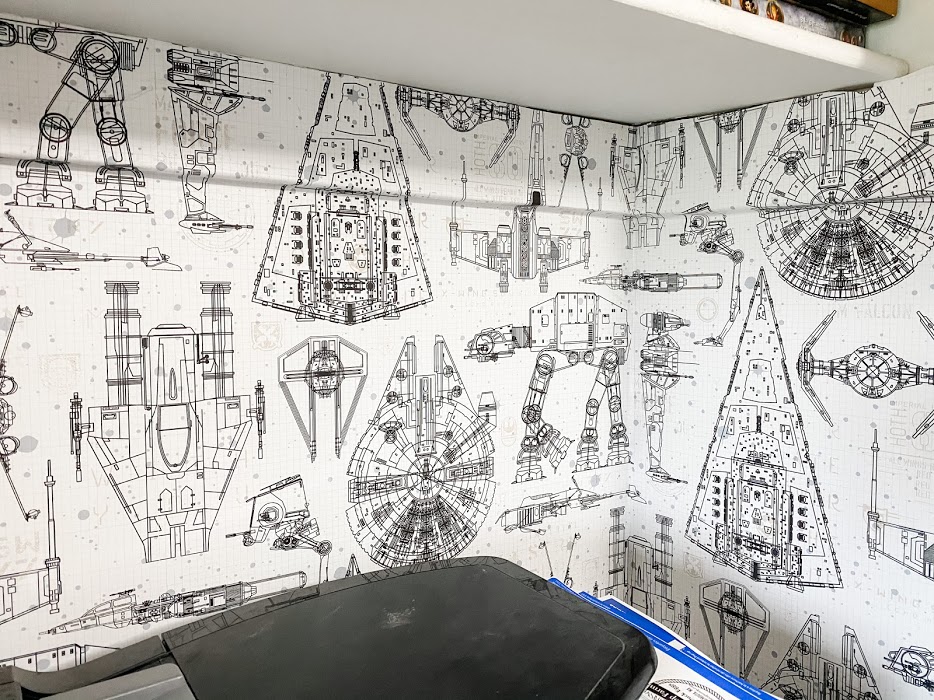 And what D&D office would be complete without a dragon door knocker? This was a housewarming gift from one of his friends….I definitely thought about not putting this up, but he does love it!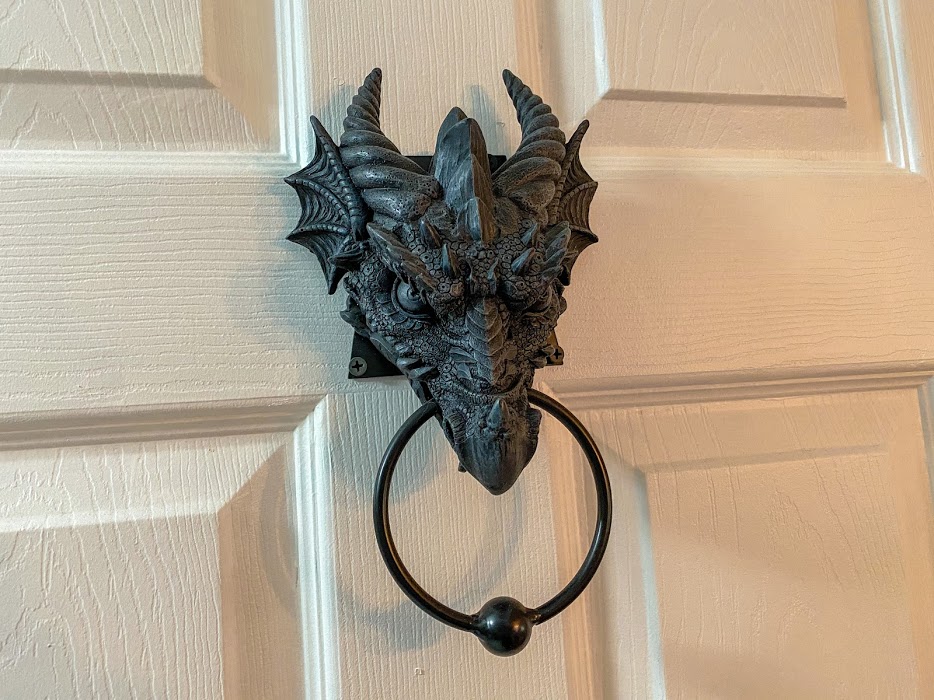 In the end I think I went a bit "prettier" than he wanted (he didn't understand why we needed a rug). We landed on a room that I am happy with but most definitely has his stamp all over it.
The biggest downside is that now he keeps getting kicked out of his office by our teenagers who also enjoy gaming!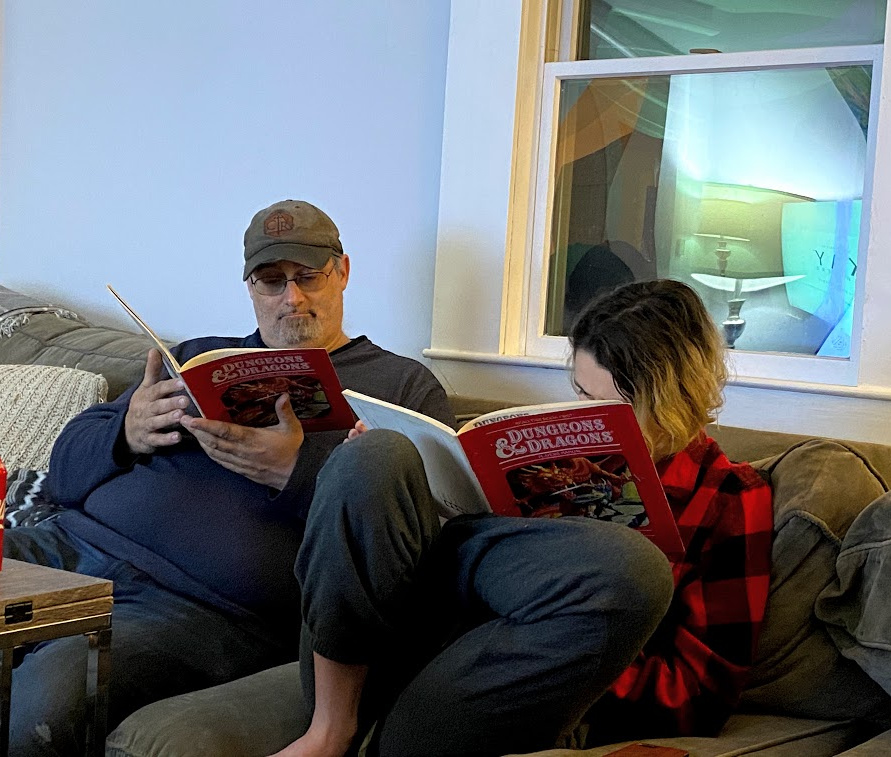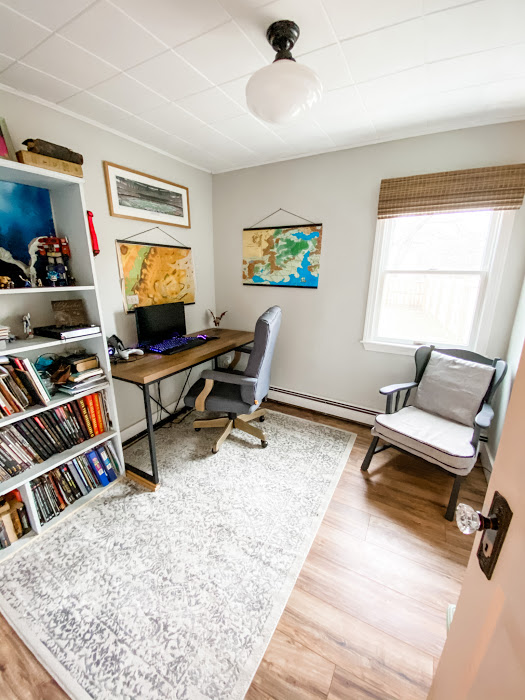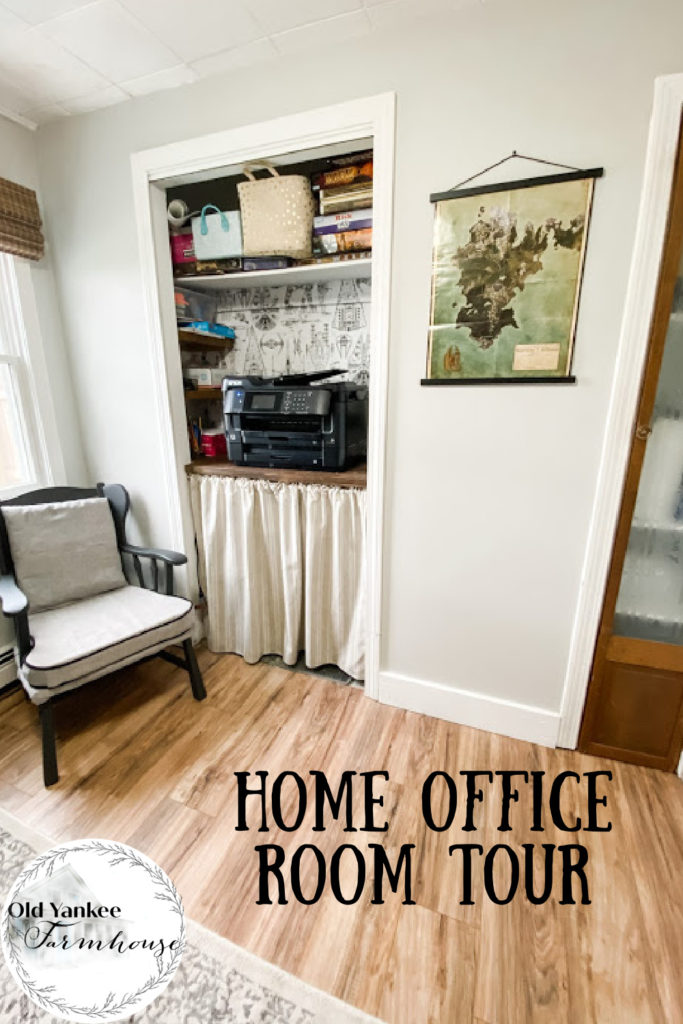 Shopping Guide
South Perth Reversible Desk, Wayfair
Copenhaver Gray/Ivory Rug, Wayfair
Mayson Executive Chair, Wayfair
Hirsch 1 – Ceiling Light Schoolhouse Semi Flush Mount, Wayfair
Hessler Star Wars Peel and Stick Wallpaper, Wayfair
Remote Control Light Socket & Switch, Amazon
Magnetic Poster Rails, Amazon
Cordless Window Shades in Driftwood, Overstock