*This post may contain affiliate links, which means I may receive a small percentage from qualifying purchases if you make a purchase using the links, at no additional cost to you*
-------------------------------------

Doilies had a really great run in popularity. The intricate crocheted or knitted openwork designs have been used for decor, to protect furniture, to wrap flowers, as headwear, and in formal dining for centuries. But over the past few decades, these works of art are seen as "grandma" decor, and have fallen out of style.
But I want to change that! These handcrafts are beautiful and can connect you to past generations, so they deserve to be displayed and not tossed in the basement.
If you have access to doilies your mom, grandma, or great grandma made, this is a wonderful way to honor them. If you don't have any heirloom doilies, they are easy to find (and usually just for a few dollars). The ones I used for this project all came from Ebay, but you could also visit second hand stores or antique shops for great selections.
For all the supplies to make six I spent under $40, a very economical project!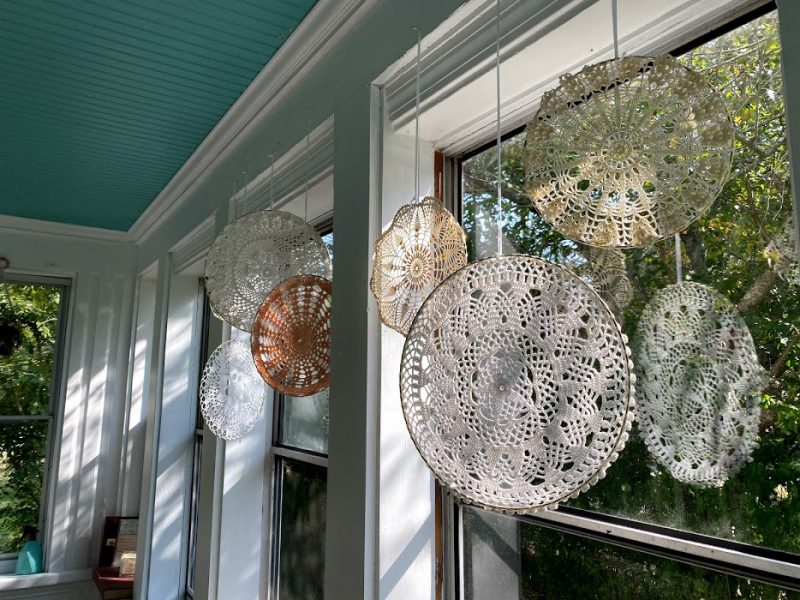 Supplies you need:
Doily
1/8 inch wide double faced satin ribbon
Tips for choosing your supplies:
I opted to get six hoops in various sizes so I could hang them in a group and they would all be a little different. I got my set on Amazon, and it came with two of each size – 8, 10, & 12 inches. Click here to see the set I bought. You could also check your local craft store in the floral section.
When choosing your doilies, I suggest getting different designs and colors. I found one in peach, one in grey, and the others in varying shades of white – all of them different patterns. You will want to find doilies that have the same diameter (or just slightly smaller) as your hoop. You can use both starched or unstarched doilies.
For the ribbon, I used white for all the doilies, but for a seamless look you can color match the ribbon to the doily. Plan on roughly needing twice the circumference of your hoop in ribbon (example: if you have a 10 inch hoop, you'll need roughly 20 inches in ribbon plus some to hang the hoop from).
Making your modern doily decor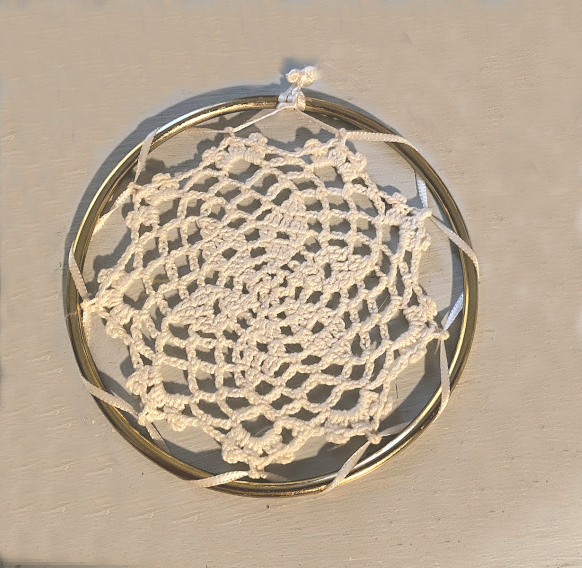 This is the best part – is super simple. No sewing required. It also don't ruin the doily at all, you aren't cutting it up or destroying any part of it. So don't be afraid to break out those heirloom or sentimental doilies. It's a wonderful way to display them just the way they are.
Make a knot on your craft hoop to begin.
Then simply weave the ribbon around the hoop and through the outermost holes on your doily.
Once you have made it all the way around, pull the ribbon to tighten all the way around. Secure with another knot.
Add a length of ribbon to hang your decor from
That's it!
Where to display your doilies
Hang them from a nail on the wall in a large group or as part of an eclectic group of wall art.
Use varying lengths of ribbon to hang at different heights in the corner of a room.
I hung several of them in a group in the windows of my covered front porch. They are cute, boho, feminine, and vintage all at the same time which fit perfectly with my vision for my 1850s front porch.
I love the sparkle of the gold hoop in the sunshine. Because they are so lightweight, the slightest breeze will start them spinning which only adds to their beauty!