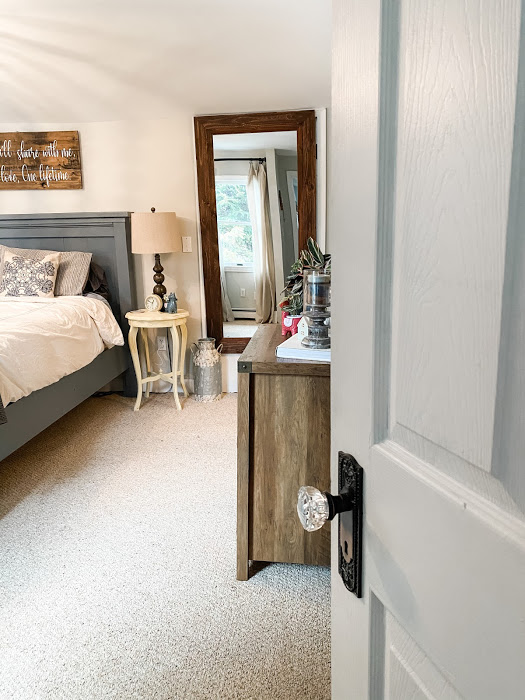 *This post may contain affiliate links, which means I may receive a small percentage from qualifying purchases if you make a purchase using the links, at no additional cost to you*
-------------------------------------
I was really excited to take on decorating my bedroom. I have to admit until this point, my bedroom was always just an afterthought. At the old house, the "primary" bedroom was very small and the whole house had a major lack of storage. So I would say my focus was more on function than form. With just a little more elbow room at this house, I was looking forward to the prospect of making things pretty AND functional!
Let's take a look at where we started when we moved in: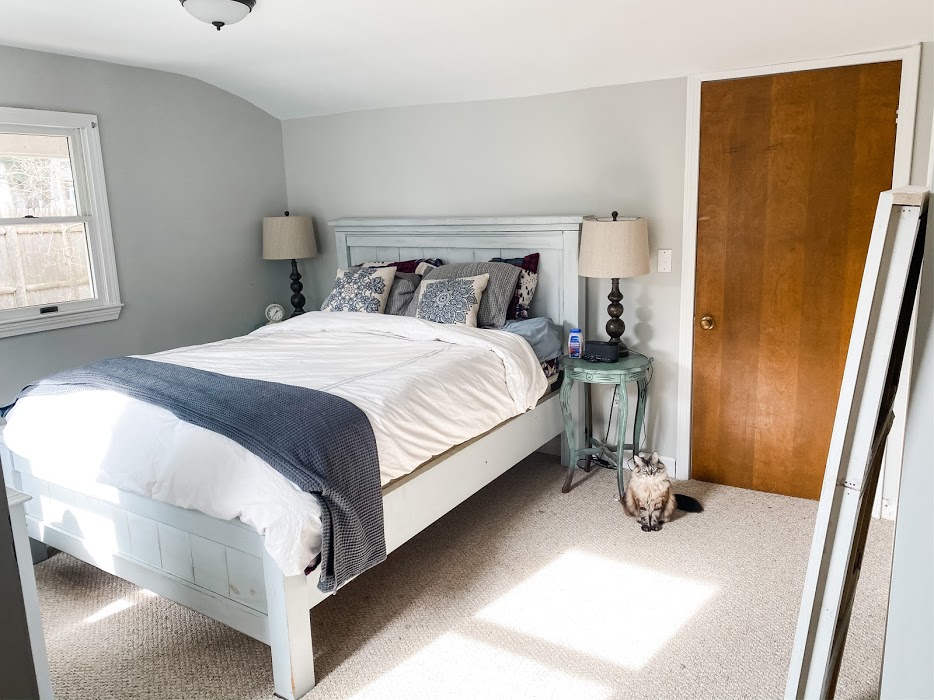 The bare bones furniture was just what we brought during the move, so we really had a clean slate. With past owners, this room was used as part of an in-law suite with this bedroom & ensuite bath, plus an additional room through the door to the right of the bed.
We are using the other room in the suite as my soap making shop (click here to check out our online soap shop!). As much as I love making soap, I don't need to jump right out of bed and run in there. The soap room & bedroom both have other access doors so my goal is to hide this doorway.
I didn't want to drywall over it because I don't want to rule out using this space down the road for either our parents or children as they age. It's always nice to have options!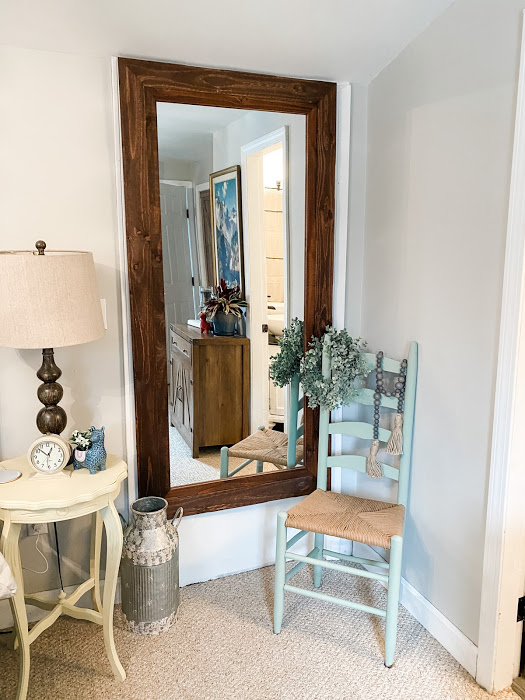 First, I painted the door white, just to help it visually disappear. I knew I wanted a mirror, and I was super excited when I found this gigantic one at Hobby Lobby. I waited until their mirrors were 50% off so it was only $115!
The door knob needed to come off in order to mount the mirror, but it really filled the space nicely. I had to hang the mirror high enough that it would cover the top edge of the door so light wouldn't be seen coming through around the edges. The galvanized milk jug helps hide the remaining door seam on the bottom.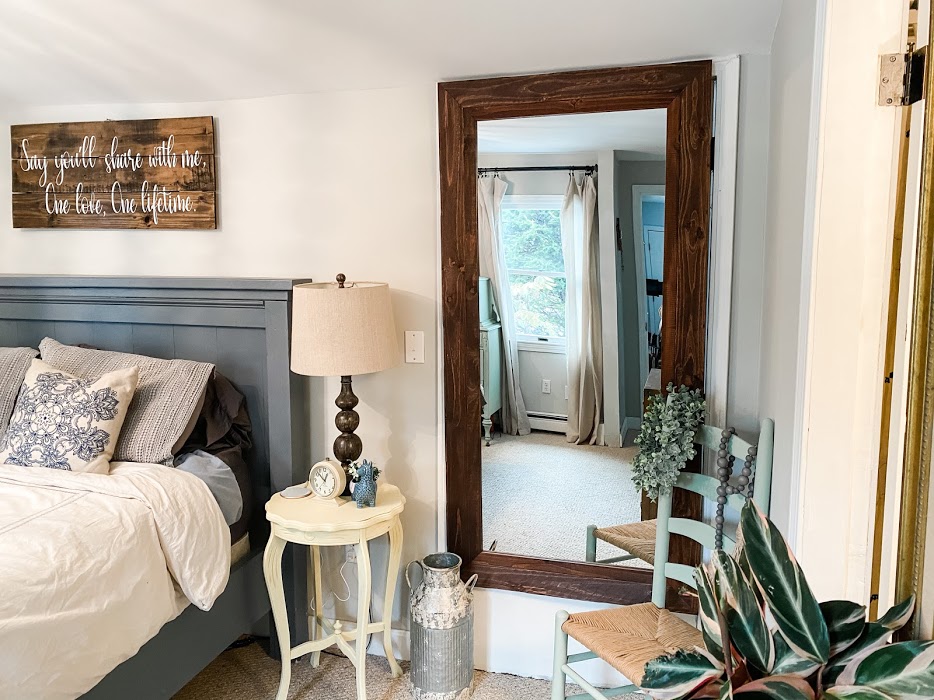 The ladder back chair in the corner was part of my antique chair renovation project. The chair was salvaged for free from my mother's basement. It was in rough shape. I needed to re-weave the seat and gave it a fresh coat of paint.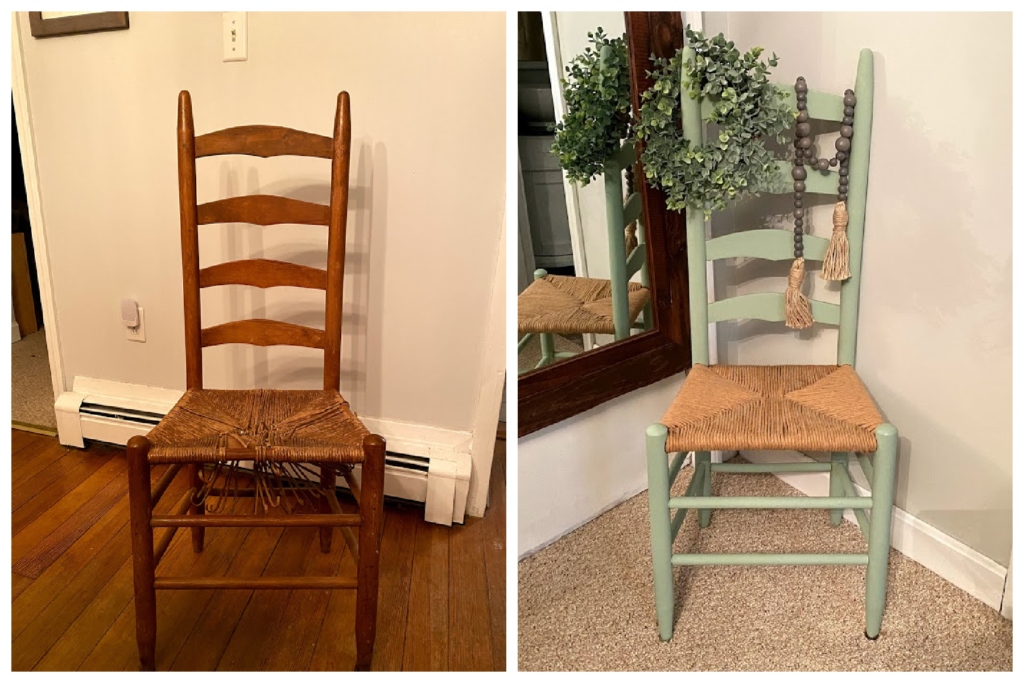 My bedside tables are just mismatched plant stands that I had painted to match each other. In the previous house our bedroom was just that – a room that housed a bed and we could squeeze in a couple very tiny bedside tables. I've gotten used to the petite tables and they fit nicely here. I gave them a fresh coat of light yellow chalk paint because they were looking pretty tired.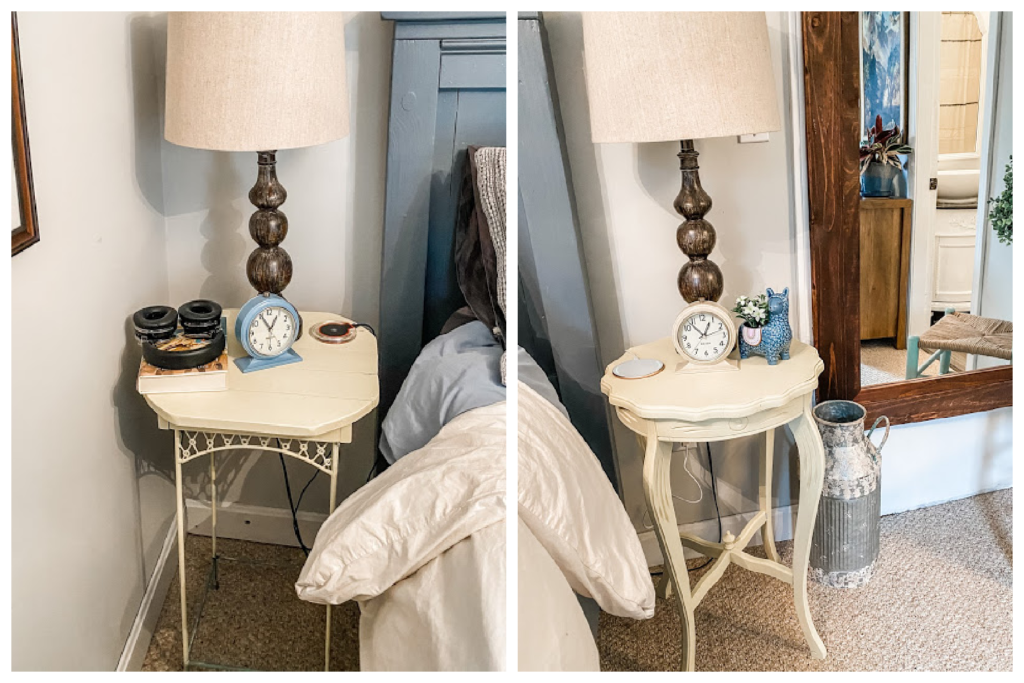 I made the bedframe 9 years ago. It's held up really great over the years and I love the design of it. If you have never checked out Ana White's blog, I would highly recommend it! She has all kinds of amazing woodworking plans on her blog. They are all free, and most of them are very easy for beginners. I have made several projects from her site, including this bed. To check out the link to this bed's plan on Ana's website, click here.
My bed just needed a new coat of paint. My old bedroom was yellow so the light grey looked great with it. With the current light grey walls, the bed was lost. I updated it with a lovely dark blue grey and it's like a brand new bed!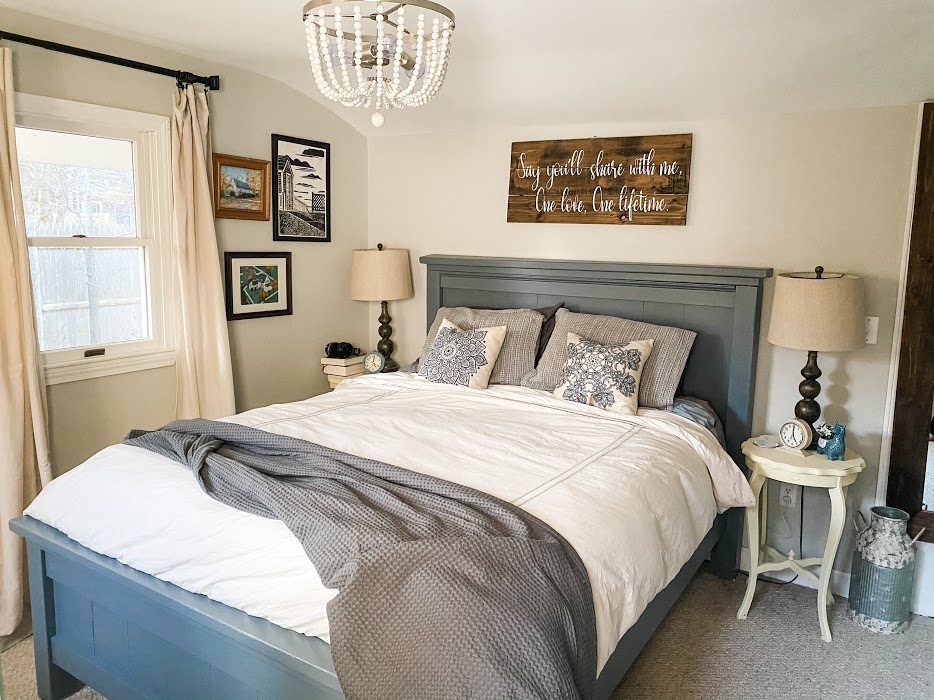 For over the headboard, I had a local sign maker make this beautiful sign. It has a line from our wedding song, "All I Ask of You", from Phantom of the Opera. "Say you'll share with me, one love, one lifetime" – I love Phantom!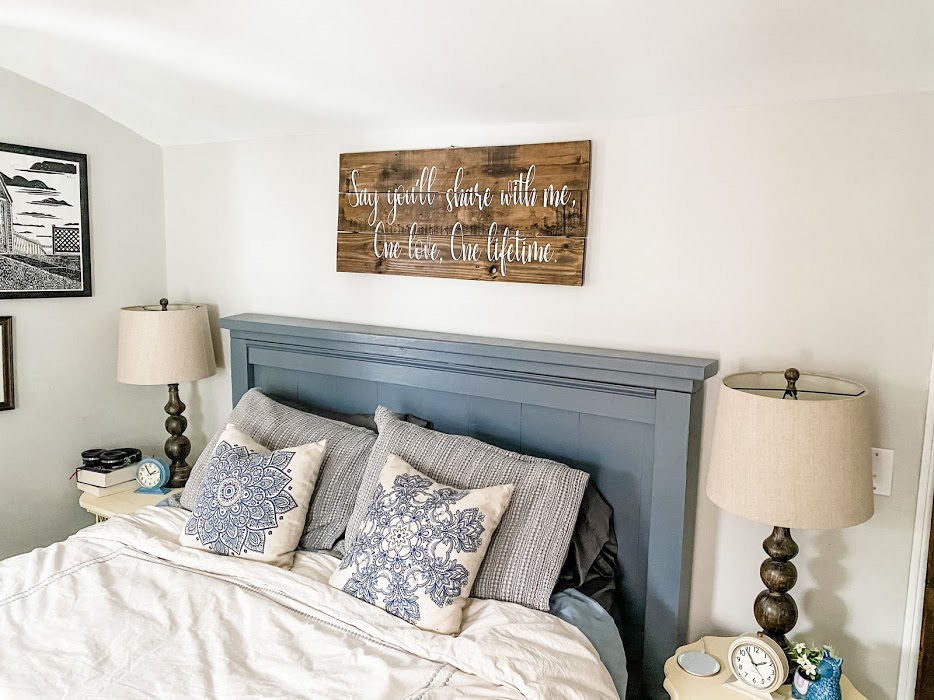 For over the bed, we replaced the standard builder grade ceiling light with something a little more dramatic. I love the quirky/boho type vibe it adds to the room. The bedroom is the perfect place for a less conventional light fixture. It should be something that really speaks to you!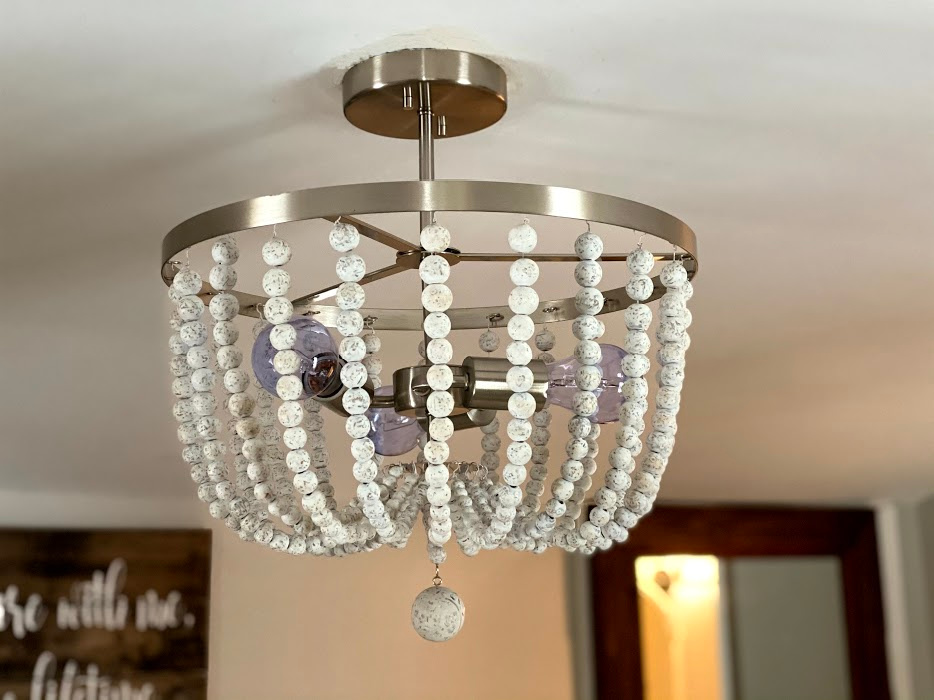 Next to the bed, I decided to assemble a gallery wall. When I start to decorate a room, I like to come up with some words or feelings I want to evoke in the room. For this room, I wanted a warm, cozy, home feeling. I kept coming back to the idea of home. Leaving our last house was emotional. It was our first house together, we lived there for 22 years, our kids were raised there (honestly I grew up there, I was only 20 when we bought it!). I was excited for this new adventure and love our new house, but I really wanted it to feel like home.
I realized I already had a lot of artwork in the "home" theme, so it was an obvious choice for our gallery wall!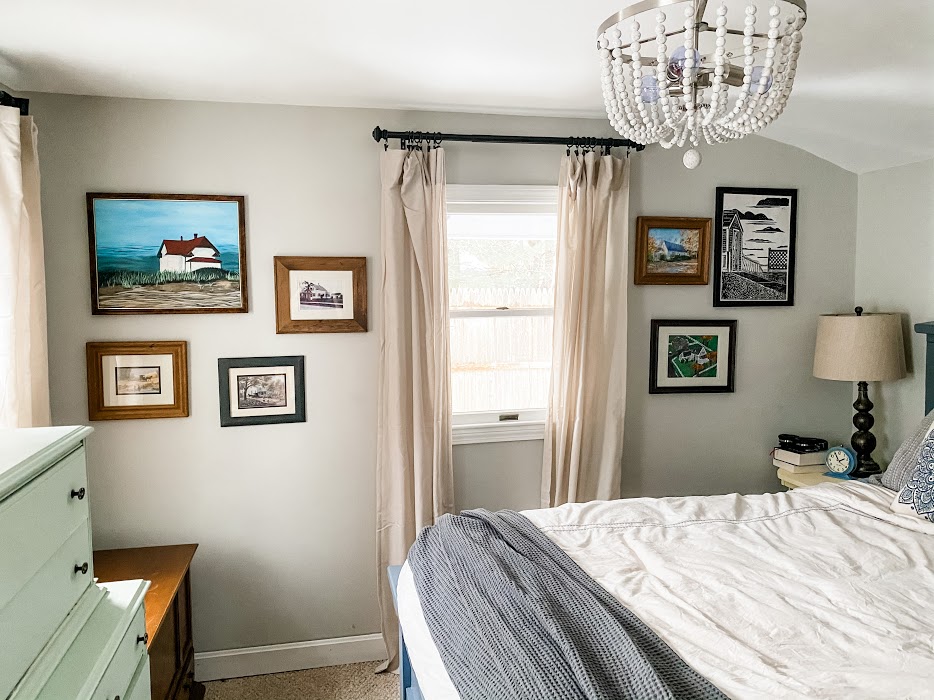 The two larger paintings were both done by my talented second oldest daughter. Rounding out the left hand side, I have a photo of our house with it's first owners from the late 1800s, and two Amish farmhouse paintings we picked up years ago on a trip to Pennsylvania. On the right side, we have a painting of our old house that a dear friend gave us when we moved, hanging right above a painting I did of the new house.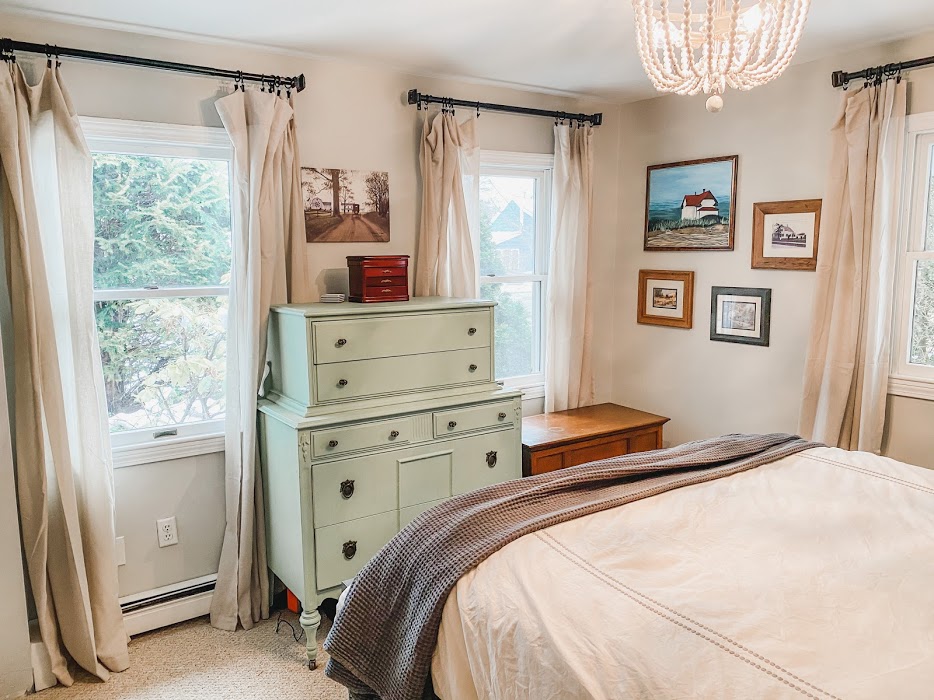 Opposite of the bed is our antique dresser which recently got a new coat of light green chalk paint. To continue the home theme I had another Amish farm painting, this one from a visit to Ohio. I love all the windows in my room, it really floods with light in the afternoons. Light, breezy, linen curtains add some neutral texture to the space.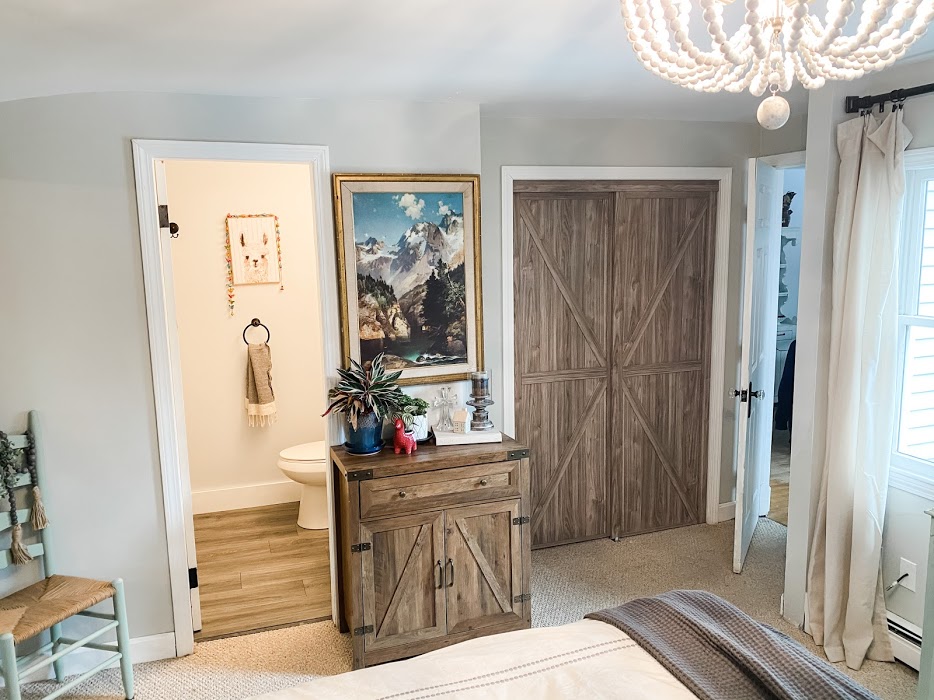 Our ensuite bath is quite tiny (click here to read about that renovation!). For towels & extra storage, I added this cabinet just outside the bathroom door. It fits perfectly on this wall and really helped free up space in the bathroom.
When we moved in, our closet doors were dark, louvered wood. Not only did I not love the look, one of the doors was broken and wouldn't stay on the track. I found these great sliding doors that matched the cabinet and look amazing in here. Excuse the mess of my closet – that needs to be the next project to tackle! At least with working doors I can pretend the mess doesn't exist.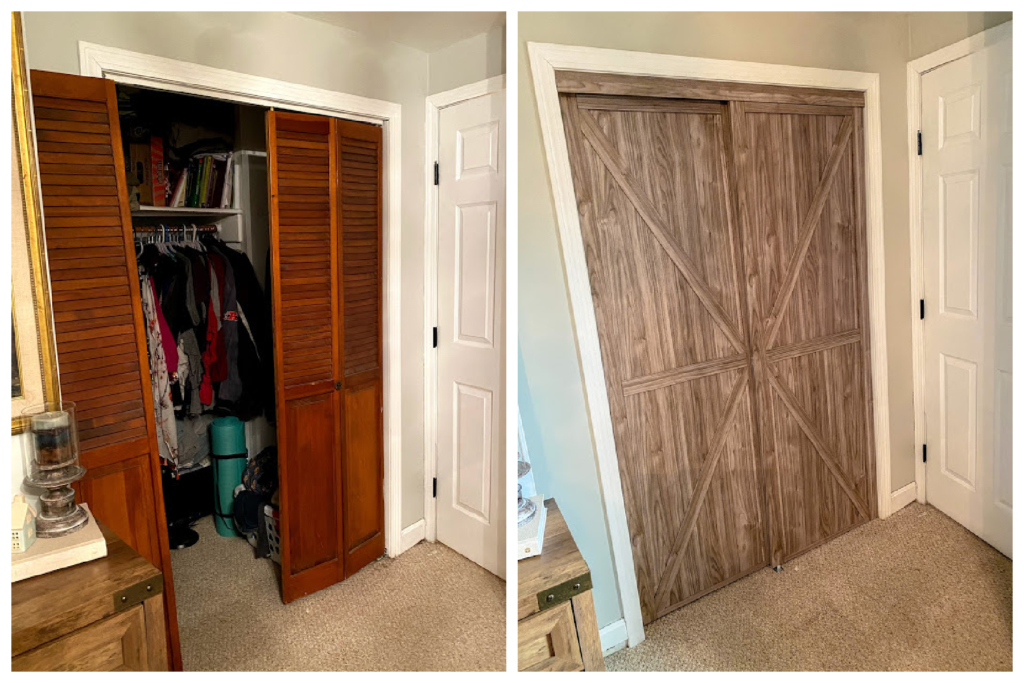 This painting was left behind in a closet by previous owners. It has a bit of water damage in the corner of the mat but it fits perfectly over our towel cabinet. And no room is complete without some plants – if I can just convince my cat to stop nibbling on them! I really like the way the plants play against the landscape behind it.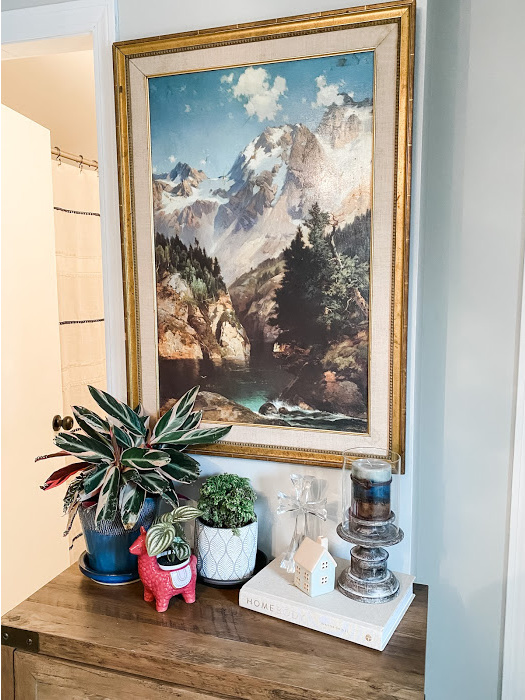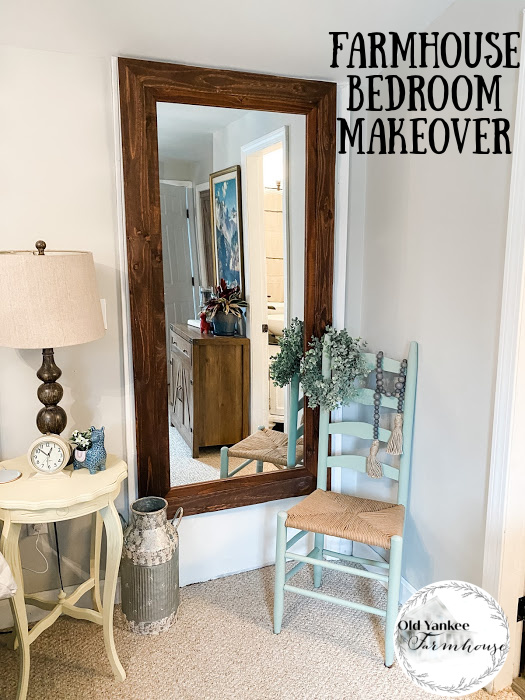 Shopping Guide
Wall Color – "Marilyn's Dress" Benjamin Moore
Large Mirror – Barnwood Wall Mirror, Hobby Lobby
Custom Sign – Swift Designs of Cape Cod
Ceiling Light – Tilden 3 – 16″ Unique/Statement Semi Flush Mount, Wayfair
Duvet Cover – Pearl Organic Duvet Cover, Pottery Barn
Curtains – Natural Linen Curtains Semi Sheer in Angora, Amazon
Closet Doors – Trident Silver Oak Sliding Doors, Home Depot
Towel Cabinet – Adalberto 2 Door Accent Cabinet, Wayfair